Southern California high school football: Top stars, best performances in Week 4 of 2021 season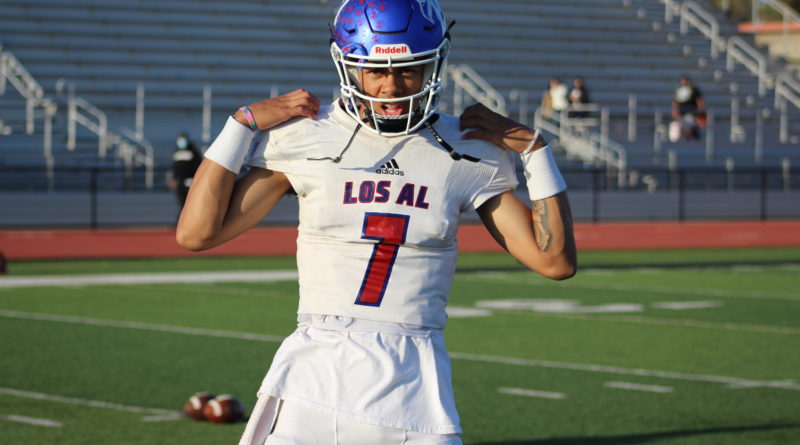 After four weeks of the California 2020-21 high school football season, the list of standout performances by Southern California stars continues to grow.
Several teams in SBLive's Southern Section Top 25 rankings had big wins led by No. 5 Mission Viejo taking down Tesoro 44-13 and No. 9 Los Alamitos defeating Huntington Beach, 63-14.
Here's a quick look at some of the top stars and individual performances from the fourth week of games.
Note: Entries are based on information provided by coaches, statisticians, media members and high school football fans. Don't see any details for your team's game? Email some notes and/or stats to bodie@scorebooklive.com.
TOP SOCAL FOOTBALL STARS IN WEEK 3
Malachi Nelson, Los Alamitos QB: Nelson threw seven touchdown passes, all in the first half of Friday's 63-14 win over Huntington Beach.
Maalik Murphy, Serra (Gardena) QB: Murphy was 19 of 28 passing for 301 yards and threw three touchdown passes in the win over Sherman Oaks Notre Dame.
Kadin Semonza, Mission Viejo QB: Semonza had 202 passing yards and three touchdown passes against Tesoro on Friday.
DJ Watts, Murrieta Valley RB: Watts had a huge night against Murrieta Mesa, rushing for 270 yards and four touchdowns in the 63-35 win.
Victor Hilario, Coachella Valley RB: Hilario averaged over 12 yards per carry on Friday, finishing with 185 yards and three touchdowns in the win over Banning.
Jeremy Alcorn, Edison DL: Alcorn had seven tackles and 3.5 sacks in the Chargers' 40-0 win over Fountain Valley.
Dylan Neal, Fullerton QB: Neal had 338 passing yards and six touchdowns against Troy on Friday.
Hunter Roddy, Chaparral RB: Roddy had 150 rushing yards and four touchdowns in the 32-point win against Temecula Valley on Friday.
San Jacinto rushing attack: San Jacinto rushed for 368 yards on Friday, averaging nearly 11 yards per carry and scored six touchdowns against West Valley.
Dylan Wheatley, Citrus Valley QB: Wheatley threw for 332 yards and had six touchdown passes in Friday's win over Redlands.
Payton Casillas, Thousand Oaks DB: Casillas had seven tackles, two sacks, and a forced fumble on Friday's 28-21 win over Agoura.
Malachi Keels, Orange Glen WR: Keels posted one of San Diego's best stat lines of the year, catching 15 passes for 210 yards and a touchdown during Thursday's loss to La Costa Canyon.
Vance Jefferson, Poway WR: Jefferson caught two touchdowns and returned a kickoff for a touchdown all in the first half of Poway's 54-17 win over Del Norte on Saturday.
Jackson Stratton, La Jolla QB: Stratton threw six touchdown passes against Mission Bay on Friday, giving his 15 this season in only three games. He also ran in his second touchdown of the season in the 63-3 win.
Justin Brown, Grossmont QB: Brown had a huge game against Helix on Friday, passing for 482 yards and four touchdowns in the 49-35 loss. He also ran for 21 yards and a touchdown.
Nathan Acevedo, Grossmont WR: Acevedo and Brown were in rhythm on Friday, with Acevedo catching eight passes for 250 yards and three touchdowns against Helix.
Brian Rudden, Otay Ranch QB: Rudden was 16 of 24 passing for 161 yards and three touchdowns to help the Mustangs upset sixth-ranked Mater Dei Catholic, 42-38.
Stephen Britton, Santa Fe Christian RB: Britton continued his huge senior season against Rancho Christian, rushing for 171 yards and four touchdowns. He's now rushed for 751 yards and has 14 touchdowns in only four games.
Omar Perez, Chula Vista QB: Perez tossed four touchdown passes and rushed for another in the win over Hilltop.
Derek McClintic, Vista RB: McClintic ran for 196 yards and a touchdown in Friday's one-point win over Westview.
Charles Sawyer, Santa Fe Christian DB: Sawyer patrolled the secondary on Thursday, grabbing three interceptions against Rancho Christian.
Matthew Jaime, San Ysidro QB: Jaime showcased his rushing ability on Friday against Mar Vista, finishing with 205 yards and two touchdowns on 14 carries.