Top 50 running backs in CIF Southern Section heading into spring 2021 high school football season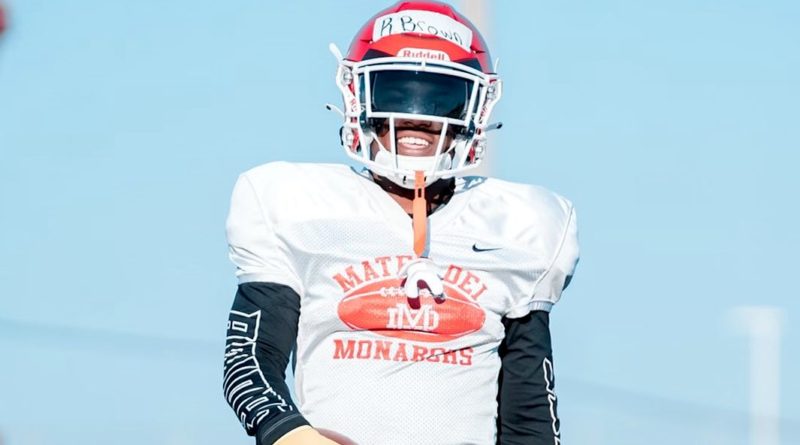 With the spring 2021 football season getting ready to kick off SBLive California continues to take a look at the top high school football players in the CIF Southern Section, position by position.
And the CIFSS is once again loaded with talent at the running back position.
The main criteria for our Top 50 running back rankings are statistics from the 2019 high school season relative to team success (on offense) and strength of schedule. The rankings were compiled by SBLive reporters Lance Smith and Connor Morrissette.
Since this is not a recruiting ranking, players' national rankings or college offers were not primary criteria, but were taken into account – mainly for players who haven't received a full opportunity to shine at the varsity level yet. Performances in club football or at camps were not taken into consideration.
Class of 2021 RBs who have decided to graduate and enroll early in college were not considered in these rankings.
MORE: TOP PLAYERS BY POSITION | TOP 50 FOOTBALL TEAM PREVIEWS | PRESEASON ALL-STATE TEAM
SBLive California is previewing the top football teams and players in the state ahead of the 2021 spring high school football season. You can find all of our high school football coverage here. And you can download the new SBLive Sports iPhone app here, and you can download the new SBLive Sports Android app here.
TOP 50 RUNNING BACKS IN SOUTHERN SECTION
50. James "Bo" Thomas – Paramount – SO.
As just a freshman, Thomas was the leading rusher on Division 4 semifinalist Paramount despite missing three games. He ran for 564 yards and eight touchdowns, forcing defenses to respect the run to help complement the Pirates' explosive aerial attack. Based on that trajectory and his advanced body strength for his age, Thomas has the potential to establish himself as one of the state's premier sophomore RBs by next season, if not earlier.
49. Tye Coleman – Rowland – SR.
After rushing for 749 yards and eight touchdowns as a sophomore, Coleman was an absolute workhorse for the Raiders in 2019, more than doubling his offensive production. He ran for 1,411 yards and 20 touchdowns on 233 carries, and he caught for 182 yards more. That all came in just 10 games, and he led Rowland to a 7-3 finish.
48. Ryan Gordiano – South El Monte – JR.
Over 40% of the Eagles' offensive snaps last season went through Gordiano, who was up for the major load despite being a sophomore. In just 10 games he ran for 1,398 yards and 10 touchdowns, and he was South El Monte's second leading receiver with 193 yards and two touchdowns more.
47. Dane Reed – Westlake – SO.
Reed managed to crack the rotation of offensive juggernaut Westlake as a freshman, and he was ready to produce right away. He ran for 628 yards and five touchdowns and caught for 101 yards and a touchdown more. Dane has since been offered by Minnesota and Southern Miss, and seems to be on a quick path to becoming a national recruit.
46. Jason Jones – Sierra Canyon – JR.
Jones was the second-leading rusher on the Division 2 champion and CIF State 1-AA finalist as just a sophomore. He only had one game with double-digit carries, but still ran for 835 yards and six touchdowns on the year on a very healthy nine yards per carry. Jones is one of a few major candidates on this list to break out on multiple levels and rise way up the ranks this season.
45. Arieon Capler – Palm Springs – SR.
Capler led Palm Springs to the Division 9 quarterfinals last season with 1,482 yards and 17 touchdowns rushing. He also caught for 79 yards and three more touchdowns.
44. Tyrikk Lawson – Muir – SR.
Lawson was an underrated part of Division 11 finalist Muir's offensive attack last season. He ran for 737 yards and nine touchdowns, and registered 480 yards and three touchdowns on the ground. Lawson has since received at least three D-3 offers, but he has the talent to potentially boost his stock as a senior.
43. Max Garrison – St. Francis – JR.
Garrison hasn't gotten much of an opportunity to shine at the varsity level yet, except for kick returns, as he already has 611 KR yards through two varsity seasons. But overall on offense, he's still on the rise. So far he's only gotten 97 carries in his career to rush for 624 yards and seven touchdowns total, and he has a total of 404 receiving yards and four receiving touchdowns.
However, this season he'll get RB1 touches and all the opportunities he could ask for to do damage for the Golden Knights. Garrison is a 3-star prospect with Power-5 offers, and is easily one of the more talented players on this list. Consider this a vote of confidence that he's about to break out in terms of production, and probably rise way up the list.
42. Mitch Leigber – Laguna Hills – SR.
Leigber is a high 3-star prospect and Stanford signee for his work at safety, but for one more season at Laguna Hills, he's also one of the section's most versatile offensive threats. Last season he ran for 963 yards and 11 touchdowns, and caught for 510 yards and 10 touchdowns more.
41. Vince Silva – Sunny Hills – SR.
Silva helped lead Sunny Hills to a Division 8 championship last season with 711 yards and 11 touchdowns rushing plus 385 yards and six TDs more in the air. He also showed a major clutch gene, coming up big in close games against the Lancers' top foes. The fact that he did that routinely while seeing fewer touches in blowout wins suggests that he could shoulder a much heavier load if needed.
40. Drew Barrett – Trabuco Hills – JR.
As just a sophomore, Barrett was the top producer on an underrated Trabuco Hills squad that made an underdog run to the Division 8 semifinals. He ran for 1,280 yards and 15 touchdowns, caught for 78 yards, and brought in 342 KR yards – good for nearly 1,700 yards total. Barrett is another player on this list who stepped up in close games against the Mustangs' best opponents, averaging 149 rushing yards per game in their playoff run.
39. Jacob Badawi – Ayala – SR.
In 2019, Badawi helped lead the Bulldogs to an 11-1 record with 1,024 yards and 10 touchdowns rushing in just nine games. And football isn't even his main sport, as he's committed to UC Riverside for baseball.
38. Jonathan Guerrero – Rio Hondo Prep – JR.
Guerrero led Rio Hondo Prep to a 10-1 season in 2019 rushing for 1,311 yards and 17 touchdowns. He did so on over 10 yards per carry, and he could've carried an even bigger load if asked – Guerrero ran for 118 yards in all games but four, with all of those four being blowout wins in which he had fewer than 10 carries.
37. Manny Robert – Hillcrest – SR.
One of many under-the-radar RBs coming off great seasons on this list, Robert ran for 1,300 yards and 20 touchdowns as a junior. He also caught for 266 yards and four touchdowns. As Hillcrest's only nightly option at running back and its second-leading receiver to boot, defenses were geared up against him, and he delivered against some very good football teams.
36. Jacob Buccola – San Dimas – SR.
Last season, Buccola had one of the top breakout campaigns on offense in the section to help lead San Dimas to the Division 9 semifinals. He ran for 1,177 yards and 10 touchdowns, and caught for 481 yards and two TDs more. Buccola put up over 200 total yards of offense in the quarterfinals to knock off top-seeded Foothill in one of the biggest upsets of the whole CIFSS postseason.
35. Kyle Bandy – Servite – SR.
The emergence of Bandy, a versatile RB who has improved constantly for a couple years now, was quietly a major part of Servite's offensive explosion last season. At 5-9 and nearly 200 lbs, he has the strength to endure brutal hits to pick up first downs, but also has pass-catching ability that one doesn't expect of a power-oriented tailback, which makes him a perfect fit for a pass-first Friars offense that gains a lot of aerial yardage off scrambles.
Bandy finished the 2019 season with 562 yards and three touchdowns rushing plus 175 yards and two TDs receiving in 11 games. He recently received his first college offer, and his stock is guaranteed to keep rising even in a shortened senior season.
34. Dion Franklin Jr. – Inglewood – SR.
As a junior, Franklin ran for 749 yards on an enormous 12.7 yards per carry. He also caught for nearly 400 yards, and had 11 total touchdowns. Franklin has multiple scholarship offers, including at the D-1 level, and could see a major rise in nightly production with Inglewood's stacked 2020 class gone.
33. Jalen Punsalan – Great Oak – SR.
Punsalan went under the radar last season as Great Oak went 4-7 playing a brutal schedule. But he had a fantastic junior season in which he kept the Wolfpack in games against great foes nearly singlehandedly. Opponents loaded up heavily on the run game, but Punsalan ran for 1,025 yards and 10 touchdowns and caught for 235 yards and three TDs more in just nine games.
32. Trayton Cooper – Jurupa Hills – SR.
As neither a traditional RB nor a traditional WR, Cooper sometimes slides through the cracks, but he's one of the section's better all-around offensive threats. Last season for 11-2 Division 12 semifinalist Jurupa Hills, he ran for 559 yards and 15 touchdowns on just 67 carries, which means 22% of his runs resulted in touchdowns. He also caught for 771 yards and 10 touchdowns, making him the only returner in the section to put up both the rushing and receiving production he did. Expect Cooper to keep making his case as a college-caliber talent in his limited senior season.
31. Crispin Wong – Linfield Christian – SR.
Despite sharing reps with a senior RB who also put up monster numbers last season, Wong burst out as one of the most productive pass-catching RBs in the section as a junior. He ran the ball just 101 times but finished with 1,340 yards and 15 touchdowns, good for a ridiculous 13.3 yards per carry. Wong also caught 24 passes for 397 yards and six touchdowns to help lead the Lions on an impressive Division 11 semifinals run.
30. Gabriel Sainz – Rancho Mirage – SR.
As a sophomore, Sainz was an afterthought on a struggling Rattlers squad, but he erupted in 2019 to lead Rancho Mirage to a winning record and playoff birth. Last season he ran for 1,525 yards and 12 touchdowns and had 82 receiving yards, and he saved his best for most of their biggest games. Sainz did so as an every-down back for a team with no RB2 and only a few offensive playmaking threats.
29. Gustavo Lopez – Carter – SR.
Lopez is coming off a huge junior season in which he started off great and just kept getting better. He ran for 1,643 yards and 17 touchdowns going against some solid competition, and also caught for over 200 yards.
28. Tyson Scott – Mission Viejo – SR.
A Western Colorado commit, Scott ran for 609 yards and 10 touchdowns last season and caught for a TD and over 100 yards more. Splitting reps with another big-time RB with a very similar skillset, sharing touches with 4-star playmakers in the passing game on an offensive juggernaut – Scott had to make the most of every opportunity as a junior to prove himself as a scholarship-caliber talent. And that's exactly what he did, with potential there to rise up this list further as a senior.
27. Jaz Fong – Roosevelt – JR.
Fong's rushing production in 2019 for just six games was ridiculous: 939 yards and nine touchdowns on over 10 yards per carry. While the timing of their schedule was a major factor in this, the Mustangs were 0-6 without Fong and 5-1 with him. If he keeps producing close to this level as an upperclassman in the Big VIII League, Fong won't remain under-the-radar as a prospect for long.
26. Amir Bankhead – Paracalete – SR.
Bankhead is a 3-star prospect with offers from Colorado and San Jose State.
25. Tomarion Harden – Inglewood – JR.
Harden ran for 545 yards and seven touchdowns in just nine games for Narbonne last season, but the 3-star prospect is just getting started. He already has at least five Power-5 offers and an athletic, 6-2, 210-pound frame. Look for Harden to take a significant leap statistically in his upperclassman years.
24. Harrison Allen – Loyola – JR.
Allen broke out as a sophomore to lead Loyola with 867 yards and 13 touchdowns rushing. He also caught for 187 yards and another TD. 247Sports doesn't report any D-1 offers for Allen yet, but he's a clear D-1 prospect with high-major upside entering his junior season.
23. Elijah Kelsey – Moreno Valley – JR.
Coming off a monster sophomore season, Kelsey is one of the most underrated two-way players in the section. He ran for 1,701 yards and 21 touchdowns and caught for 230 yards more last season as the overwhelming focal point of almost every opposing defense. And while defensive contributions didn't factor into our RB rankings, Kelsey was just as strong at cornerback, recording seven interceptions and 62 tackles.
22. Tahj Owens – Loyola – JR.
The emergence of Owens, now a 3-star prospect with multiple D-1 offers including Kansas, was a major reason for Loyola's underdog run to the Division 4 championship game. Once he came on strong during the second half of the season, the Cubs offense kicked into a much higher gear, and he came up big in numerous key games. Owens finished with 761 rushing yards, seven rushing touchdowns, 111 receiving yards, and a whopping 430 yards on kickoff returns.
21-20. Tie:
Semaj Freeman – Oaks Christian – SR.
Derek Boyd – Oaks Christian – JR.
Freeman and Boyd are both 3-star prospects with a few offers who ran for a little under 500 yards last season, during which Oaks' injury issues deflated individual numbers across the board. This season with a clean slate of health, both of these guys should have the nightly production to back up their placement as top-flight rushing threats.
19. Jabari Bates – St. John Bosco – JR.
Last season as a sophomore, Bates was a key contributor on offense for national champion St. John Bosco. Sharing reps with two other Power-5 recruits at RB, he ran for 455 yards and four touchdowns without ever getting 10 carries in a game. A 3-star prospect with a small handful of high-major offers, Bates has gotten considerably bigger since last season and his stock will only keep rising.
18. Quincy Craig – Mater Dei – JR.
Craig is hard to rank on a running backs list because his production is spread around a number of different roles, but what's clear is that he's one of the top up-and-coming all-purpose players on the West Coast. He ran for 367 yards and five touchdowns last season, and was nearly as productive catching the ball with 283 yards and three touchdowns more.
Special teams is where Craig has shined the most so far. He had 332 yards in just 12 opportunities as a KR specialist, and while it didn't factor into this ranking, his work on special teams defense was insane – four blocked field goals, two blocked punts, and three fumble recoveries.
17. Freddy Fletcher – Cajon – JR.
Back when the Cowboys had perhaps the best dual-threat quarterback in the country in Jayden Daniels, they went to their running backs particularly rarely. That all changed in 2019 when Fletcher broke out for 1,277 yards and 12 touchdowns to help lead Cajon to the Division 3 quarterfinals as just a sophomore. A true every-down feature back, Fletcher carried the ball 220 times and is a very capable pass-catching threat as well. 247Sports reports no D-1 offers for him yet, but he's on track to rack some up sooner than later.
16. Elijah Davis – Serra Gardena – SR.
After a strong sophomore season at LB in 2018, Serra moved Davis to offense exclusively last season, and he delivered at a high level. Going against Mission League competition, he ran for 915 yards and seven touchdowns, and was a serious pass-catching threat too with 273 yards and a touchdown receiving. Davis has at least one D-1 offer and a strong chance to net more.
15. James Bohls – San Clemente – SR.
A 3-star Arizona commit, Bohls ran for 677 yards and nine touchdowns last season and caught for 90 yards. Those were solid numbers on a great team, but his production didn't quite do justice to his impact due to San Clemente's slow-paced style and difficult schedule. At upwards of 6-2, 200 with great acceleration for his size, Bohls has massive upside and could very well compete for one of the top spots this season.
14. Raymond Rodriguez – Chaffey – SR.
As a sophomore in 2018, Rodriguez ran for over 1,100 yards in well under a full season's worth of games, and he still managed to be one of the most improved offensive players in the Inland Empire in 2019. In his junior season, 10-2 Chaffey's opponents all came geared up to stop him, but Rodriguez still ran for 1,955 yards and 24 touchdowns on 11 yards per carry. He led the team in receiving on top of it all with 122 yards and two TDs, and also had 325 KR yards as the Tigers' return specialist.
13. Hunter Roddy – Chaparral – JR.
A nationally-ranked prospect with multiple D-1 offers, Roddy's 2019 numbers suggest that he could rise even further up the board during his junior season. As a sophomore, he was only available for Chaparral's last six games but ran it 128 times for 858 yards and 16 scores in just that span, coming exclusively against the Pumas' best competition. Having proven the ability to shoulder an incredible load in only half a season's worth of time to get in a rhythm, Roddy will again go straight into the Southwestern League gauntlet as a junior, but he does have a full season's worth of production to look forward to in 2021-22.
12. Floyd Chalk – Alemany – JR.
Early on in the 2019 season, the Warriors' opponents tried loading up on their well-renowned passing game, and Chalk devoured them. By the time the heart of the season rolled around, Chalk was no longer a secret weapon but a central part of Alemany's attack that defenses keyed in on – and he still devoured them. He finished with 1,431 yards and 20 touchdowns rushing as a sophomore, and also caught for over 100 yards. Now Chalk is a 3-star prospect with at least three D-1 offers, including Penn State.
11. Eddie Allain – Norte Vista – JR.
A reigning SBLive First Team All-Inland Empire honoree, Allain ran for 1,984 yards and 32 touchdowns as a sophomore. The IE's returning leader in 2019 rushing yardage, Allain comes into his upperclassman years with 3,534 of them, and 56 total touchdowns. He's also likely to expand his prowess as a pass-catcher and kick returner going forward. Surprisingly, 247Sports reports no offers yet, but that's certain to change before Allain is done with his high school playing days.
10. Jason Terry – Fairmont Prep – JR.
As just a sophomore, Terry had one of the most prolific 2019 seasons running the ball in the section. He rushed for 2,186 yards and 28 touchdowns, caught for 127 yards and a touchdown, and had over 200 KR yards. He did it averaging an excellent 10.6 yards per carry in just 10 games. Per 247Sports, Terry hasn't received any D-1 offers yet, but expect him to cement his status as one of the best RB prospects in his class in the Southern Section.
9. Sammy Green – Huntington Beach – SR.
Last season at JSerra, Green ran for 571 yards and seven touchdowns going up against some of the best defenses every week, all of which were geared up to stop the run. The 3-star UNLV commit will likely blast through his 2019 production in just a small handful of games in his senior season.
8. Marceese Yetts – Mater Dei – SR.
As a junior, Yetts only ran the ball 68 times, but his 578 of them was the highest mark on one of the best teams in the country. A true APB, Yetts also had 221 PR yards and 121 receiving yards, and is more than capable of expanding his receiving role if asked. The 3-star prospect recently signed with Air Force over Kansas and Yale, among others.
7. J.D. Sumlin – Alemany – SR.
As an important contributor in Sierra Canyon's 2018 championship run and an even bigger one in the Trailblazers' 2019 title run, Sumlin has long been one of the most underrated playmakers in the section. Finally he's starting to get the recognition he's earned, having received a 3-star rating and offers from BYU, Dartmouth, Navy, and others since 2019.
One of the premier slotbacks in the state, Sumlin ran for 990 yards and 14 touchdowns last season, and caught for 528 yards and three TDs more, which was good for over 1,500 total yards of offense. He'll again be a centerpiece of a powerhouse offense as a senior – this time for Alemany.
6. Jacquez Robertson – Mission Viejo – SR.
A nationally-ranked Northern Colorado commit, Robertson ran for 832 yards and 15 touchdowns for the Division 1 semifinalist. He also caught for 60 yards and a touchdown, and could easily expand his role as a pass-catcher if asked. Robertson is one of the strongest runners in the section, a trait he uses in conjunction with impressive footwork, lateral fluidity, and awareness in the box. His production last season was limited by numerous blowout wins in which he barely played, but he could absolutely be in the discussion for best RB in the section this season.
5. Jaylen Thompson – St. Bernard – JR.
Thompson is a high 3-star prospect with at least 16 offers, primarily coming from Power-5 schools. He is now a centerpiece of a new-look St. Bernard program after a great sophomore season at Calabasas.
4. Julien Stokes – Grace Brethren – SR.
On a list that features many dominant playmakers who have been underrated for years, Stokes might be the most underrated. A reigning SBLive First Team All-Ventura County honoree, he ran for 1,377 yards and 18 touchdowns in 11 games last season on 11 yards per carry. A receiving threat lining up not only at RB but sometimes WR, he also had 253 receiving yards and three receiving touchdowns.
Stokes, a San Diego signee, received at least four D-1 offers and got a 2-star ranking, but is still more talented than his recruiting numbers would suggest. He's one of the best play-extending, tackle-evading backs in SoCal, has the speed to be a feature back at the next level, and is a much stronger runner than his 170-pound frame would suggest. Lastly, while it didn't impact his ranking on this list, he was also a strong contributor in rotation minutes at cornerback.
3. Johnathan Arceneaux – Lawndale – SR.
As a sophomore at Whittier in 2018, Arceneaux ran for 1,754 yards and 26 touchdowns, but for whatever reason, it didn't generate a ton of recruiting buzz. So, he came out and ran for 1,848 yards as a junior – this time with less senior talent around him, and defenses even more keyed in on him – and his recruitment blew up.
Arceneaux is now a 3-star recruit who signed with Fresno State out of at least 14 schools to offer him, including multiple from the Pac-12. He also caught for career-highs of 150 yards and two TDs last season. Arceneaux will play his last year of high school ball at for Lawndale, a program that proves every year it knows how to run the ball.
2 Rayshon Luke – St. John Bosco – JR.
A 4-star prospect with next-level foot speed and acceleration, Luke was the leading rusher for the national champ as a sophomore. He ran for 700 yards and nine touchdowns, and caught for 131 yards and a touchdown more. Luke has at least 10 Power-5 offers already and is a top-notch track prospect as well.
1. Raleek Brown – Mater Dei – JR.
As many elite running backs as there are in the Southern Section, No. 1 coming into the season could only be a consensus top-five RB in the Class of 2022 and 5-star Oklahoma commit with 35 offers. In his two underclassman seasons at Edison (Stockton), Brown ran for 2,684 yards and 34 touchdowns on 10.6 yards per carry. He also has 18 touchdowns and over 1,400 yards receiving to his name, and over 400 combined KR/PR yards last season alone on special teams. The numbers don't lie – he's one of the premier playmakers in the country.
—
HONORABLE MENTIONS:
DJ Watts – Murrieta Valley – SR.
Venasio Mikaele – J.W. North – JR.
Tyler Miller – Artesia – JR.
Calin Marshall – Santiago (Corona) – SR.
Matthew Majel – Chaparral – SR.
Mateo Liau – Edison – SR.
Sone Aupiu – St. Anthony – JR.
James Arellanes – St. Bonaventure – JR.
Chase Christner – Aliso Niguel – JR.
Jessie Carvajal – Norte Vista – JR.
Michael Taufahema – St. Genevieve – SR.
Isaiah Candelaria – Schurr – JR.
Justin McCoy – Newport Harbor – SR.
Thaj Stevens-Nguyen – Garey – SR.
Mykel Johnson – Xavier Prep – JR.
Sheldon Canley Jr. – Lompoc – JR.
Damon Williams – Inglewood – JR.
Michael Hayes – St. John Bosco – JR.