SBLive's California Top 25: St. John Bosco No. 1 in statewide preseason high school football rankings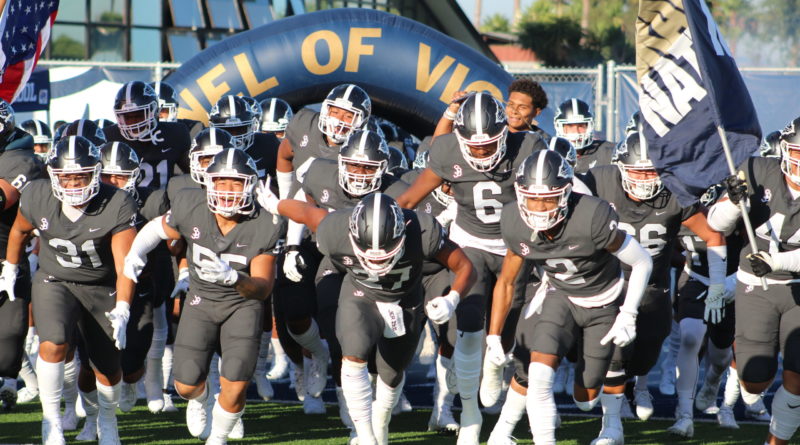 With the spring 2021 California high school football season kicking off on Thursday, we're releasing our first statewide Top 25 rankings of the year.
The rankings were compiled by SBLive California reporter Connor Morrissette and will be released every Monday throughout the season.
MORE: TOP PLAYERS BY POSITION | TOP 50 FOOTBALL TEAM PREVIEWS | PRESEASON ALL-STATE TEAM
SBLive California is previewing the top football teams and players in the state ahead of the 2021 spring high school football season. You can find all of our high school football coverage here. And you can download the new SBLive Sports iPhone app here, and you can download the new SBLive Sports Android app here.
SBLIVE CALIFORNIA TOP 25 FOOTBALL RANKINGS
The Braves finished 2019 as upper division Southern Section and state champions, so they start on top of our rankings. 2019 QB DJ Uiagalelei is now at Clemson and sophomore Pierce Clarkson and junior Katin Houser are competing to replace him. St. John Bosco's offense will be more run focused this spring. Look for tail backs Rayshon Luke and Jabari Bates to have big seasons behind the Braves' mammoth offensive line. Defensively, Bosco is loaded up front and inexperienced, but talented at linebacker and in the secondary.
2. Mater Dei (Santa Ana, Calif.)
Mater Dei is in a similar position to St. John Bosco: they have to replace their legendary quarterback from 2019 as well now that Bryce Young is at Alabama. Junior Emmett Brown, sophomore Parker Awad and freshman Elijah Brown are all competing at the QB spot. The Monarchs will run the ball more this spring with Marceese Yetts and stud junior Raleek Brown, a Stockton Edison transfer. Head coach Bruce Rollinson is very excited about Brown, an Oklahoma commit.
Mater Dei has the best secondary and receiving corps in California led by 2021 wideout Kyron Ware-Hudson and 2022 cornerback Domani Jackson, both USC commits (Ware-Hudson is signed). If the Monarchs get solid quarterback play, they will find themselves in familiar territory once again, atop the Trinity League.
De La Salle dominates Northern California and this spring will be no different. The main returning playmaker for the Spartans is quarterback Dorian Hale, a Sacramento State signee.
"He's a four-year varsity player; he's of course very integral to our success," De La Salle head coach Justin Alumbaugh told SBLive.
4. Servite (Anaheim, Calif.)
Can Servite get over the hump this spring? The Friars have the top quarterback in the state in 2022 gunslinger Noah Fifita. His top target is his best friend, Tetairoa McMillan, a 2022 five star wideout. The Friars great underclassmen defensive linemen and linebackers are now juniors (Jacob Manu, Mason Graham and Maxx Silao). This is Servite's best chance at winning the Trinity League in years.
Senior Jake Retzlaff will start at quarterback after splitting time under center a year ago and should have a huge season. Jaden Mickey and Calvin Pitcher will lead the Huskies' secondary. Head coach Matt Logan will have another great team this spring following 2019's Division 1 semifinal appearance. Corona Centennial will only play league games, so expect some ugly scores.
The bad news for the Diablos is last year's quarterback Peter Costelli and star offensive lineman JT Hand have enrolled early at Utah and Arizona respectively this spring and won't play. Head coach Chad Johnson managed to hang on to defensive end Easton Mascarenas (Oregon State signee) and wide receiver Mavin Anderson (Cal signee) though. Sophomore quarterback Kadin Semonza will replace Costelli under center and should excel. He's part of a special sophomore class at Mission Viejo.
7. Serra (San Mateo, Calif.)
After starting six games under center a year ago due to Daylin McLemore (now at Arizona State) picking up an injury, junior Dominique Lampkin is ready for the spotlight this spring.
"Our identity is a tough, hardworking and dedicated team," he told SBLive. "The thing that makes Serra football special is the brotherhood at our school. We work together as a team and go hard in everything we do."
Coming off back-to-back Southern Section titles and CIF State finals appearances, the Trailblazers would have pushed for a Division 1 playoff spot in a normal season. Even without last year's starting QB Chayden Peery (Georgia Tech early enrollee), this year's Sierra Canyon team is one of the most talented teams in school history. Defensive back/wide receiver DJ Harvey (Virginia Tech signee) is the team's top senior.
Junior Daniel Duran, sophomore Ryan Staub and freshman Alonzo Contreras are competing for the QB spot for Sierra Canyon this spring.
9. Helix (La Mesa, Calif.)
Helix checks into the spring season as the top team in San Diego thanks in part to two senior transfers: lineman Josh Simmons (San Diego State signee) and wide receiver Clay Petry, a Penn commit.
10. Alemany (Mission Hills, Calif.)
Quarterback Miller Moss transferred to Mater Dei and then came back to Alemany, but enrolled early at USC so junior Dylan Gebbia will lead the Warriors at QB this spring. He'll have plenty of talent around him in 2022 receiver Kevin Green and 2022 running back Floyd Chalk. Alemany is the preseason favorite in the Mission League.
11. Oak Ridge (El Dorado Hills, Calif.)
Oak Ridge won the Division 1 championship in the Sac-Joaquin Section in 2019 and enter this spring as the top team in their section once again. Senior quarterback Justin Lamson has enrolled early at Syracuse, but the Trojans still have a lot of talent led by senior receiver Brandon Barthel and senior linebackers Ryan Enney and Hunter Nabers.
12. Bishop Amat (La Puente, Calif.)
Last year's starting quarterback Tobin O'Dell is back this spring for Bishop Amat. Returning the starting QB is a luxury only three of the previous 11 teams listed have. Amat is 10-0 in the Mission League in the last two seasons. They'll be at or near the top of the league once again in 2021.
Oceanside will go as far as star running back Kavika Tua takes them. In 2019 as a junior, Tua finished the year with 2,832 all-purpose yards and 24 total touchdowns.
In a surprising development, Grace announced that head coach Josh Henderson won't return to the school following the spring season. Henderson and Grace Brethren agreed to mutually part ways.
On the field, the Lancers will be very talented this spring, led by senior starting quarterback Mikey Zele and a scary group of linebackers (Isaac Garcia, Carson Cook, Cooper Robertson and Dez Diles). Senior running back Julien Stokes (UC San Diego commit) is another name to know.
15. Central (Fresno, Calif.)
Central has a lot of turnover following last season's undefeated state championship run, but that doesn't mean the Grizzlies will take a major step back.
"We're young almost everywhere across the board," Central head coach Kyle Biggs told SBLive. "I think our offensive line might be one of the best ones we've had at Central … We're young but we've got guys. I wouldn't say one position stands out more than the rest because there's really question marks everywhere but as a whole, I'm really excited."
The Dons return six starters on offense and seven on defense. Senior running back Christian Hall is a player to watch.
17. Serra (Gardena, Calif.)
Two straight very promising seasons have been marred by injuries for the Cavaliers. Will this year be different? Star quarterback Maalik Murphy (Texas commit) and head coach Scott Altenberg will hope so.
San Clemente has high expectations for junior quarterback Lachlan Rosmalen, a St. John Bosco transfer. Head coach Jaime Ortiz called senior linebacker Ryland Swarthout "the rock of his team." The Tritons have serious talent on both sides of the ball.
19. Oaks Christian (Westlake Village, Calif.)
Oaks Christian will be a surprise team in 2021. "I don't want to jinx anything, but we're going to be dangerous," Oaks Christian coach Charles Collins told SBLive. "We're definitely going to be explosive on offense in my opinion."
The quarterback competition has boiled down to juniors Amari Powell and Cole Tannenbaum. Seniors Semaj Freeman and Jashawn Todd as well as junior Derek Boyd are all explosive running backs.
20. St. Bernard (Playa Del Ray, Calif.)
It's a new era at St. Bernard. The Vikings are ready to make some noise under first year head coach Manny Douglas, who was previously at Narbonne. The team is bringing in lots of new talent led by receiver/safety Larry Turner-Gooden, who transferred from Calabasas and is committed to Arizona State.
21. Buchanan (Clovis, Calif.)
Buchanan brings back six starters on each side of the ball. Expect senior wide receiver Darrien Gaines to have a big spring.
"Darrien is fast, versatile and can go up and high point the ball very well," Buchanan head coach Matt Giordano told SBLive. "Once the ball is in his hands he is very dangerous. Everybody on defense will need to know where he is before the ball is snapped. He is arguably the best WR in our section."
Veteren head coach Mike Machado wants to reward his seniors for their patience this spring.
"Things are going to be different than usual," he told SBLive. "I think a big part of this season is about the seniors who worked in your program and put themselves in a position to maybe have been recruited by now. Get them some film. That's what I'm concerned with."
Senior running back Chase Laubach is a player to watch.
Expect San Joaquin Memorial to put up some points this spring.
"We have a very good offensive line," San Joaquin Memorial head coach Anthony Goston told SBLive. "I think we probably average about 275 (pounds) across the front. We've got two stud running backs, we've got great receivers and a very good quarterback. I think offensively we're going to be very physical and very big."
USC signee Prophet Brown, a running back and defensive back, is playing for Monterey Trail this spring. In 2019, he had 779 rushing yards, 11 rushing touchdowns, 343 receiving yards, five receiving touchdowns, and three interceptions.
Folsom will be inexperienced, but dangerous as always under head coach Paul Doherty.
"With 10 sophomores, we'll probably be the youngest team in the section," he told SBLive in December. "When we get the chance to play, we'll be ready to roll. Credit to the kids and coaches."