Previewing the Top 50 high school football teams in California: No. 11 Central Grizzlies (Fresno)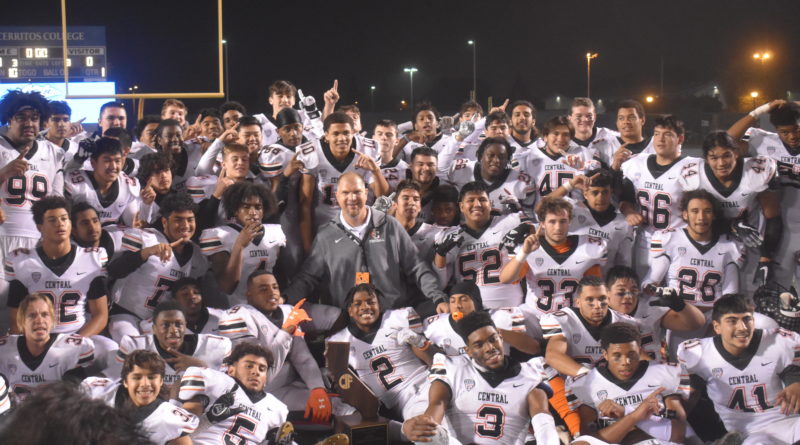 SBLive California is previewing the Top 50 high school football teams in the state ahead of the 2020-2021 season. Even with the season on hold, we will continue to highlight the best teams, players and coaches in California. Here's an inside look at the Central Grizzlies of the CIF Central Section, the No. 11 team in our countdown.
MORE: PRESEASON TOP 50 PREVIEWS
—
CENTRAL TEAM PAGE | 2021 FOOTBALL SCHEDULE
CENTRAL HEAD COACH
Kyle Biggs, 5th season (51-5)
2019 AT A GLANCE
15-0 overall record
5-0 in Tri-River League (1st)
Defeated Buchanan 28-21 in Central Section Division 1 Championship
Defeated Sierra Canyon 34-19 in CIF 1-AA State Championship
ALL-CENTRAL SECTION DEPARTURES
(Source: Pagmeter All-Central Section Super 70 Team)
Jameson Silva – QB (Pagmeter Quarterback of the Year)
Jeremiah Hunter – WR (Pagmeter Co-Wide Receiver of the Year)
Ricky Correia – DL (Pagmeter Defensive Lineman of the Year)
Quali Conley – RB/KR/PR (1st Team)
Dominic Mendez – LB (1st Team)
Xavier Worthy – WR (1st Team) – Early enrollee at Michigan
Sean Haymon – DB (1st Team)
Dwight Tatum – OL (2nd Team)
Jan. 8 at Rocklin – 7PM – Non League
Jan. 15 at Grant Union – 7PM – Non League
Jan. 22 vs. Bakersfield – 7PM – Non League
Jan. 29 vs. Edison – 7PM – Non League
Feb. 5 at Ridgeview – 12:35PM – Non League
Feb. 18 at Clovis – 7PM – League
Feb. 26 vs. Buchanan – 7PM – League
Mar. 4 at Clovis East – 7PM – Non League
Mar. 12 vs. Clovis West – 7PM – League
Mar. 19 vs. Clovis North – 7PM – League
RETURNING STARTERS
2 on offense
6 on defense
PLAYERS TO WATCH
Jekob Jones (Senior-LB) (Cal Poly signee) (6-0, 215)
Coach said: "A four-year varsity starter, he's one of the smartest and hardest working kids on the field and he just gives you everything he has every time he plays. He's our quiet leader."
2019 stats: 85 tackles, five sacks, two interceptions, ten rushing touchdowns
DJ Stevenson (Senior-QB) (6-2, 180)
Coach said: "I think in our offense he's gonna be magical. He can run it, he can throw it, he's really learning and picking up our concepts. He's been real receptive and I think he's gonna be phenomenal."
Jeremiah Shelton (Junior-LB/DE) (6-1, 215)
Coach said: "Might put his hand in the dirt a little more, but he's just getting better and better. He has a good IQ, and he just has that instinct to attack."
2019 stats: 86 tackles, 5.5 sacks
Angel Gonzalez (Senior-WR) (5-9, 170)
Coach said: "He has the most experience at wide receiver for us … Angel is kind of the guy who sets the tone for the receiving corps. He plays with all heart, he's one of the fastest kids on the team, he goes out and tries to make every play that he can."
Sahil Sihota (Senior-DB) (5-10, 165)
Coach said: "Sahil missed last year. We were really excited about him and he got hurt in preseason practice. He's another kid who's always gonna be there, doesn't say a lot, does everything you ask him to do and works his behind off. He's physical, fundamentally sound, he's got great technique and he's a really, really good corner."
IMPACT TRANSFERS
DJ Stevenson – 2021 QB (Buchanan)
Kasen James – 2021 OL (Buchanan)
Asonii McDowell – 2021 RB (Washington Union)
Jayden Bonds – 2021 DB (Sunnyside)
Marcus Ramirez – 2022 LB (Dos Palos)
HOW COVID-19 HAS AFFECTED CENTRAL FOOTBALL
COVID-19 has affected every high school football team differently. Coach Biggs shares how COVID-19 has impacted Central football over the past several months:
"We've been shut down for the most part. We've had six weeks here or there and then get shut down. The time we've had together, the kids are eager and anxious. They want to play and be a part of something. From that aspect I think we're ready to go."
"We're young and those spring practices, summer practices, and seven on seven practices we really could have used those to get where we need to be, so we're gonna be a little bit behind but our kids our tough, they're smart kids and they'll figure it out. It's not where we want to be, but it is what it is and we'll be ready to play whenever they tell us we can play."
BEST-CASE SCENARIO FOR CENTRAL
The Grizzlies have captured three straight Central Section Championships and are the favorites once again in 2021. It won't be a cakewalk with competition coming from Buchanan, Liberty, Bullard and others.
MOST REALISTIC SCENARIO
Following up a 15-0 season in 2019 that culminated with a CIF State 1-AA Championship, the Grizzlies look like the frontrunner in the Central Section despite several key losses.
Most notably, Central will be without talented wide receiver Xavier Worthy who caught 16 touchdown passes as a junior. Worthy elected to enroll early at the University of Michigan after the high school football season was delayed.
The Grizzlies welcomed in several impact transfers on both sides of the ball that have had time to adapt during the delays of the 2020-21 season.
COACH SAID
"Yeah, we're really excited to watch this team. We've been waiting but we're very excited and we like our guys. They've handled a bunch of situations well. I'm excited to hopefully get out there and watch them compete."
"We're young almost everywhere across the board … I think our offensive line might be one of the best ones we've had at Central … We're young but we've got guys. I wouldn't say one position stands out more than the rest because there's really question marks everywhere but as a whole, I'm really excited."
"Obviously we want to go 1-0 every week but our main goal is to win state. We want to win state championships and we know in order to do that you have to go 1-0 every week, you have to win a league championship, you have to win a valley championship. We know in order to get to that state championship it sort of covers all of the other aspects."
– Coach Kyle Biggs