Previewing the Top 50 high school football teams in California: No. 48 Norco Cougars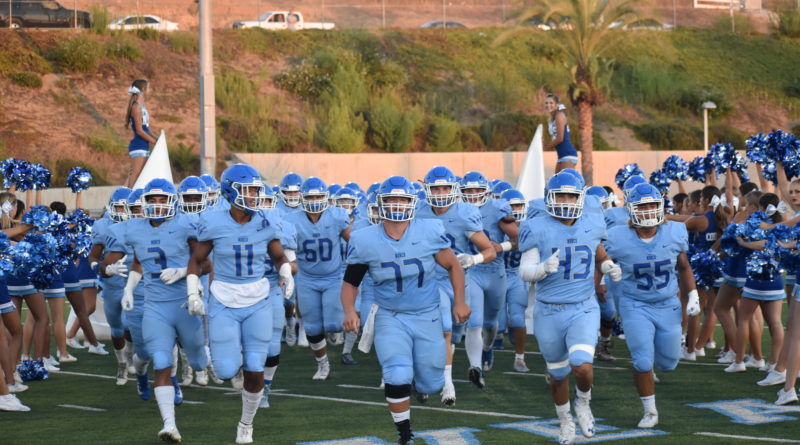 SBLive California is previewing the Top 50 high school football teams in the state ahead of the 2020-2021 season, which is scheduled to kick off the first week of January. Here's an inside look at the Norco Cougars of the CIF Southern Section, the No. 48 team in our countdown.
NORCO TEAM PAGE | 2021 FOOTBALL SCHEDULE
NORCO HEAD COACH
Chuck Chastain, 7th season (45-25)
2019 AT A GLANCE
League record: 4-1, second in Big VIII League
Playoffs: Lost to Chaminade 46-44 in first round
ALL-SOUTHERN SECTION PLAYERS DEPARTED
Shane Illingworth – Quarterback
Marquies Ashley – Wide Receiver
(All game times 7 p.m.)
Jan 8: Santa Margarita
Jan 15: at Rancho Cucamonga
Jan 22: at Vista Murrieta
Jan 29: Murrieta Valley
Feb 4: at Rancho Verde
Feb 12: Santiago
Feb 19: at Corona
Feb 26: Centennial
Mar 4: King
Mar 11: at Roosevelt
PLAYERS TO WATCH
Andrew Madrigal (Senior – OL) (Nevada commit) (6-4, 280)
Madrigal gained huge experience last season blocking for an offense that closed in on 5,000 total yards. He'll be counted on to provide leadership this season as Norco lost several key contributors from last season's offense. Madrigal committed to Nevada in June after adding offers from 10 schools.
Brandon Manley (Senior – LB) (5-11, 210)
The leading returner on defense for Norco, Manley has 102 tackles during his first two varsity seasons. His experience will be big for a defense that loses four of its six leading tacklers.
Kyle Crum (Junior – QB) (6-4, 190)
The backup for Norco as a sophomore, Crum threw for 332 yards and four touchdowns in limited action last season. His offseason work with the receiver group should help ease the transition into being the signal caller.
Grant Gray (Sophomore – WR) (6-2, 170)
Gray was the Cougar's fifth leading receiver as a freshman, totaling 146 yards and two touchdowns during the second half of last season. He'll be counted on in a much bigger way starting as a sophomore.
Steven Cuadra (Senior – DB) (6-0, 175)
Cuadra is one of the returners in an experienced secondary that grabbed 18 interceptions last season. Lake Erie is the first scholarship offer for Cuadra after his 33 tackles and two interceptions as a junior.
IMPACT OF COVID-19 ON NORCO FOOTBALL
With months of football activities being cancelled, junior quarterback Kyle Crum and his teammates took it upon themselves to stay ready for a possible season.
"We have a pretty tight friend group just within the football team, we weren't allowed to do anything organized with the team, but we've just gone to parks and thrown the football around, run routes to stay in shape and keep our timing," Crum said.
"We're back to practicing now so we're allowed to lift outside, the coaches have built an outdoor weight room, but our practices have to be spaced out and we can't throw a ball yet," Crum said of the guidelines that have allowed Norco to resume team activities. "We're just doing a lot of walk through stuff to try and prepare and get all the plays down."
BEST-CASE SCENARIO
The Cougars non-league slate will give them a chance to add to their resume with big opportunities against Rancho Verde and Santa Margarita.
Is this the year that Norco is able to take down Big VIII foe Corona Centennial?
Despite Corona Centennial losing several key playmakers from a year ago, Norco will be dealing with much of the same as they look to replace quarterback Shane Illingworth (now at Oklahoma State) and receiver Jaden Navarrette (now at Oregon).
As often shown in the Southern Section playoffs, giving yourself a chance is all that you can ask for. Norco suffered a first-round home loss by two points against Chaminade last season and saw the Eagles make the most of it as they advanced to the Division II championship game.
MOST REALISTIC SCENARIO
The Cougars have only lost more than one league game once in the six seasons under head coach Chuck Chastain. Despite having to work in several new pieces on offense this season, it appears that Norco has the upper hand as the top competitor to Corona Centennial in the Big VIII.
Norco's secondary should be one of the team's strengths with returners Steven Cuadra, Logan Grier, and Darius Ward. The Cougars were able to hold their league opponents to only 102 points last season, with 41 of those coming against teams not named Corona Centennial.
QUARTERBACK SAID
Norco relied heavily on quarterback Shane Illingworth last season as he threw 40 touchdowns for the Cougars and was only intercepted twice. With Illingworth now playing for Oklahoma State, the Cougars turn to junior Kyle Crum. Crum made appearances in six games last season while throwing four touchdown passes and zero interceptions.
"Last year the first couple games I remember being really nervous, and everything seemed so much faster," Crum said. "But by the end of the year it just seemed like it slowed down and I feel like I'm definitely comfortable to come in and take that starting spot this year."
Illingworth was able to help Crum along the way last season with insight that should make the process of stepping in as the new quarterback easier to handle.
"He's a really strong leader," Crum said of Illingworth. "So I was able to learn a lot about leadership from him and how to run the team that's definitely helping me this year. And things like how he focuses on his footwork that's important and spots to hit people and different reads, so he's definitely helped me a lot and I'm thankful for that year of experience under him."
"We've got a really solid group of sophomores and juniors and I really think that they're going to be able to fill those roles and exceed expectations."