More details emerge in fatal shooting of former Westlake football player Jordan Patterson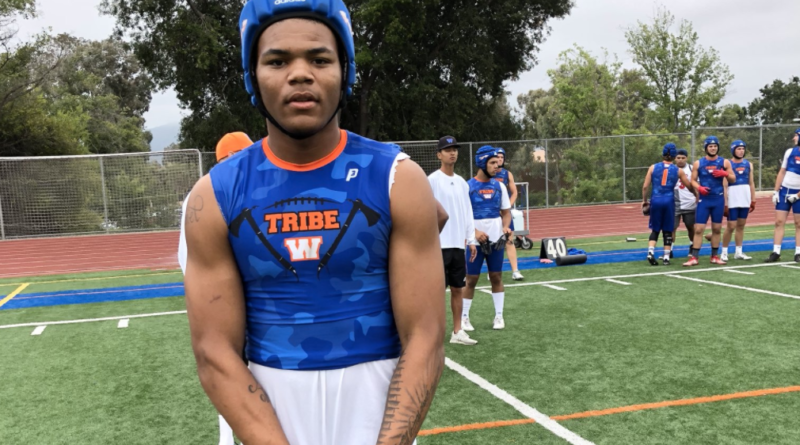 Los Angeles School Police Department Officer Roger Lee was patrolling the area around Dymally High School in Watts around 12:30 p.m. on Wednesday, Sept. 30 when he heard gunshots.
"I got there and parked my car and then suddenly I heard a pop and three more pops," Lee said.
"It was very close by so I immediately opened the door and then I looked around and I saw two male victims running towards me. One of them fell and collapsed down on the corner of 87th and San Pedro and the other victim [a 26-year-old] was running looking into cars, and I saw him bleeding and I said hey, hey, are you okay?"
"He said 'I'm shot, I'm shot and my homie is shot too.'"
Lee then saw one of the Dymally High staff members and he told them to lock down the school. From there, Lee communicated with the victim who was moving.
"I said 'are you okay?,'" Lee said.
The victim responded: "I'm okay, I'm okay, but my buddy."
So Lee went to tend to the victim who had collapsed. It was Jordan Patterson.
"I run right up to him and I saw that he had been shot in the back."
Lee called for backup and paramedics. Audio from that call can be heard below.
While rendering aid, Lee asked for Patterson's name and his age.
"I just wanted to keep him talking," Lee said.
Paramedics eventually took Patterson — the former Narbonne and Westlake football player — and the second victim to the hospital. Patterson, 19, died. The other victim survived.
It took LAPD's dispatch four minutes to pick up the call from the LASPD dispatch following Lee's call for backup and paramedics.
"That's a huge problem," Lee said.
In a situation involving a shooting that wait time is surprising, according to Gil Gamez, the president of the Los Angeles School Police Officers Association.
"I think it was out of the ordinary because our dispatcher actually put it in our computer logs," Gamez said.
"They made a point to put it in the log. They never usually do that. That seemed like an excessive amount of time for a shooting."
Patterson played on the 2017 Narbonne state championship football team that beat Pittsburg 28-21. He played his senior year (2018-19) at Westlake.
At one time Patterson was a Division 1 college football prospect and held scholarship offers from UCLA and USC.