Ziaire Williams scouting report: Stanford commit now a projected top-5 pick in 2021 NBA Draft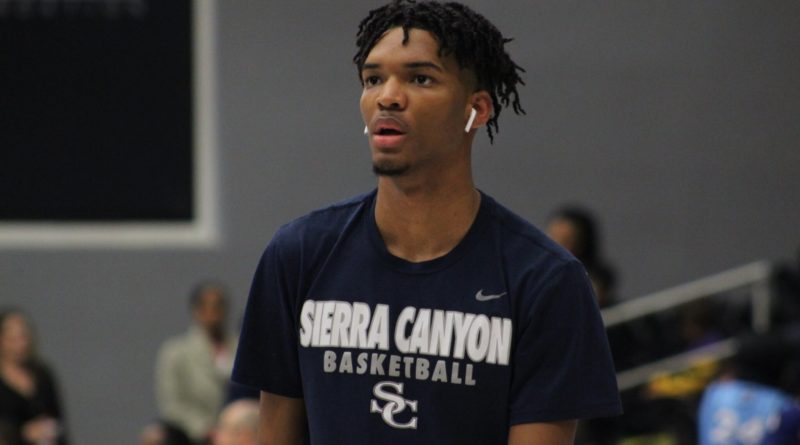 Next up in our series of boys basketball scouting reports is future Stanford Cardinal Ziaire Williams, yet another projected one-and-done prospect coming out of Southern California high school ball this year.
Williams was already projected as a potential lottery pick in the 2021 NBA Draft before his senior year, but now he has a legitimate chance of going in the top five.
Coming into his senior season at Sierra Canyon after transferring from Notre Dame (Sherman Oaks), Williams was already the consensus top small forward in the country, listed at 6-foot-7 and 175 pounds. With good athletic tools, high energy and IQ, and plenty of guard skills, he already seemed like a safe bet as a strong wing defender and offensive role player in the NBA in the future.
Then in his 21-game senior season at Sierra Canyon, he made yet another leap. Williams averaged 15 points, 7.9 rebounds, and 3.6 assists per game, and was arguably the top playoff performer for the CIF's Southern California Open Division champion. Most importantly, it was his best perimeter shooting season by a wide margin.
Williams is still growing and has more recently been listed at 6-8, 190, which easily passes the eye test both in person and in 2020 film. He also has a wingspan of just under seven feet, and his recent physical growth, crucially, means he can play power forward at the NBA level in addition to small forward.
In terms of intangibles, Williams' combination of having fun while bringing competitive intensity and consistent basketball IQ is rare, and his team rallies around him. He's also known for having the clutch gene.
Throw all that in with guard skills that continue to blossom, and he's a projected top-five pick in one of the most hyped draft classes in recent history.
STRONG MULTI-POSITIONAL DEFENSIVE PROSPECT
Williams' combination of size and athleticism was the first thing to put him on the radar of NBA scouts and GMs. As long as he continues to fill out his frame, he will be above average in all aspects of athleticism at either forward spot. Athletically, his quickness of foot is his strongest attribute, which bodes very well for guarding NBA wings. Williams has been compared to players like Paul George and DeAndre Hunter for his potential to defend the 2-4 positions at a very high level.
He not only has the physical tools but also the tenacity needed to be a strong defender at three or more positions in the NBA. With his high motor, Williams is good for plenty of energetic steals and emphatic weak-side blocks against all calibers of high school competition, and some of that will likely translate to the NBA level.
He also rebounds well and shouldn't have any trouble doing his job on the defensive glass at higher levels. In the NBA, Williams will need to improve at quickly figuring out where to rotate when half-court defensive schemes get scattered, but there's no reason to think he won't. With such a good chance of being an impactful defender in the NBA, Williams will not be that risky of a draft candidate even if his offensive game takes more time to cement.
OFFENSIVE PROMISE KEEPS GROWING WITH DEEP BALL
Williams has never had a shortage of ability to handle, finish, pass, and make decisions for a wing. And with his size, his ability to take it to the hole will likely translate to the NBA.
While he doesn't project as a full-blown point forward early in his career, his ability to play with the ball in his hands presents immediate playmaking potential. He will be an open floor threat handling or finishing from day one. And his willingness to move/cut in half-court situations and run the floor off the ball is strong.
So as far as being a strong NBA player is concerned, the question was always his three-pointer for floor spacing. Coming into his senior year, the word on Williams was not that he couldn't shoot, but that forcing him to shoot threes was easily the poison to pick.
Williams was a sub-30% shooter from deep in the 2018 and 2019 Nike EYBL's, and also in the 2019 World Cup. He still scored in volume efficiently inside the arc in those events, but there's never been a tougher time to make it as a wing in the NBA without a consistent deep ball – no matter how good you are with the ball in your hands.
It's not like Williams ever had a broken jumper or was incapable of hitting from deep. His form is solid and consistent, he's long been a threat from mid-range, and even in his early teenage years he was hitting threes on a regular basis. But the pressure and distance to the three-point arc in the NBA are different animals, and any forward who can't consistently space the floor off the ball is a liability.
And Williams' range made the strides that scouts wanted to see in 2019-2020. His results in catch-and-shoot situations were more consistent, and at times he was unstoppable hitting jumpers off the dribble, including from three. And it was tested on a Sierra Canyon squad with an unbelievable collection of on-ball threats but inconsistent floor spacing.
When Williams is hitting, he can hit not only standstill threes but jumpers off the dribble, fading away, and elevating over defenders in his face. Often, he shot it so well last season that now it looks like his perimeter shot could be yet another strength down the road. If not for the fact that the NBA arc (and now, college arc) is quite a bit farther back, his three wouldn't even be a question mark anymore.
With his good form and marked continual improvement, I personally would bet on Williams being a legitimate NBA floor-spacer, even if it's not until he's been in the league for a few years. If it all comes together for Williams and his range extends to the NBA level, it will likely take time for him to consistently maximize such a complete offensive arsenal, but he could potentially play all-star caliber ball on both sides of the ball in the Association.
HOW THE STACKED 2021 DRAFT CLASS FACTORS IN
If Williams proves his range even more at Stanford, he will almost certainly be somewhere in the discussion for a top-three overall pick in 2021. A mediocre shooting year but more signs of shooting progress and promise would still keep him in the lottery barring other setbacks in his overall game.
And Williams could get drafted in 2021 even if he had a disastrous year on the offensive side of the ball (not that I think he will). But if he really struggles with offensive refinement and he falls below 20, I'd expect him to make the business decision to return to school and take another shot at the rookie-scale salary of a high-lottery pick in 2022.
His NBA baseline as a defensive-minded role player is going nowhere, barring career-altering injuries. But it's not an exaggeration to say there will likely be players falling to the end of the first round in 2021 who could go top-10 other years. Either way, Williams will be a low-risk, high-reward draftee on the right NBA team before long.