Who was the best shooter in Southern California high school girls basketball in 2019-2020? Here are 30 players to consider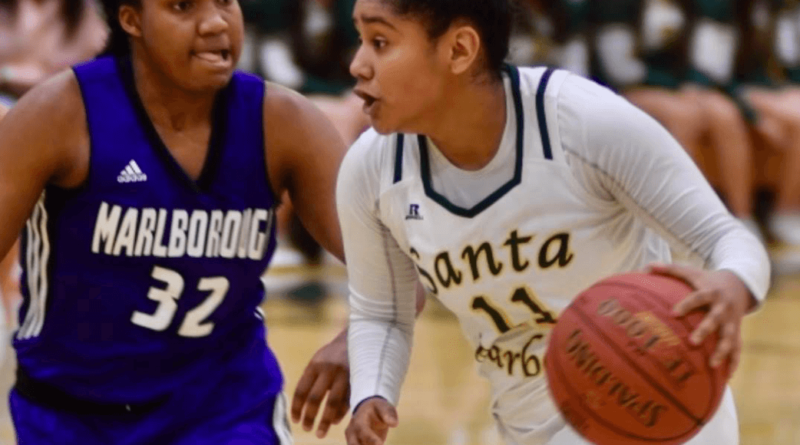 From La Jolla Country Day's Te-hina Paopao to Ontario Christian's Chloe Briggs, there were dozens of knockdown shooters in Southern California high school girls basketball in 2019-2020.
Scorebook Live's Lance Smith compiled a list featuring 30 of the best shooters across the L.A. City, Southern and San Diego Sections. Three-point shooting was the main factor, but mid-range shooting was factored in when possible.
Players who made 40% or more of their threes with at least 35 makes automatically qualified for the list. The other players on the list hit threes in high volume at over 35% shooting from deep. There were only a couple of exceptions for players who knocked down a particularly high volume of threes at 35% or a little under, with breakdowns in the descriptions.
The list is in alphabetical order. Email lance@wpsblivest.wpengine.com to submit a photo or nominate a player not on the list who meets the numerical criteria.
BEST SHOOTERS IN SOCAL GIRLS BASKETBALL
Sammie Arnold – Palisades – JR.
Arnold knocked down 62 threes at 37% from deep for the CIF Southern Region Division II champion. She also has a dependable pull-up jumper from mid-range when run off the three-point line.
Brya Arroyo – Gahr – FR.
Arroyo is one of SoCal's best shooters in the Class of 2023, knocking down 51 at 46%.
Tia Barefield – Rancho Christian – FR.
Barefield hit 65 threes at a staggering 45% from three.
Chloe Briggs – Ontario Christian – FR.
Briggs hit 35% of her threes, a strong number but even stronger when factoring in that she hit 141 of them on the year. That's among the most on the West Coast – as is her 33.8 PPG.
Haylee Carpenter – St. Bonaventure – SR.
Carpenter knocked down the most threes in Ventura County, 99, at a 36% rate.
Julia Cosalan – Bonita Vista – JR.
Cosalan has the lowest 3FG% of anyone on this list, but she's one of the most dangerous deep threats in SoCal. She knocked down 88 threes with some of the region's best defenses trying to keep her from getting a good look from downtown at all costs.
Jocel Deleon – Camarillo – SR.
Deleon was a big part of one of the best-spaced floors in SoCal, knocking down 51 threes at 43% for Camarillo.
Vanessa DeJesus – Sierra Canyon – SR.
DeJesus consistently made it rain from deep and mid-range against the best defenses in the country. The Duke commit has a quick trigger and a penchant for hitting dagger jumpers in the fourth quarter.
Brooke Demetre – Mater Dei – JR.
Demetre is one of the best mid-range shooters out there, and also converted threes very efficiently in moderate volume. She's adept at knocking down jumpers fading away, off the dribble, and with a hand in her face.
Alyssa Frescas – Mater Dei – JR.
Frescas is widely considered one of the top shooters in SoCal hoops. She has a quick release, good balance shooting off the dribble, and range that goes far beyond the high school arc.
Sydney Gandy – Orangewood Academy – SR.
Gandy is one of the smoothest shooters in SoCal, and can hit effortlessly from upwards of 25 feet. It's routine for her to knock down four or more threes in the first half and come out to an entire defense shifted several feet upwards, for instance when she went 4/5 from three en-route to 27 points in a CIF Division 1 state playoff victory over Bonita Vista.
Lesley Garcia – Millikan – SR.
Garcia hit 82 threes at 37% even with defenses keyed in on her as Millikan's biggest deep threat by a big margin.
Jessica Grant – Mission Hills – SO.
Grant knocked down a whopping 140 threes at 38%.
Allison Ha – Royal – JR.
Ha hit 75 threes efficiently, with many of them coming contested and off the dribble, en-route to scoring well over 20 PPG.
Sammie Henley – Ventura – SR.
Henley hit 60 threes at 38% with a number of them coming with a high degree of difficulty.
Aaniya Hutchins – Calabasas – SR.
The 20 PPG scorer hit 87 threes at 39% with a lot of them coming unassisted.
Alyssa Kubo – Esperanza – SO.
Kubo was in rare air knocking down over 80 three at over 40%.
Alyssa Marin – Camarillo – SR.
Even with defenses geared up to stop her from getting a good look from three (or anywhere), the UCSB commit hit 81 threes at 33%. She was also very consistent from mid-range on way to averaging 21.6 PPG.
Te-hina Paopao – La Jolla Country Day – SR.
The Gatorade National Player of the Year finalist hit 88 threes at a 37% clip, with plenty of them coming with a high degree of difficulty.
Riley Phipps – Saugus – JR.
Phipps hit 35 of her 79 three-point attempts on the season, good for over 44%.
Nylah Prince – Arroyo Valley – SR.
Prince averaged over 18 PPG and hit 64 threes on an excellent 42% from deep.
Simran Randawa – Del Norte – SO.
Randawa hit 42% of her threes. Knocking down 43 of 106 in under 10 MPG is a very impressive feat, and she could emerge as a leader in volume as well with more minutes as an upperclasswoman.
Rebecca Saidoff – El Camino Real – SR.
Saidoff hit 82 threes at 34%, a solid but deceptively low statistic. Going to any lengths to keep her from getting good looks from three was at the top of every defense's scouting report, and Saidoff firing from deep even with a high degree of difficulty was vital to ECR's offensive success. She was also a major threat to hit from mid-range when defenses ran her off the arc.
Sophia Santangelo – Villa Park – JR.
Santangelo hit over 100 threes shooting 39% from behind the arc.
Athena Saragoza – Santa Barbara – JR.
Saragoza hit 75 threes at 37% with a lot of them manufactured herself en-route to averaging 24.2 PPG.
Dara Tokeshi – North (Torrance) – SO.
Tokeshi hit a massive 44% of her threes on one of the best three-point shooting teams in SoCal, if not the whole West Coast.
Guadalupe Vazquez – Cantwell-Sacred Heart – SR.
One of the top scorers in the Southern Section (23.6 PPG), Vazquez hit 63 threes at 38%. She was one of the most dangerous mid-range assassins in SoCal as well.
Maniyah Willingham – Arroyo Valley – SR.
Willingham knocked down 51 threes on a staggering 49% from downtown. All in all she averaged 24.3 PPG.
Reese Wong – La Salle – FR.
Wong knocked down 37 threes at over 40%.
Samantha Yanagi – North (Torrance) – SO.
Yanagi drained 45% of her threes as part of her nightly average of over 14 PPG.
UPDATES:
Ashley Hawkins – Woodrow Wilson – JR.
Even with defenses geared up to stop her, Hawkins knocked down 85 threes at 33.9% for CIFSS 3-A champion Wilson.
Payshance Walk – Crenshaw – SO.
We missed her in the initial post, but Walk hit 38 threes on the season at a blistering 52%.