Sierra Canyon's incredible comeback over Etiwanda tops list of best games Connor Morrissette covered during 2019-2020 boys basketball season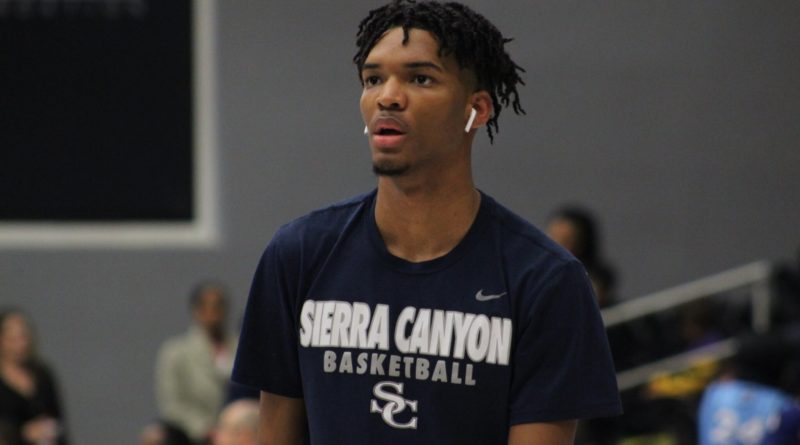 There were dozens of memorable games during the 2019-2020 high school boys basketball season in Southern California and Scorebook Live's Connor Morrissette was fortunate to witness many of them.
Here's a look back at the top six games Morrissette covered in LA City and Southern Section basketball:
6. JSerra vs. St John Bosco – (Jan 10) – PHOTOS – RECAP
Final score: JSerra 55, St. John Bosco 54
Significance: JSerra winning at St. John Bosco spoiled the Braves' chances at winning back to back Trinity League titles. St. John Bosco went on to split with Mater Dei in league. Mater Dei went 9-1 and St. John Bosco went 8-2.
Ian Martinez scored 29 points and had the game-winning assist for JSerra in this game. The Utah signee was the difference maker.
5. Birmingham vs. Mayfair (Jan 25) – PHOTOS – RECAP
Final score: Birmingham 83, Mayfair 80
Significance: Not much. This was simply a damn good (and entertaining) basketball game. Putting Birmingham's David Elliott and Corey and Elisha Cofield alongside Mayfair's Josh Christopher and Dior Johnson meant that there were going to be fireworks and those five delivered and then some.
Elliott hit the game-winning three with three seconds left. Earlier on, Christopher threw down two of the most vicious high school dunks of the year. He finished with a game high 39 points. Johnson added 32 in defeat. Corey Cofield led Birmingham with 27 points and had a big slam of his own. This was a tremendous back and forth affair with high-flying dunks, foul-mouthed fans and a buzzer-beater. It was amazing.
4. Fairfax vs. Windward – (Mar 3) – VIDEO HIGHLIGHTS
Final score: Windward 64, Fairfax 62
Significance: Desperate to make amends for getting blown out in the LA City Section Open Division championship against Westchester, Fairfax came out firing on all cylinders against Windward in the first round of the Division 1 CIF State playoffs. Fairfax consistently led in the second half.
Windward weathered the storm enough to find themselves down by one with 20 second to play. That's when Wildcat sophomore Dylan Andrews hit a step back three as time expired to win the game for Windward and they moved on to round two.
3. Rancho Christian vs. Sierra Canyon – Dec 30 – RECAP – VIDEO HIGHLIGHTS
Final score: Rancho Christian 85, Sierra Canyon 81 (OT)
Significance: Ziaire Williams was finally eligible for undefeated Sierra Canyon. Evan Mobley and Rancho Christian, the one California team that has had success against the Trailblazers in recent years, was Sierra Canyon's opponent. It was the Classic At Damien Platinum Division championship. The storylines wrote themselves.
When the dust settled, Rancho Christian senior guard Dominick Harris scored 30 points to lead the Eagles to an 85-81 overtime victory. This game showed that Sierra Canyon was beatable. That was the last defeat to a California school the Trailblazers had however as they went on to win Open Division Sectional and Regional championships.
2. Heritage Christian vs. Santa Clarita Christian – (Dec 27) – VIDEO HIGHLIGHTS
Final score: Santa Clarita Christian 80, Heritage Christian 77 (2OT)
Significance: This was a Classic At Damien quarterfinal matchup in the Gold Division, but it felt like a championship. Twice Santa Clarita Christian senior Ty Harper hit three point shots just before the buzzer to extend the game, once at the end of regulation and once at the end of the first overtime. He scored 32 points in total. They all came in the second half and overtime.
The Cardinals went on to win the Gold Division championship over Washington Prep. That would not have been possible without Harper's heroics in the quarterfinals.
1. Etiwanda vs. Sierra Canyon – (Mar 10) – RECAP – VIDEO HIGHLIGHTS
Final score: Sierra Canyon 63, Etiwanda 61
Significance: With a regional title on the line, Etiwanda had Sierra Canyon right where they wanted them (so they thought): the Eagles were up by 11 points with three minutes to play. From there, Sierra Canyon went on a 13-0 run capped off by a buzzer-beating foul line jump shot from senior Ziaire Williams, which won the game. Pandemonium ensued as fans rushed the court.
The win was Sierra Canyon's final game of the year due to the CIF State Championships being cancelled. The loss was a back-breaker for Etiwanda, who ended the year with four defeats. Three of those losses came against Sierra Canyon.