5 Southern Section middle-division girls basketball teams poised for big seasons in 2020-2021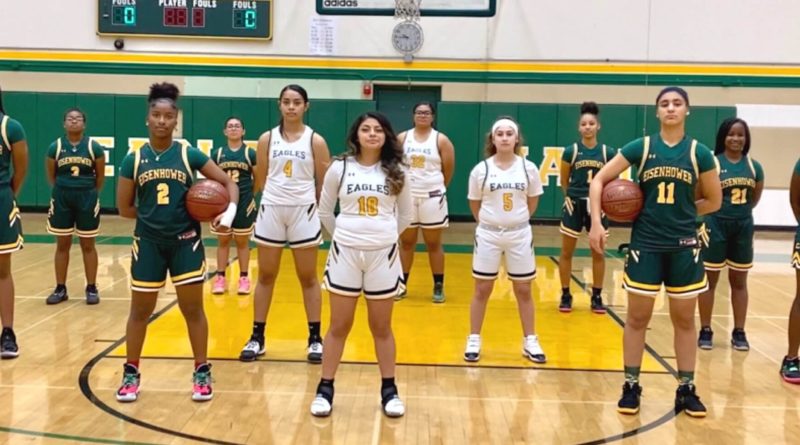 Fans who followed CIF Southern Section high school girls basketball in 2019-2020 couldn't help but notice that many of the best teams in each division were comprised largely of non-seniors. Several of the best teams throughout the section will be back and better than ever come playoff time next season.
These Southern Section Division 2-AA through 4-AA playoff contenders all return the majority of their cores in 2020-2021. Most of them had one or two seniors among their key players this past season, but all of them will return their best player and the majority of their main producers.
Paloma Valley – Division 4-AA
Leading up to through their CIF Division III regional title and canceled state championship game, Paloma Valley went 34-3 through their remarkably dominant postseason run. And their top four leading scorers are coming back for that state chip as upperclasswomen in 2020-2021.
G Mya Pierfax led the Wildcats with 17 points and three assists per game in 2019-2020. F Sydney Woodley was second with 15.4 points and 2.6 assists per game to go with a team-high 10.9 rebounds and 4.2 steals. And F Trinitee Bradley was third in points, assists, rebounds, and steals. All three will be back as seniors. G Breeann Willich also had 7.9 points, 3.3 rebounds, and 1.1 assists per game last year as a sophomore.
Paloma Valley will miss F Isabella Villegas and G Leslie Giles. But the rest of the squad will be back. In addition to the aforementioned stars, they'll return a few valuable role players who could take leaps, such as Christianna Hawkins, Essynce Lewis, and Samayah Reed. Even if the Wildcats are bumped up from 4-AA, they'll be a major threat to go on another CIFSS and state playoff run.
Eisenhower – Division 3-A
Before coming up a couple buckets short in the 3-A finals against Woodrow Wilson and going 1-1 in the state playoffs, Eisenhower was 26-4 on the season. They finished 27-6 and should be in good shape for another playoff run with their two top players and a couple more members of their core returning in 2020-2021.
Last season, the Eagles were led by one of the best freshmen in the Southern Section, F/C Hemingway Sa'lah. She averaged a team-high 15.1 points and 10.9 rebounds per game in addition to anchoring the team on defense. The combination of her and PG Ariel Perkins will be giving Southern Section foes issue through 2023, with Perkins averaging 9.4 points, 4.3 rebounds, and a team-high four assists and 3.3 steals per game. SG Briana Lizardi will be back as a senior after averaging 13.8 points, 3.6 rebounds, and 2.8 steals per game last season.
The losses of G Natalie Vazquez and F Rita Avei will leave voids, but with the front-end talent they have coming back, Eisenhower potentially still improve quite a bit. F Jai'Aaliyah Thompson is one of a few underclasswomen off the bench who could potentially take strides and boost the team significantly. If all comes together, 2020-2021 could find Eisenhower coming back stronger and getting over the hump.
Lancaster – Division 3-AA
Lancaster is one of multiple teams on this list who made the state finals and were deprived of a crack at the title. Luckily, there were only a couple seniors on the team, so the Eagles will have a great chance to try to tie up loose ends next season.
Their three leading scorers and six of their seven leading scorers will be back next year, mostly as upperclasswomen. PF/C Rayshanti McNeal-Price led the Eagles with 15.8 points and 9.3 rebounds per game last season as a junior. They'll also have strong wing play with sophomore Mea Madison, who averaged 9.9 points, 3.8 rebounds, and 2.1 steals per game, and junior Autumn Wilson.
If they can stay healthy, depth won't be an issue for Lancaster. They'll be losing rotation PF Brooklyn Curry and reserve G Timiah Lenard, but should be able to keep all bases covered with the depth they have returning. They still have good depth returning at the forward spots with Saniya Sinclair and Vanessa Fletes coming back.
Burroughs – Division 2-A
The Indians went 25-8 and made the Division 2-A playoffs last season with only one senior in the rotation. Before losing to solid foes in San Clemente and Westchester in the section and state playoffs, respectively, they were 25-6. And their top five leading scorers will all return next season.
They have a trio of seniors who run the show. F Faith Boulanger led Burroughs in four base stats with 14.5 points, 8.2 rebounds, 2.1 assists (tied), and 2.4 blocks per game. She also was Burroughs' best shooter at 37% shooting from three, and added 2.1 steals per game. She forms a strong frontcourt tandem with F Kayla Wrobel, who was second on the team with 9.5 points and 7.9 rebounds per game. SG Dyani Del Castillo will also return after averaging 8.2 points, 5.8 rebounds and 2.5 steals per game as a junior.
Noor Fahs provided good guard play as a sophomore last year as well. After that, depth was a question mark last season, but there a handful of underclasswomen who were on the team last year and will likely be ready to take increased roles. A boost from the returning reserves could push them over the edge as a 2-A frontrunner or strong 2-AA contender.
Millikan – Division 2-AA
Millikan is an exception on this list in that they're losing not only three important role players in F Ana Felemi and Gs Shaakira Jackson and Brittney Ettinger, but also a double-digit scorer in G Lesley Garcia. However, they still qualify, as they're returning their leading scorer plus two more double-digit scorers, and plenty more depth.
C Allison Crawford was one of the best sophomores in SoCal last season, leading the team in points (14.5), rebounds (12.2), and blocks (2.2) per game on 52% FG. F Vanessa Smith will be returning as senior after putting up 10.6 points, 7.4 rebounds, 2.1 assists, a team-high 3.9 steals, and one block per game. And W Amaya Lacy averaged 10.6 points, 5.9 rebounds, two assists, 3.1 steals, and nearly a block per game as a freshman. Even with Garcia gone, that's quite a core to return.
Also coming back are Gs Sierra Hill, Kylee Ishibashi, Amy Walker, and C Siyanda Salter. All four of them are likely ready for bigger roles next season. Salter already put up four points, 5.8 boards, and 1.4 blocks per game last season as a 6-2 freshman with significant upside.
Floor spacing was an issue at times for the Rams last year, and losing by far their best outside in shooter in Garcia will hurt. Outside of that, they have plenty of returning experienced talent and a complete team construct. They were already close to going deep in the Division 2-AA playoffs, and are likely to go on a playoff run in 2-AA or Division 1 next season.