Final 2020 L.A. City Section girls basketball power rankings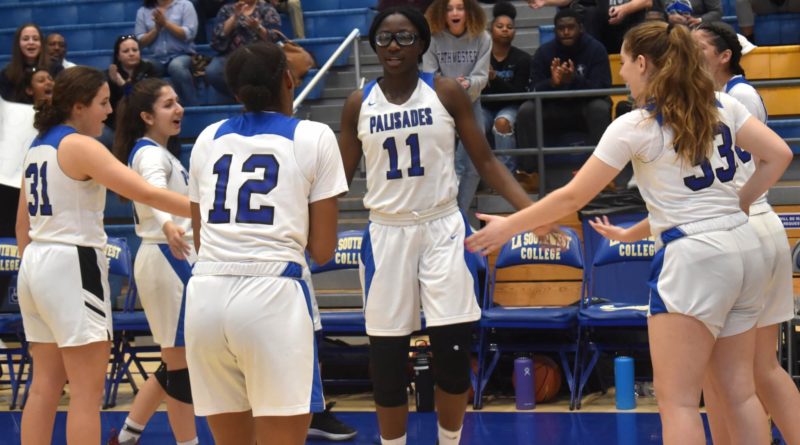 For the entirety of the 2019-2020 regular season, we did a weekly top-10 power rankings for L.A. City Section girls basketball. With the City Section playoffs over and only one Division 1/Open Division team still in the CIF state playoffs, here are our end-of-season rankings. For the final edition of the season, we extended the rankings to 15 teams.
TOP 15 L.A. CITY SECTION GIRLS BASKETBALL RANKINGS
March 10, 2020
15. King/Drew (18-14)
There were a number of teams with essentially equal cases for the 15th spot–essentially all the honorable mentions were in the running with little to separate them. King/Drew gets the nod for making the Division II semifinals, which included knocking off Garfield, plus winning a game and nearly a second game in the state playoffs. The Golden Eagles also took on a lot of strong competition outside of league play and held their own despite losing a lot of those games.
14. Eagle Rock (17-14)
It was a great year for Eagle Rock, almost winning the Northern League and making the Division 1 semifinals. They even gave Carson a run for their money before the Colts started knocking down some tough shots in the fourth quarter. With only a few seniors on the team, they could potentially take another jump next season.
Even without a lot of size, they were a very strong defensive team this past year, and they execute well enough on offense to manufacture some solid looks. Other than adding size if somehow possible, skill development on the scoring front is probably the biggest key for Eagle Rock to make a leap.
13. Marshall (22-11)
Admittedly, I slept on Marshall for most of the season due to an easier schedule than just about all the teams ranked ahead of them. But they proved formidable and resilient down the stretch in league play and on their run to the Division 2 championship game. All three of their playoff wins came by single-digits, and they nearly came back from down almost 20 against LACES in the championship game.
There's a chance they take a step back next season with Kaitlyn Fragoso, Alexis Buenaventura, and a lot of their rotation graduating. But with star freshman Laila Salazar around for three more years, their future is still bright after what was already an excellent season.
12. Los Angeles CES (19-11)
LACES finished their season in outstanding fashion, winning Division 2 and even a state playoff game before running into Lancaster, who's now in the state final four. The Unicorns would've had a good chance of making a deep run if they were in Division 1.
And they might be even better next year. They'll lose one of their best players in Jendayi Brown, but that's it–the rest of their championship team, including Aliyah Pollard, Maya Sano, and Deyla Davis, is returning. Assuming they're in the City Section's Division 1, they could potentially make a deep push in the Open Division playoffs.
11. Birmingham (13-16)
This past season's Patriots squad was much better than they will look on paper in hindsight. Only the second team left out of the Open Division, they lost to finalist Carson by one point in the Division 1 quarterfinals. Throw that in with a losing record as a result of a very difficult preseason and a 5-5 showing in the brutal West Valley League, and it's easy to overlook how strong they were this season, even if they were inconsistent.
Next year they'll have the opportunity to put it all in the past. With their entire starting five and most of their rotation returning next season, including three double-digit scorers in guards Bita Hashemi, Janna Holley, and Andrea Salazar, they'll turn heads.
10. Carson (17-7)
Before the LACS Division 1 finals loss against Westchester and a close state playoff game against Paramount, Carson only lost five games all year. Two of them were against formidable league rival Narbonne, and the other three were against strong Southern Section competition in St. Bonaventure, El Segundo, and Lakewood. That's it. And they beat some strong foes in Eagle Rock, LACES, Birmingham, and South Gate.
9. Westchester (17-16)
In their utterly dominant postseason showing the Comets showed why they were the first seed in Division 1, winning their four LACS playoff games by an average of 39.75 points per game. As the 15th seed, they even knocked off No. 2 Burroughs in the CIF Division III playoffs before just barely falling to an excellent Viewpoint squad. It wouldn't feel right to penalize the lower-seeded Open Division teams for losing with a harder postseason schedule, but there's a case to be made that Westchester was playing at a level a few spots above this ranking during the playoffs.
Next year, they'll have to work hard not to regress as a result of losing star C Ariana Grimes and multiple other impact seniors, but they'll be returning a bunch of talent. With Rylei Waugh and Danielle Burnside among multiple strong players back for one or more years, Westchester isn't going anywhere, even if there may be an adjustment period next season.
8. Taft (16-12)
After ending the regular season by nearly knocking off El Camino Real and upsetting Granada Hills Charter, Taft's postseason didn't go as hoped. In the LACS Open Division playoffs they got rolled by Palisades and lost the consolation game by double-digits to Narbonne. In the Division III state playoffs they nearly knocked off Peninsula, who is in the final four and might go all the way.
That said, Taft had a great year filled with good wins over very good teams and near-wins against other very good teams. While they'll be losing some key seniors, namely F/C Rosa Callejas, they'll also be returning some great players, in particular F Gaby Quintana. They'll be a wildcard entering 2020-2021 with the potential of taking a leap.
7. Legacy (16-15)
Before losing three postseason games against strong foes, Legacy went 16-12 in the regular season and swept their league. Next year, they'll lose a handful of impact seniors, including their best player, Akilah Watson, and arguably their second-best player, Amanda Lopez. But they'll return some talent too, namely Jocelyn Lopez and Citlali Salazar. Like a few teams we've discussed, there's definitely a chance for regression, but still a solid chance of improvement too.
6. Narbonne (18-10)
The sixth-place finisher in the City Section, Narbonne went undefeated in Marine League play which including holding off Carson twice. They also impressively beat Taft by double-digits in the first consolation round before falling to Crenshaw in the fifth-place game.
Losing C Mia Dufresne and another strong role player in F Angelrose Williams will be a challenge next season, but the rest of their team will return. That includes their two leading scorers, F Angel Nwosu and SG Brandy Castaneda, and PG Tiah Sherman. With enough collective improvement and some way to replace the void at center, Narbonne might be even more formidable next season.
5. Crenshaw (22-7)
After narrowly falling to Hamilton in the first round of the Open Division playoffs, Crenshaw won out against Legacy and Narbonne to claim a top-five finish in the City Section. Star PG Kailyn Watkins will be off to Alcorn State next year, and the Cougars will also lose one of the top centers in the City Section in Deborah Powell.
However, they'll return another star lead guard in Ameerah Ali and multiple other key players from this year's league 22-7 league champion team. That includes Payshance and Payton Walk, Sa'Niah Dumas, and Keyona Mays. It's unclear how Crenshaw will hold up without the likes of Watkins, Powell, and Emoddishae Williams, but with the aforementioned returners, they'll at least be very good. Maybe great.
4. El Camino Real (23-9)
Despite coming in constantly undersized and trotting out almost nothing but units of five guards/wings, ECR made the Open Division semifinals and finished 23-9 in a fantastic season. They pushed numerous excellent Southern Section teams including knocking off Saugus and Bishop Montgomery before finishing tied with Granada Hills Charter atop the West Valley League standings.
Next year they will be extremely hard-pressed to make up for the loss of star G Rebecca Saidoff, their de facto starting center Iliana Camua, and two strong role players in Fs Nicole Schwartz and Valentina Bueno. However, they'll still return two of the better guards in the section in Jackie Privado and Payton Love, plus some other key players including Fs Jaylee Hall and Alisha Cruz-Lisberg. They still project as a potential Open Division playoff threat, and have the opportunity to turn the heads of anyone who says they'll regress.
3. Granada Hills Charter (20-12)
The third-place finisher in the City Section, GHC narrowly fell to Palisades in the semifinals before edging out ECR in the third-place game. They finished a strong 20-12 and many of their losses came in the preseason against some of the better teams in the Southern Section.
The Highlanders will lose much of their core next season with C Haylee Aiden off to play D-1 ball at California Baptist University and F/C Samiyah Muhammad, F Crystal Garay, and G/F Megan Delgado also graduating. But they'll have a high baseline with one of the better guard rotations in the City Section still in tow. Starting wings Leena Vo and Colleen Navasartian will be seniors, both of whom are candidates to break out further on the offensive side of the ball. Two more guards in the rotation will also be back in Taylor Yoshino and Calista Arzaga. Granada will have a fairly high baseline, and if they can adequately replace the losses in the frontcourt, they'll be in the hunt for an Open Division title once again.
2. Hamilton (21-8)
Inspired play in the first two rounds of the Open Division playoffs finishes Hamilton with their highest ranking all year. As the third seed, they edged out No. 6 Crenshaw in the first game of the postseason despite the absence of star F Kennedee Rankin. Then they blew out No. 2 El Camino Real in a semifinal where they were largely considered the underdog, with Rankin posting 28 points in her return. After losing decisively to Palisades in the finals, they nearly knocked off formidable Mater Dei Catholic in the state playoffs as well before losing in the final minute.
Replacing Rankin, their leader in every base stat, will be impossible. The Lady Yankess will also lose starting SG Vanessa Cruz and two rotation Ws off the bench in Ava Diaz and Susie Fowler. But returning is the entire rest of their core, which will largely be comprised of upperclasswomen.
G/F Sydney Blevins will be a preseason section MVP candidate next year, and one of the better PGs in the section, Sherisse Blevins, will also return with a great chance at taking a huge leap. Face-up big Trinity Conner will also be a senior, and when she was on, Hamilton was nearly unstoppable this year. PG Talia Shadow, PF Mary Townsend, and C Chioma Okenwa were all a part of their outstanding depth this past season, and could all take strides in 2020-2021.
1. Palisades (25-9)
With their third win of the year over Hamilton, Palisades locked in the Open Division title and unquestioned status as the best team in the section. The first two came by single-digits, but their championship victory came by 16 points and that still makes it seem closer than it was. As this is being written, Palisades is in the state Division II final four and is heavily favored to beat Santa Monica–they already beat them before league play despite the absence of their best player, Jane Nwaba.
Speaking of Nwaba, she's the only senior on the champion Dolphins. While she's their leader in just about every stat this season, they're still stacked without her and will be the clear favorite to repeat. PG Alexis Pettis and SGs Demoni Lagway and Sammie Arnold form the best back-court trio in the section, and they'll all be back in 2020-2021. As will the rest of their front-court rotation outside of Nwaba featuring Rose Morris, Ivy Scott, and Taylor Arnold. Throw in a very deep bench and there's a chance Palisades is even better next season. Back-to-back state championships could very legitimately be in order.
Honorable mentions:
Bell, Torres, Garfield, Van Nuys, Hollywood, South Gate, Kennedy, Cleveland, Bravo, Sun Valley Poly