Hamilton girls basketball routs El Camino Real 60-38 in Open Division semifinals: 3 observations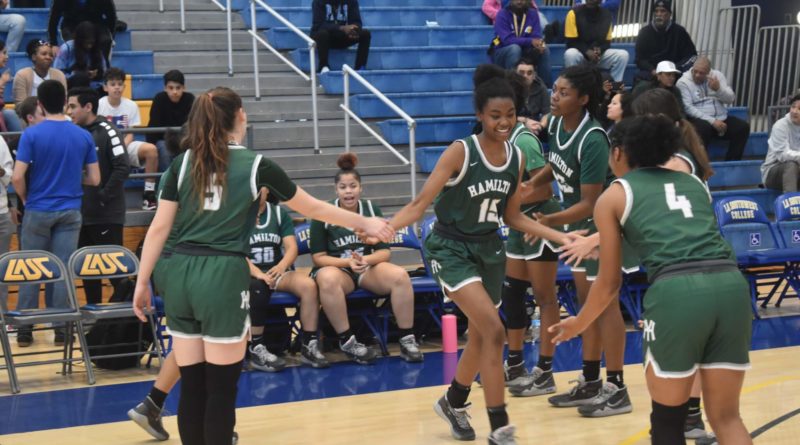 WEST ATHENS– No. 3 Hamilton defeated No. 2 El Camino Real 60-38 on Saturday to advance to the L.A. City Section girls basketball Open Division finals. The Lady Yankees took control of the momentum around the middle of the first quarter and never looked back in perhaps their best game of the year. Here are three observations from the game.
BUSINESS AS USUAL FOR HAMILTON ON BIG STAGE
In Saturday's six-game slate of Open Division and Division 1 playoffs, Hamilton was one of the only teams to shoot as well as ever and look entirely unfazed. After all, every team in every bracket's semifinal is a heavyweight, and the games were held literally on a bigger stage at L.A. Southwest College. The Lady Yankees were an anomaly in that they didn't struggle uncharacteristically both behind the arc and around the rim on Saturday.
ROUGH SHOOTING NIGHT FOR ECR
El Camino Real executed on offense and conjured up good shots. They just quickly got into a hole and out of rhythm by missing a lot of shots that they knock down very consistently. Some days, basketball is as simple as which team had a better shooting night, and it's often unpredictable. It just happened to be one of the Conquistadors' biggest off-nights of the year from the floor.
While ECR had a shooting night nowhere near par for them at an inopportune time, they had one heck of a season. Making the Open Division semifinals is a big achievement, and finishing tied atop the West Valley League standings is an equally big one. G Rebecca Saidoff led them in 13 points against Hamilton and had a monster senior year in which she earned the status as the most dangerous guard in the section. While she will be gone along with multiple other standouts next season, ECR will return a handful of the better players in the LACS and again be a playoff threat. But first, they have the opportunity on Tuesday to lock up third place in the section in a rubber match with Granada Hills Charter.
KENNEDEE RANKIN BACK, HAMILTON BETTER THAN EVER
After missing multiple games in which Hamilton had some major ups and downs, star F Kennedee Rankin came back to drop 28 points in efficient fashion. Hamilton had some struggles in her absence but beat Crenshaw in a very resilient effort in a quarterfinals thriller.
In that game, G Sherisse Chensam dropped 19, PF/C Trinity Conner posted a 14-point double-double, and G/F Sydney Blevins was also in double-figures. SG Vanessa Cruz has also been lights out from behind the arc in moderation both leading up to this game and in it. Saturday, Hamilton was firing on all cylinders with both Rankin and the rest of the squad in rhythm. And Rankin was also outstanding defensively, appearing to really be 100%.
No. 3 Hamilton will get a third matchup with league foe No. 1 Palisades in the finals. Palisades won both prior meetings by single-digits. However, Hamilton is scarier than ever right now. The L.A. City Section girls Open Division championship will be a can't-miss showdown.