Nine Mater Dei Monarchs make Southern Section All-Division 1 team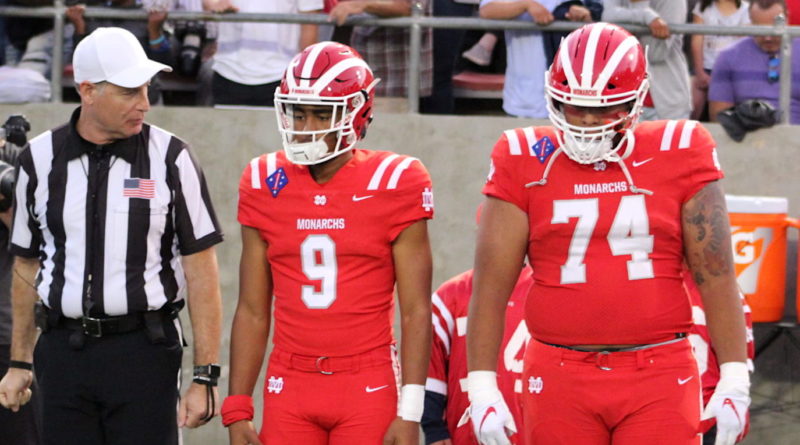 On Monday, the CIF Southern Section released their all-division teams as voted on by the Football Coaches Association. Mater Dei was one of the best-represented schools of any team in the Southern Section with nine All-Division 1 honorees.
Four of them were offensive players.
5-star quarterback Bryce Young, the Gatorade National Player of the Year, was named to the team. The new Alabama enrollee threw for 4,528 yards and 58 touchdowns on 71.9% completion. That was good for a massive rating of 141.6, and he also ran for 357 yards and ten touchdowns.
His two top receivers were also awarded as All-Division 1. Senior BYU signee Kody Epps was one of the top wide receivers on the West Coast with 1,735 receiving yards, 28 receiving touchdowns, and 93 receptions. Kyron Ware-Hudson, a 4-star junior committed to Oregon, also made it as a result of his 853 receiving yards and 13 receiving touchdowns.
Myles Murao, a First Team All-American O-lineman who is now at Washington, was another no-brainer for the All-Division 1 Team.
On defense, five Monarchs received honors. Only one of them was in the secondary, 4-star junior cornerback Jaylin Davies.
The other four were senior ILB Ray Leutele, junior OLB Raesjon Davis, senior DT Martin Salazar, and junior DE Tyler Narayan.
Leutele, a New Mexico-commit and the Trinity League DPOY, led the Monarchs with 72 tackles, 18.5 tackles for loss, three interceptions, and six QB-hurries, in addition to six sacks. He was also second on Mater Dei with eight passes defensed and two blocked field goals.
The top OLB in the C/O 2021, Davis is a 5-star prospect and LSU-commit. He led the Monarchs with 7.5 sacks and ten passes defensed, and also registered 43 tackles, 16.5 TFLs, five QB-hurries, an interception, and a forced fumble.
Salazar is a nationally-ranked recruit who has been offered at the D-1 level. He had 24 tackles, six TFLs, a sack, three QB-hurries, and a forced fumble.
Lastly, Narayan had 50 tackles and 18 TFLs for Mater Dei in addition to seven sacks and five QB-hurries. The 3-star prospect will return as one of the top defensive linemen in SoCal next season.