Undefeated Central (Fresno) completes perfect season with 34-19 victory over Sierra Canyon in CIF 1-AA football state championship: 5 takeaways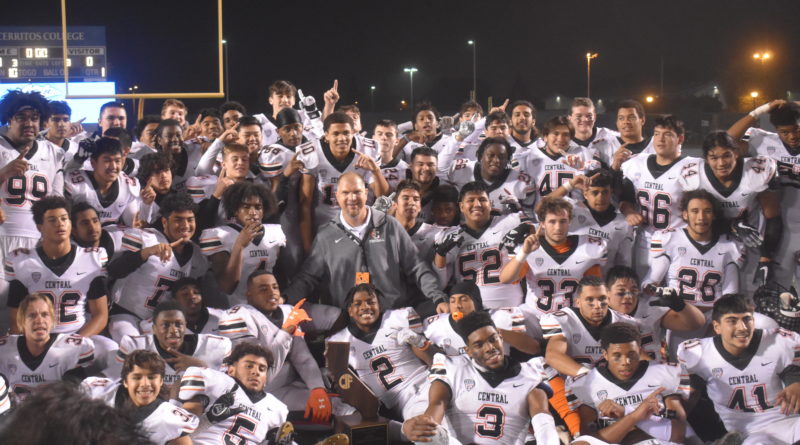 CERRITOS – Central (Fresno) came into Friday's CIF Division 1-AA football title game against Sierra Canyon in one of the best spots a team can be in–undefeated, but with numerous tests under their belts on the season. They are still undefeated, and have yet another win over elite competition on the season.
The Grizzlies defeated the Trailblazers 34-19 in a well-fought battle between two worthy state championship finalists. Here are five takeaways from the game:
TOP PERFORMERS
Jameson Silva capped off an incredible first and only year as a starting quarterback at the varsity level with one of his best games yet. He threw for 353 passing yards and three touchdowns against what has been one of the better defenses in California for most of the season, with the secondary being the main attraction.
The Trailblazers defensive backfield played at a high level, but Silva and his receiving corps were ultimately too much for SC to suppress. Jeremiah Hunt finished with 120 receiving yards and a touchdown catch that he scampered to the house through traffic. AJ Simpson-Battle and Xavier Worthy both had touchdown catches and strong nights at receiver as well.
Up against an extremely athletic front seven, Central's large offensive line mostly did a strong job providing Silva enough time to work with in the pocket. When Silva had to scramble, he was able to extend plays, even though their run-game wasn't much of a factor in yardage. RB Quali Conley didn't get much room to operate running the ball, but did have a key 50-yard reception. Jekob Jones had two rushing touchdowns in the fourth quarter on short blasts.
Defensively, the Grizzlies were fantastic on all fronts, giving Sierra Canyon one of their only offensive letdowns of the season. And by no means was Sierra Canyon bad offensively. Central just had their number on a night where they were out of rhythm by a matter of a few inches on countless plays.
Up front, the Grizzlies were a little bigger than Sierra Canyon could handle, even though their offensive line did give Peery enough time to function with for most of the game. DT Ricky Correia was physically dominant, finishing with two sacks and more than anything else demanding a massive amount of attention. Central's front seven was as effective at shutting down the Trailblazers' run-game as it was the other way around. And their secondary was tremendous, containing a passing game that has more threats than just about anyone in SoCal could handle this season.
Chayden Peery finished with 237 passing yards on 24 of 43 completion, plus a rushing touchdown. There was a staggering amount of incompletions that didn't connect by minuscule amounts, in addition to a few drops by receivers. Overall it seemed like a case of nerves all-around for SC's offense, but it wouldn't have gotten to them if Central hadn't defended all night at a ridiculously high level.
Josh Bryan knocked down a pair of field goals for Sierra Canyon. JD Sumlin had a breakaway 72-yard rushing touchdown.
IT WAS OVER WHEN
Perry was called for intentional grounding in the end zone with 2:44 left in the game when Sierra Canyon was down seven. At that point, with Central getting the ball in addition to the nine-point lead, it was essentially over. Jekob Jones' rushing touchdown was icing on the cake.
THEY SAID IT
"I knew that they were going to be a tough, hard-nosed team," Correia told Scorebook Live after the game.
"Coach Biggs has been telling us all week that we had to work hard and just fight till the very end. And that's what we did and we got the job done."
Did Correia feel like a lot of people outside of the Fresno area slept on the Grizzlies this season?
"Yeah definitely. We had a target against us…coming out of the Central Valley, a really slept-on area. It's good to make history–first team to [win a 1-AA title from the Central Valley] in a while."
PERSISTENCE PAYS OFF
This Central core has been competing together in state playoff games for a few years now. Almost all the best players on the team are seniors, and they've been building up to this moment, losing in the 1-AA semifinals in 2017 and losing in the 1-AA finals last season.
If they didn't get over the hump this year, Conley, Correia, Hunter, Oliver-Davis, Simpson-Battle, and Silva, along with countless more senior contributors, would have all lost their opportunities to do so. But this year, they're ending their careers in the best way possible.
SIERRA CANYON IS WHERE CENTRAL WAS A YEAR AGO
Unlike Central, Sierra Canyon is packed with non-seniors. Peery, Sumlin, DJ Harvey, Donovan Williams, and Drue Watts are among a large core of standouts who will be back as hungry, experienced seniors next season. And Jason Jones and Kamari Ramsey are a couple of many sophomores will be in the same boat as juniors next year. Their future is possibly even brighter than their current peak as a Division 2 champion and 1-AA finalist.