CIF Southern Section Division 1 football finals breakdown: Can St. John Bosco turn the tables on Mater Dei?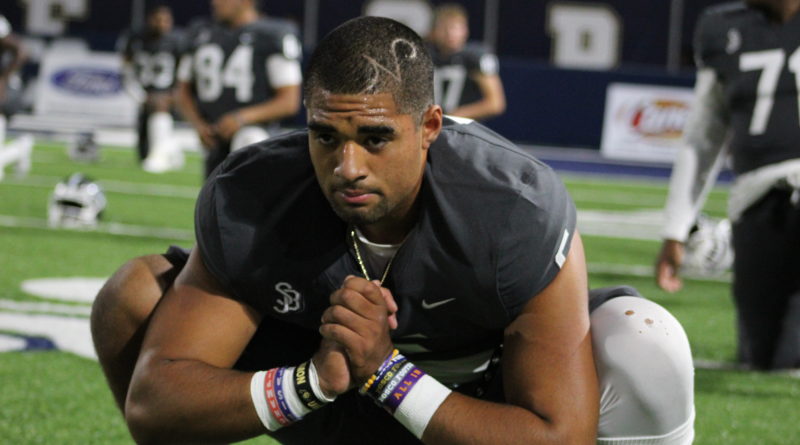 Coming into their regular season matchup in late October, Mater Dei and St. John Bosco were both undefeated. Mater Dei had been a bit more dominant on the season, and most people gave them the edge, but to call Bosco underdogs would have been a stretch.
But with the Braves having lost that game 38-24 and Mater Dei continuing to play at an unmatched level all season, this time around it's officially time to consider the Monarchs the favorites. The Monarchs and Braves will meet Saturday at 7:30 p.m. for the CIF Southern Section Division 1 football championship.
There isn't a major gap between the two teams. The Braves didn't play one of their best games of the year when they lost to Mater Dei in the regular season, and failed to capitalize on numerous promising drives, including multiple red zone opportunities. They also had some defensive mistakes early in the game both up front and in the secondary that they tightened up in the second half. When you factor in that Bosco has been playing as well as ever since that loss, having blown out elite teams in Calabasas and Corona Centennial by a combined 93 points the last two weeks, their chances go up. 
Perhaps even more importantly, one needs only to look at how this matchup went last season. St. John Bosco gave Mater Dei a decisive 41-18 loss in Week 8 to win league, only for the Monarchs to turn it around on them in a 17-13 defensive battle in the section championship. Bosco is fully aware that they are as well-positioned to be on the opposite side of it this year as Mater Dei was at this time last year. Beating a somewhat evenly matched foe twice in a row is very difficult.
On the flip side, Mater Dei was the better team when they met in October, and could've potentially beaten the Braves by even more had they not opted for conservative play-calling down the stretch once they had a lead — exactly how it went when they beat St. Frances (Baltimore) 34-18 in September. (St. Frances and St. John Bosco have been neck-and-neck for status as the second best team in the country all season.)
Has anything changed for the Braves that should put them in better terrain this time?
Yes. They have more momentum now after having played some of their best ball of the year against Calabasas and Corona Centennial. On paper, the 52-14 beatdown of Cen10 was their best game of the year, along with their season-opening 35-7 victory against DeMatha (Maryland). Bosco was coming off a 27-26 scare against Servite not long before their last matchup with Mater Dei.
But the biggest difference this time will be that St. John Bosco quarterback DJ Uiagalelei is now presumably at 100-percent strength. His father, Dave Uiagalelei, said after the first game that DJ was dealing with a pretty significant high-ankle sprain that the team was of course keeping secret until the game was over. DJ, a very strong runner for a pro-style quarterback, curiously passed up some opportunities to run in the first meeting, and one of the times he did keep it he clearly lacked burst leaving the pocket. He was still outstanding in that game, but he should be more mobile this time, and also won't be severely limited in practice leading up to the showdown.
In terms of personnel, it's no secret that both of these teams are stacked on both sides of the ball.
Uiagalelei and Mater Dei's Bryce Young are arguably the two best quarterbacks in the country — and very arguably the two best high school football players in the country outright. Both teams have elite receiving corps, with Kris Hutson, Logan Loya, Beaux Collins, and Jode McDuffie catching passes for the Braves and Kody Epps, Cristian Dixon, Kyron Ware-Hudson, and CJ Williams leading the way for Mater Dei.
Both of these teams pass the ball more often than not, but also have great running backs. St. John Bosco has a slight edge with Rayshon Luke, Nathaniel Jones, and Jabari Bates in the backfield. But with Marceese Yetts and Quincy Craig running it for Mater Dei, there's really not much of a difference.
Young is the prototypical, ridiculously fast dual-threat QB at about 6-0, 180, but Uiagalelei has proven to be an excellent running threat himself and his numbers on the ground are just about where Young's are this season. At 6-5, 245, and very fluid, Uiagalelei is a load to bring down.
What might separate these squads the most on the offensive side is the O-line. Myles Murao, Tautai Marks, Andrew Ueli-Faatoalia, George Miki-Han, BJ Tolo, and Kamuta Levasa headline the best offensive line in the country, bar none. And yes, that's six guys with even more in the fold, because Mater Dei has multiple future D-1 offensive linemen coming off the bench.
Uiagalelei had noticeably less time and space to throw than Young when the two squads met in the regular season, but his line is still formidable. Drake Metcalf, Earnest Green, Maximus Gibbs (whose name proceeds his 6-6, 370-pound frame), and Logan Bednar form a strong core around Uiagalelei, with more D-1 caliber protection in Edward Riley and Che Womack. No team puts up 52 points on Corona Centennial without a dominant offensive line to hold off Korey Foreman and Co.
Defensively is where Mater Dei has more of an edge. Jaylin Davies, Josh Hunter, and Domani Jackson lead a lock-down secondary that was able to match up against Bosco last time with more success than any other team the Braves have faced.
Mater Dei doesn't have a star-studded defensive line, but if you've watched the Monarchs play you've seen DE Tyler Narayan, DT Sefita Tupe, and the other Monarchs wreaking havoc in the trenches. They have a bevy of future D-1 linebackers, with Raesjon Davis, Dean Neeley, Kobah Fuamatu, Ray Leutele, Moses Sepulona, Nate White, and David Bailey.
Speaking of dominant front sevens — and particularly linebacking units — St. John Bosco is equally loaded with LBs Kourt Williams, Ma'a Gaoteote, Jonathan Vaughns, Danny Lockhart, and AJ Gatto. DTs Kobe Pepe and Jairus Satele and DEs Nathan Burrell and Matthew Jordan lead a powerful defensive line. Bosco's secondary hasn't been as dominant as Mater Dei's, but it's still elite, led by CBs James Smith and Josh Alford, and S Jake Newman.
Again, Mater Dei is the clear favorite. But if history repeats itself, winning the first matchup is no guarantee of winning the second. St. John Bosco might be ready to explode this time in all the right ways.