CIF football playoffs: Breaking down the Southern Section Division 14 quarterfinals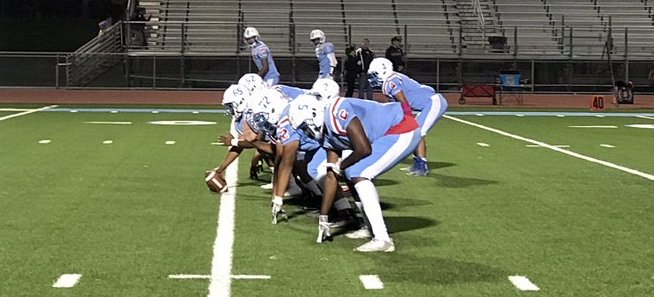 The CIF Southern Section Division 14 football quarterfinals kick off Friday, Nov. 15. Here's a look at the matchups:
Sierra Vista is considered the clear favorite to win this game and every game they'll play until the Division 14 finals. Some would say they are even the favorite to win it all above St. Pius X-St. Matthias, although that's very arguable. Regardless, they can't sleep on 9-2 Loara, whose defense is giving up only nine points per game this season. If Loara pulls off the upset against Sierra Vista, they'll instantly become one of the favorites to win the title.
If Sierra Vista and St. Pius X-St. Matthias are the two clear cut favorites to win the division, Vista Del Lago is the clear cut dark horse. They're looking strong at 9-2 this season, and while they haven't beaten any great teams, they've certainly the socks off of a lot of decent ones. With a strong defense and an offense that features a plethora of good playmakers such as QB Julian Medina and RBs Stephon Goss-Jenkins and Daisean Smith, the Ravens will be heavily favored against Mary Star of the Sea.
That said, the Stars have a fighting chance in what could be a statement win for their program. They know it's no secret that they run the ball almost every time, and they just dare you to try and stop it. Aaron Martinez has 1,271 rushing yards in nine games, and Jordan Fajardo has 784.
Neither of these teams are considered top threats to win the division, but one of them will be a very worthy Division 14 semifinalist after Friday. And if one of them has a dominant showing, they could find themselves in the argument for the top contenders to win it all. They are extremely evenly matched, and it sets up what could be one of the best games of the week.
Portola opened the season with a very narrow loss to a strong Ontario Christian team, and since then has gone 10-0, including a Pacific Coast League title and a playoff victory over Capistrano Valley Christian. South is 7-4 but has had a harder season and has a great shot. They are led by QB Drew Nash and a deep core of other talented playmakers.
Ganesha has had a winning season and gave Workman 71 points last week. But on paper, they have no shot against St. Pius X-St. Matthias Academy (PMA), who is 10-0 on the season and has destroyed the likes of the few teams that have beaten them this season. PMA's array of versatile athletes on the squad who fill a lot of different roles in Bruce Walker, Domingo Ladson, and Brenden Hodge has been too much for any handle, including strong playoff teams in Ganesha's ballpark. Anything can happen though, and if Ganesha wins, that will put a new spin on the Division 14 race.