Top 5 San Diego Section football games in Week 9: The Holy Bowl has arrived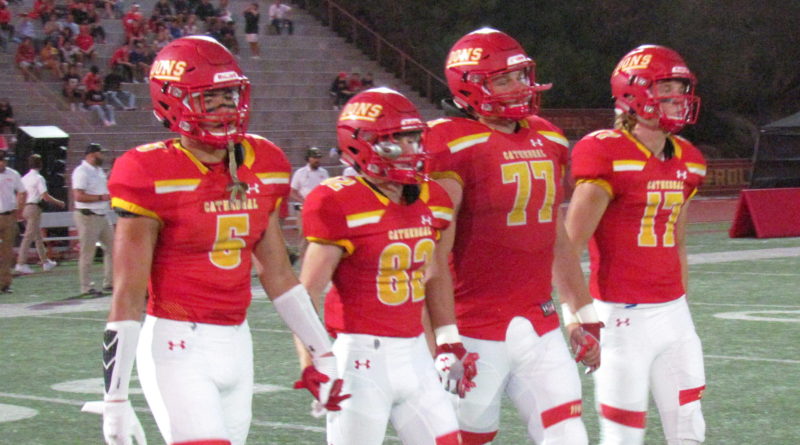 Here's a look at the top five high school football games in the San Diego Section for the weekend of Oct. 18-19. All rankings are based on the latest San Diego Section media poll.
The 2019 version of the Holy Bowl looks like it should be the best one in several years. The road team in this matchup has won each time since 2012 in a rivalry that has been played dating back to 1966. Both teams suffered a loss at the hands of Helix earlier in the season but have had this one circled on their schedules after the Dons were victorious at Mesa College 34-14 last season. With both teams knowing each other so well I would expect some wrinkles from each in their play calling throughout the game. The Saints will have their eyes set on stopping the Dons run heavy approach, while the Dons will look to shutdown star running back Byron Cardwell and the two-quarterback system that the Saints have employed so far.
The two teams still alive with a chance to take the Avocado League championship away from Carlsbad will meet up on Friday. The Mavericks, who control their own destiny in league play and host Carlsbad next Friday, received a big boost when Aiden Lippert returned to the lineup and scored 4 touchdowns. After an inconsistent start it looks like Mission Hills was able to use the bye week to their advantage as they've come back with dominant victories over Oceanside and Torrey Pines in the last two weeks. An early season loss to Carlsbad will likely cost them a league title but the Grizzlies have been moving up the playoff rankings and are on the verge of securing a 1st round bye in the division 1 playoffs.
A key game in the city league that features the two teams currently atop the standings. Scripps Ranch has continued their undefeated season into week 9 with a balanced offensive attack and stifling defense that is allowing 5.3 points per game and has recorded 3 shutouts along the way. San Diego High comes in with a clear goal to run the ball. Their rushing attack has been led by Mo Jackson and Amare Ary, who are averaging 8.9 and 8.6 yards per carry respectively. Scripps Ranch currently sits as the 1-seed in division 3 with San Diego currently at the 2-seed. This game could be a preview of a potential CIF Championship only a few weeks away.
Grossmont's hunt for their first league title since 2005 continues this week, but it'll be against a Helix team that has won or had a share of the league title in 11 of the last 13 seasons. The Foothillers offense, led by Jaime Odom and Robert Tucker, has been excellent this season but needs to have its best effort on Friday if they want to compete with Helix. The Highlanders have one of the county's more impressive current streaks going as they've beaten Grossmont 23 straight times dating back to 1992. The county's top back Elelyon Noa injured his ankle two weeks ago for Helix and his status is unknown at this time.
After losing 2 of 3 to start the season, Christian has rebounded with 4 straight wins and gotten their offense into a rhythm. Their 2-0 start in league has them tied with La Jolla atop the Eastern League with 3 weeks to play. Morse started the season 4-1 but has dropped their last two and must find a way to get their offense moving as they head into the last portion of the season. The Tigers will rely on Micheal Cunningham and Jaycob Hicks to get the ground game going this Friday. Christian won the regular season battle between the two teams last season, but Morse stepped up when it mattered with a 34-6 victory in playoffs on their way to a division 3 CIF Title.