Top 5 San Diego Section football games in Week 8: Cathedral Catholic, Madison ready for showdown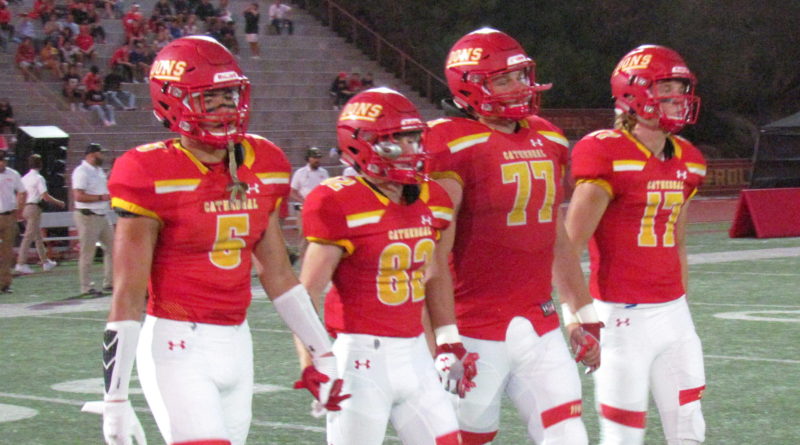 Here's a look at the top five high school football games in the San Diego Section for the week of Oct. 7. All rankings are based on the latest San Diego Section media poll.
The Dons have and Warhawks have been two of the best teams in San Diego in recent memory. Since 2008 they've combined for 5 CIF State Championship appearances, winning 4 of them. They've faced off the last three seasons since both were added to the new look Western League, with the home team winning with ease in each matchup. This year looks different as the Dons early success vaulted them into the Top 25 conversation nationally before Helix shocked them in week 4. The Warhawks have posted impressive wins the last two weeks against Grossmont and Lincoln but were held to 20 combined points in losses to Steele Canyon and Palos Verdes.
A big rivalry in the North County, Carlsbad comes in having won two in a row in this series. The Lancers have won their first three league games and look like the top threat from the Avocado League to grab an Open Division bid this year. Their defense flies around the field and the offense seems to be getting better each week. Oceanside enters having been shutout 27-0 at Mission Hills in week 7, which put a halt to the Pirates 4-game winning streak that had many thinking that the mojo was back.
A long-time rivalry in the Coastal League, the Torreys entered into the Pacific League this season. Both teams look like the favorites in each of their prospective leagues. The quarterbacks, Tyler Buchner and EJ Kreutzmann are having two of the best statistical seasons in the entire country. Buchner is averaging 452 total yards through their first six games with Kreutzmann averaging 451 yards per game. Look for a high scoring game with a turnover or two likely making the difference.
A battle of the Eagles. Santa Fe Christian comes in with little uncertainty. They'll run the ball and do it again, again, and again. They enter this game averaging 7.1 yards per carry so, Tri-City should know exactly what to expect. Tri-City had a successful season a year ago but had to find key replacements at quarterback and running back following a transfer and a graduation. They dropped their league opener last week and will have to rebounds quickly if they want to record the first win in school history against Santa Fe Christian.
The Foothillers and Eagles have matched up on the gridiron dating back to 1960 when they squared off at Cajon Speedway. This year's matchup features two teams with strong offenses that attack in different ways. Grossmont features Jaime Odom, who continues to move up the San Diego Section record books. He's helped out by receiver Brody Schicker and junior running back Robert Tucker. Granite Hills relies heavily on the dual-threat ability of Justus McComb. The junior signal-caller has accounted for 18 touchdowns and is averaging 250 total yards per game. This game is especially big for Grossmont as they work towards securing their first league title since 2005 with upcoming games against Steele Canyon and Helix.