SB Live player rankings: Top 10 offensive linemen in Southern California high school football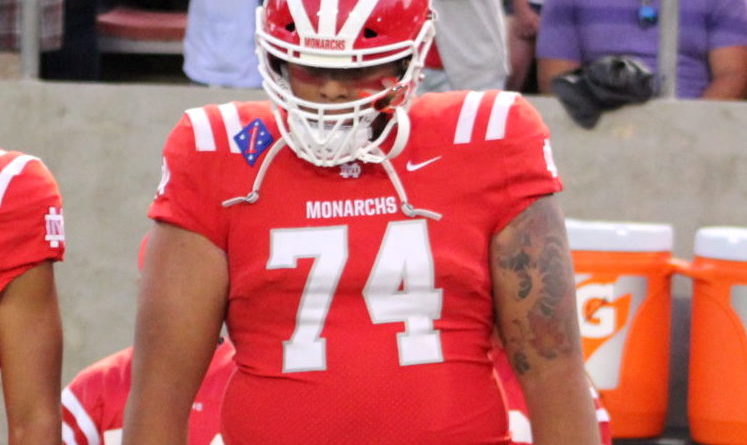 On the heels of our Top 100, where we ranked the best high school football players in Southern California, we're now bringing you position-by-position rankings. The rankings encompass the Southern Section, L.A. City Section and San Diego Section.
These are preseason rankings based on last year's performance and spring and summer observations. We will update the rankings at midseason.
Rankings: Top QBs | Top RBs | Top WRs | Top DBs | Top LBs | Top OL | Top DL
Here are Southern California's Top 10 offensive linemen:
10. George Miki-Han, junior, Mater Dei
At 6-1, 300, George Miki-Han is arguably a top-five center in the class of 2021. He's already received a few college offers and a ton more D-1 interest. Expect him to reel in more offers this year as Mater Dei contends for another state championship.
9. Nathan Cardona, senior, Yorba Linda
Heading into his senior year, Cardona has already received more than 12 college offers. He had a visit to Boise State a year ago and they're probably the favorites to land him.
8. Brody Crane, junior, JSerra
A transfer from Rancho Santa Margarita, Brody Crane has an offer from Arizona State. 247 has him ranked as a top 10 offensive guard in the class of 2021.
7. Elia Migao, junior, Chaparral
3-star recruit Elia Migao is ranked as a top 25 offensive guard in the class of 2021. The 320-pounder has already received offers from Oregon, BYU, Nebraska, and Washington State.
6. Jason White, junior, Orange Lutheran
The junior is an elite defensive lineman, an elite offensive lineman, and the league champion at shotput for good measure. He's most likely going to play offensive tackle at the college level, and has numerous D-1 offers already.
5. Jonah Monheim, senior, Moorpark
Monheim received at least 30 college offers before deciding on USC. The offensive tackle has excellent size at 6-5, 280.
4. Earnest Green, sophomore, St. John Bosco
At 6-5, 300, Green is ranked by 247 as the fourth best offensive tackle in his class. One of the only sophomores in the top 60 or so players in the state, he already has 12 college offers entering 10th grade.
3. Drake Metcalf, senior, St. John Bosco
At 6-1, 260, Drake Metcalf isn't the biggest offensive linemen in the world. But factor in his sense of "nasty", as he puts it, and he's one of the top recruits at center in the country. Metcalf has committed to Stanford.
2. Jeffrey Persi, senior, JSerra
The Michigan commit is only in his second season at tackle after coming up as a tight end. He has excellent physical tools at 6-7, 265, and received over 25 offers before going blue.
1. Myles Murao, senior, Mater Dei
He's been on a long recovery road after breaking his leg last season, but Myles Murao started for state champion Mater Dei as a sophomore. The 310-pound Washington commit is ranked as the second-best center in the country by 247.