Bishop Amat Lancers: 2019 Division 1/2 Southern Section high school football preview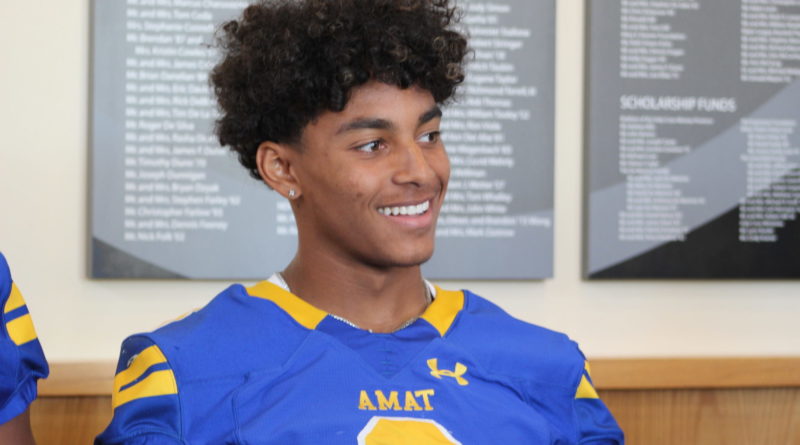 Here's an inside look at the CIF Southern Section Division 1/2 Bishop Amat football team.
Links: Bishop Amat team page | 2019 schedule
2018 IN REVIEW
9-2, (5-0) Mission League champions, Division 1 playoffs first round (lost 24-7 to Mission Viejo)
HEAD COACH
Steve Hagerty is entering his 12th season as head coach at Bishop Amat.
TOP PLAYERS
Damien Moore RB Sr. 5-10 190
Kyran Hayes WR Jr. 6-3 180
Dyson Mccutcheon DB Jr. 5-11 160
Ethan Rodriguez DL Sr. 6-4 235
Elijah Ponder DL Sr. 6-3 200
THREE TO SEE
Damien Moore RB
Moore injured his knee in the first game of the season last year and missed the rest of his junior season. He's back and healthy for his senior season. Moore is committed to Cal.
Kyran Hayes WR
Hayes caught three TDs as a junior. He'll have a bigger role in the offense this season.
Ethan Rodriguez DL
Made 41 tackles last season, nine were for loss. Also had an interception in 2018.
OUTLOOK
Bishop Amat will be Mission League contenders in 2019 after winning the league a season ago. The Lancers will be right on that Division 1 to Division 2 playoff line come playoff time. If they fall to Division 2, they'll have a shot at a championship.
Amat is currently undergoing a quarterback competition ahead of Thursday's season opener against Diamond Ranch. Whoever quarterbacks the Lancers in 2019 will play a huge role in where the team falls in the postseason. A healthy Damien Moore is a big boost for the Lancers.