10 games to watch in Arkansas high school football: Thanksgiving weekend playoff games offer a bountiful feast of tantalizing matchups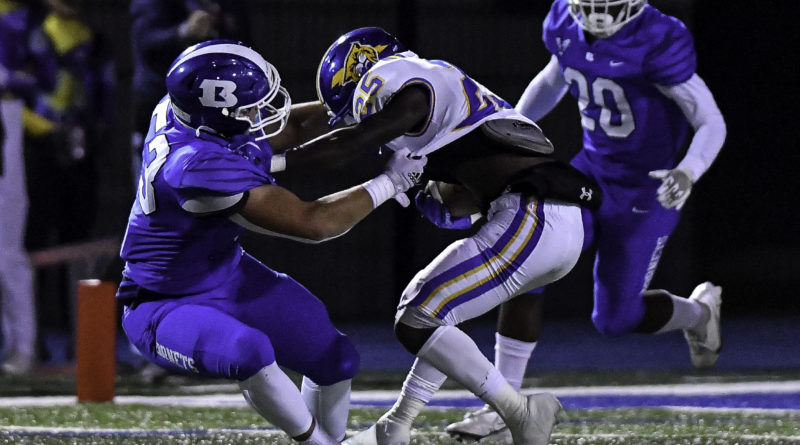 By Nate Olson | Photo by Jimmy Jones
After you gather with family and celebrate with turkey and all the trimmings, a buffet of another kind awaits Friday night: A full spread of big-time prep football matchups with trips to the state title game in classes 7A-5A and the semifinals for 4A-2A.
Below are the state's top football games to watch as we enter the third week of the playoffs.
North Little Rock at Bryant
These teams have met with some high stakes on the line the past four seasons. Each time they've met in the regular season, a 7A-Central Conference championship, or a share of it, was on the line. The past three state finals have also featured the two and NLR has appeared in the past five title games. The Charging Wildcats, who have lost six in a row to Bryant, were the last in-state team to beat the Hornets, in October of 2018, when they clinched the league title with a win, erasing a 21-point deficit. Bryant is riding a 40-game win streak over in-state clubs.
The teams meet Friday night with a state title game berth on the line.
When they met in the regular season in October, Bryant held on for a 24-12 win. In that game, North Little Rock fumbled in the red zone on its first possession and then couldn't cash in at the Bryant 1-yard line as time ran out in the first half. They had their opportunities and will need to convert on those if they hope to knock off the three-time defending champion.
The Charging Wildcats have been sharp in two playoff games and knocked off then-No. 7-ranked Bentonville 24-21 last Friday on a Malachi Gober touchdown pass with 11 seconds to play to seal the win. The NLR defense held the Tigers and standout running back Josh Ficklin to 13 yards on 13 carries. 
Bryant's veteran offensive and defensive lines looked dominant in a lopsided win against Fort Smith Northside in the quarterfinals. Bryant senior quarterback Carson Burnett gave up three interceptions to the Grizzlies but has been playing at a high level with more than 2,500 passing yards this season. Sophomore receiver Mytorian Singleton has also made a big impact the second half of the season.
Des Arc at McCrory
McCrory played a tough nonconference schedule with Class 3A Baptist Prep (McCrory's only loss) and Clarendon, which is playing in the Class 2A quarterfinals, and Des Arc, which McCrory beat 34-26 in Week 1 and entertains again Friday for a trip to the 2A semifinals.
McCrory's victory was powered by 238 rushing yards. Senior running back Reid Kennon has rushed for 1,142 yards and 17 scores this season. Senior quarterback Cason Campbell, who passed for 175 yards and three scores with one interception in the earlier win, has totaled 1,184 passing yards with 11 TDs. Defensively, the Jaguars are led by linebacker Lathan Briley (92 tackles).
The Eagles' offense is led by junior fullback Jack Kearby, who has rushed for 1,084 yards and eight TDs. Running back Trevion Reed, who ran for 147 yards and two scores in the loss, has totaled 829 yards and 18 TDs.
On defense, linebacker Cooper Childers has racked up 86 tackles, five forced fumbles and an interception.
Conway at Fayetteville (Game time 7:30)
A rematch of an opening-week clash in which the Bulldogs won 41-24. The Wampus Cats played most of the game without diminutive senior playmaker Manny Smith, who was cramping in the heat and humidity of the late-August evening.
Even without Smith, Conway rolled up 530 yards of offense, but gave up 631 yards of all-purpose yards and 419 yards passing from Bulldogs senior quarterback Bladen Fike.
Conway's defense has been much better since and a week after that loss forced six turnovers at Bentonville and beat the Tigers for the first of seven straight victories and were dominant in routs of North Little Rock and Cabot.
After a 31-28 loss to Bryant in the regular-season finale, Conway drubbed Rogers 49-0 last week in the quarterfinals. Sophomore quarterback Donovyn Omolo, who started the season on defense but has become one of the best signal-callers in the state, is in the running for the state's best sophomore. He passed for two TDs last week and ran for another. 
Fayetteville, which won its first conference title since 1963, dug out of a 21-point hole to beat Cabot 34-27 in a quarterfinal game last week. Dangerous senior receiver Isaiah Sategna, an Arkansas commit, totaled almost 250 yards receiving and Fike passed for more than 300 yards in the win. For the season, Fike has eclipsed the 3,000-yard mark and has more than 40 TDs.
Conway hasn't made a state final appearance in 28 years. Fayetteville hasn't been back to War Memorial Stadium since winning back-to-back titles in 2016-17.
Pulaski Academy at Greenbrier
This game was highly anticipated when the playoff brackets were released and looked at by some as a possible state title game-type matchup.
However, that changed when Greenbrier star quarterback Cooper Wilcox went down with what appears to be a season-ending shoulder injury in a 14-0 win against Wynne last week.
Greenbrier struggled to pick up first downs against Wynne without Wilcox and might turn more to senior running back Nick Huett, who racked up 81 yards on 17 carries in the win. He also had 14 tackles at linebacker. Huett has rushed for close to 1,000 yards this season. Eli Weaver ran for 56 yards and picked up nine tackles on defense. 
Even with Wilcox, keeping up with PA's vaunted offense was going to be difficult. Senior quarterback Charlie Fiser has completed 282 of 458 passes for 4,272 yards and 51 TDs. Fiser has a preferred walk-on offer from Arkansas. Senior running back Joe Himon, a Northwestern commit, has totaled 1,256 rushing yards with 24 TDs, and he caught 62 passes for 732 yards and 10 scores. 
Hazen at Poyen
Two playoff dark horses and one will play in the Class 2A semifinals. 
Last week, the Hornets upended Bigelow, which was undefeated, 16-13 in a game that ended in controversy after the Panthers' apparent touchdown was waved off. Poyen ran past Dierks 48-27 to advance to Thanksgiving weekend.
Hazen junior quarterback Luke King has passed for 2,662 yards and 30 touchdowns this season. Sophomore Justin Schlenker is a go-to receiver and caught six passes for 110 yards and a TD against Bigelow. Schlenker also stands out on defense (11 tackles last week) along with senior linebacker Austin Duck (16 tackles) and freshman linebacker Landon Adkins (12 tackles).
Poyen senior quarterback Colton Lowe is a focal point of the run-oriented attack, rushing for 224 yards and five TDs in the win against Dierks. He lit up the Outlaws for more than 200 yards and four scores in the previous meeting. 
Stuttgart at Warren
The Lumberjacks lost 35-0 to White Hall in the season opener and then rattled off 10 straight wins, starting with a 47-27 win against Stuttgart in the second game of the season.
Warren's offense is potent with senior quarterback Riley Cornish under center. He is a capable passer turning to versatile receiver Jecari Lee, who has also lined up at running back this season. Veteran senior running back Cedric Calbert leads a talented group of backs.
Stuttgart can also light up the scoreboard with senior quarterback Tymir Coppins, who passed for two TDs in last week's 63-34 win against Elkins. Classmate running back Daniel Poole ran for three scores in the game. Junior Jaiden Strange scored touchdowns on a catch, run and punt return. Cedric Hawkins ran for a score and returned a punt for a TD.
Arkadelphia at Crossett
This could be the best game of the entire slate. Two teams with talented skill players getting hot at the right time. When the two met in 2019, the Eagles held on for a 28-27 win in the quarterfinals, eliminating the two-time defending Class 4A champion Badgers. 
Crossett senior quarterback Tyrique Jones played in that game. He's become one of the best players in the state this season. He has completed 111 of 181 passes for 1,973 yards and 22 TDs with just two interceptions. Jones has rushed for 1,248 yards and 19 TDs. Jones has his choices of targets, but Jackson Moore leads the team with 46 receptions for 713 yards and five scores. He's also run for five TDs. Dwayne Ashford has totaled 46 receptions for 713 yards and 7 TDs.
Defensively, linebacker Denzel Watkins has 112 tackles and four sacks.
Arkadelphia junior quarterback Donovan Whitten has nearly 3,000 passing yards and more than 30 TDs. Running back Jaishon Davis has close to 1,500 yards rushing and more than 25 TDs.
Little Rock Christian at White Hall
The Bulldogs beat the Warriors 14-10 in Week 5 after falling behind 10-0.
White Hall's only conference loss was to No. 6 Pulaski Academy, which mercy-ruled LRCA in late October.
However, the Warriors have improved greatly offensively since the PA loss. They have scored 35 points or more every game since and hammered high-flying Vilonia and Nettleton on the road as a No. 3 seed. 
Sophomore quarterback Walker White, already a D-I prospect, is 120 of 218 for 1,917 yards and 23 TDs, and he has rushed for 388 yards and three scores. Senior running back Jayvean-Dyer Jones has run for 1,676 yards and 20 TDs.
LRCA's defense isn't as good as the lock-down White Hall unit, but it has been stingy, especially in the playoffs, with three sophomores seeing significant snaps, including linebacker Preston Davis (137 tackles). Junior linebacker Holt Chapel has totaled 113 tackles, while senior defensive end Titus Colquitt has chipped in 76.
White Hall's offense only produced 200 yards of offense the last time the teams met and isn't high-powered, but it is steady, thanks to senior quarterback Matthew Martinez (more than 1,200 yards passing) and running backs Zaire Green and Durran Cain, who have both run for more than 700 yards. Martinez had a good outing last week in a 35-14 trouncing at Camden, going 11 of 16 for 149 yards and two TDs.
White Hall has one of the best defenses regardless of class, giving up 12 points per game. They held Class 6A Parkview to 13 points and dominated a high-flying Cardinals club last week. The unit features 10 seniors, including defensive back Braylon Johnson, who is one of the best secondary players in the state.
Little Rock Parkview at Greenwood
The Patriots beat the Bulldogs 42-28 in the 6A-West Conference opener at War Memorial Stadium. However, the Bulldogs were without several key starters, including junior quarterback Hunter Houston.
Greenwood, which later lost to conference champion Benton, 41-40, managed to snag the conference's No. 2 seed with a 35-0 drubbing of Lake Hamilton to finish the regular season. Parkview dropped to the No. 4 seed after losses to Benton and Lake Hamilton. 
Greenwood earned a first-round bye and drilled West foe Mountain Home last week. Parkview walloped Searcy at home in the first round and then upset 6A-East champion Jonesboro in dominating fashion last week.
Parkview features eight players with D-I offers, including senior running back James Jointer, who is an Arkansas commit and ran for more than 250 yards in the first meeting. Senior quarterback Jaylon White, who was nursing a leg injury in the first meeting, is healthy and also plays in the secondary.
Greenwood hasn't lost a home playoff game since El Dorado beat them in 2014.
McGehee at Hoxie
A rematch of last year's semifinal game. Hoxie's undefeated run might be a little unexpected but the Owls, who advanced to the Class 3A state title game after a 20-18 win against Hoxie in the semifinals, was predicted to make another deep run with veteran returners. 
McGehee's run-oriented offense is impressive with senior quarterback Sam Polite orchestrating the scheme. He ran for three touchdowns, totaling 74 yards, and passed for 61 in last week's 68-28 throttling of Melbourne. Senior fullback Channing Woodson pilled up 286 yards and three scores. Jody Easter ran for 87 yards and two TDs.
Senior Arkansas-Monticello commit Cade Forrester is a dual-threat quarterback and showed his prowess last week in a 42-0 shellacking of Cedarville. Forrester hit on 8 of 10 passes for 229 yards and three scores. He ran for 104 yards and another touchdown.