Fayetteville makes history by clinching rare outright conference title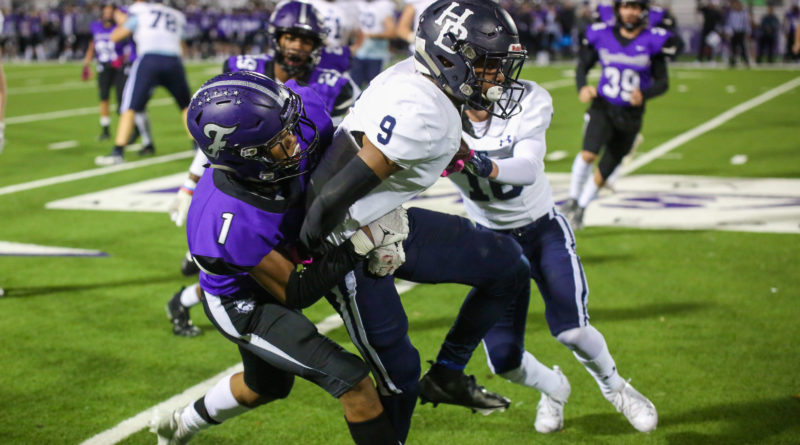 By Steve Andrews | Photos by Sadie Rucker
FAYETTEVILLE — It had been 58 years since the Fayetteville football team had won an outright conference championship.
But that streak came to a screeching halt Friday night at Harmon Field, as the Bulldogs rolled over Springdale Har-Ber, 49-14. They finished a perfect 7-0 in the 7A-West Conference, thus claiming their first outright crown since 1963, when their lone blemish was a tie with Springdale. It is also the first time in 63 years – since 1958 — that Fayetteville has won every conference game on its schedule.
"I didn't believe it," Fayetteville coach Casey Dick said with a grin. "I had four or five people tell me that it had been that long, but I just thought they were wrong. But I guess it is what it is."
The Bulldogs (8-2, 7-0) controlled the ball from beginning to end, outgaining the Wildcats 483-236 in total yards. Senior quarterback Bladen Fike completed 13 of 19 passes for 125 yards and tossed three touchdowns, while adding 52 yards and one score on the ground.
"He just goes out there and does what we need him to do," Dick said. "He is able to get a lot of guys involved, spreading the ball around, and that has been big for us this year."
Fayetteville opened the game with a methodical 10-play drive, before Fike scrambled out of trouble on fourth down, and scored on a 17-yard run up the middle of the field, to put the Bulldogs up 7-0 just three minutes into game.
With leading rusher Omar Murray missing his second straight game due to injury, Bulldog senior Uriel Espino seemed to have his way on the ground, racking up 117 yards on 23 carries – many of those to keep the chains moving.
"Honestly, I owe it all to the O-line for opening up those holes for me to run through," Espino said. "This has all been a team effort. This is just a well put together team, and we all keep each other up. We each do our jobs and that's how we succeed."
The Bulldogs' second drive ended with their only punt of the first half, as they found paydirt on their next four possessions.
Capping another 10-play drive, Fike connected with Dylan Kittell for a 16-yard touchdown late in the first quarter.
Har-Ber proceeded to march down to the Fayetteville 10 on the ensuing possession, until Bulldog defensive back Braelon Palmer thwarted the drive, picking off a Wildcat pass just in front of the goal line and running it out to the 17.
"Our defense is playing on an elite level right now," Dick said. "I can't say enough about them. Those kids come out and practice hard every day, and have been a huge part of our success this year."
Fayetteville then moved the ball 83 yards in 12 plays, as Fike hit Christian Setzer for an 18-yard strike to extend the lead to 21-0.
The Bulldogs used a little trickery on their next possession, as Fike through a backwards pass to Jalen Blackburn, who in turn, heaved the ball downfield to a streaking Isaiah Sategna for a 64-yard touchdown, and a 28-0 lead with 2:34 left in the first half.
The speedy Sategna, rated the No. 1 player in the state, made news earlier in the week when he decided to rescind his verbal commitment to play football and run track at Oregon next season, and instead flipped his pledge to the hometown Arkansas Razorbacks.
Facing stacked coverage, as he has most of the season, Sategna finished with just three catches for 74 yards. He still leads the state with 1,353 receiving yards and 17 touchdowns, including three of those on the ground.
"Usually, I get double-teamed, so if I have two people on me, that usually means that somebody else is open," Sategna said. "At times, it gets frustrating, but at the end of the game we won, and that's what matters."
Fayetteville tacked on another score just before the intermission, when Blackburn was on the receiving end of a 9-yard pass from Fike. That made it 35-0 and initiated a running clock in the second half.
"All of our guys care about each other and they understand what we are doing, so that allows us to get everybody involved," Dick said. "They all know that teams are going to roll coverage and double-cover Isaiah, so they just go out there and execute."
Har-Ber (3-7, 3-4) opened the second half with a scoring drive, breaking the ice on a 1-yard run by quarterback Luke Buchanan, making it 35-6. Buchanan then scored again from 5 yards out early in the fourth quarter to cut the lead to 35-14.
With its reserves in play, Fayetteville reached the end zone two more times in the final minutes, including a 9-yard run by Setzer.
"I think we played a great game, executed and did what we were supposed to," Sategna said. "I've been here for three years, and we've been grinding, trying to get better and better. This is the best team that we have had since I've been here. Finally, we were just able to put everything together."
Fayetteville has a week off before they return to Harmon Field to take on the winner of next week's 7A playoff opener between Har-Bar and host Cabot.
—
SBLive Sports is the official digital content partner of the Arkansas Activities Association (AAA).