Arkansas cross country champions crowned 6A, 2A, 1A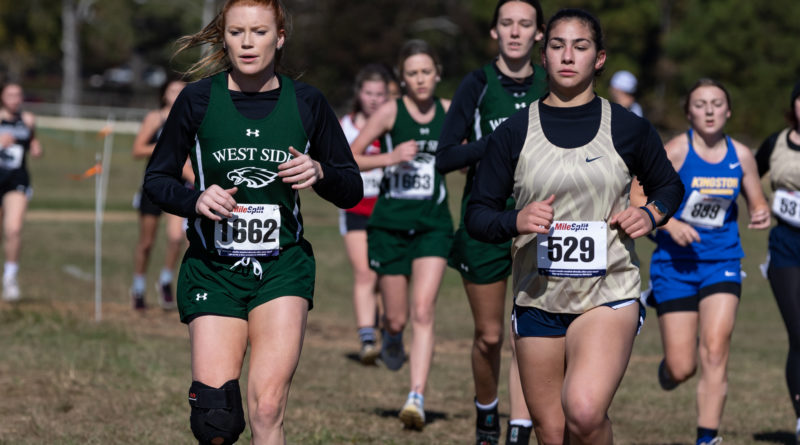 By Jeff Halpern | Photos by Tommy Land
Arkansas crowned three boys and three girls state champions in the state cross country meet at the Oaklawn Park infield in Hot Springs.
The team champions were Bentonville in Class 6A boys and girls; Acorn in 2A boys and Quitman in 2A girls; and Ozark Catholic in 1A boys and Kingston in 1A girls.
The individual champions were Hudson Betts of Fayetteville in 6A boys, Madison Galindo of Bentonville in 6A girls, Justice Neufeld of Acorn in 2A boys, Kate Provence of Cedar Ridge in 2A girls; Joseph Gray of Hermitage in 1A boys and Aubrey Henderson of Kingston in 1A girls.
Action resumes Friday at Oaklawn with Classes 3A at 9 a.m., 4A at 11 a.m. and 5A at 2 p.m.
CLASS 6A
Bentonville's boys finished with 47 points, edging Fayetteville by five points for the team title. 7A-West schools dominated the top five with Springdale Har-Ber finishing third with 93 points and Rogers Heritage coming in fourth with 94. Cabot was fifth with 157 points.
Individually, Betts won with a time of 15:20.28. Har-Ber's James Eslick was second in 15:59.41. Sam Boyer of Rogers Heritage was third in 16:01.95 while Oz Brewer was of Fayetteville was fourth in 16:02.63 and Jonathan Mendez of Har-Ber was fifth in 16:05.06.
Bentonville won on the strength of its top five runners finishing sixth through 13th led by James American Horse coming in sixth in 16:10.31. Thomas Henry was seventh in 16:16.79. Aidan McDonald was ninth in 16:19.48. Simon Pisciotta was 11th in 16:22.98 and Matthew Shelly was 13th in 16:27.55.
Bentonville's girls were dominant, finishing with 27 points, topping Fayetteville by 21 points for the team title. Har-Ber was third with 99 points, followed by Bentonville West with 11 and Rogers with 126.
Galindo won in 18:30.63 followed by Carson Wasemiller of Fayetteville, 18:49.25; McKenna Turrell of Bentonville West, 18:58.38; Kayli Fitzhugh of Fayetteville, 19:04.29; and Macey Hurley of Bentonville, 19:17.49.
Bentonville's win came on the strength of five runners finishing in the top eight. In addition to Galindo and Hurley, Kayla Hurley was sixth in 19:23.43, Sophia Hinkbein was seventh in 19:23.89 and Devyn O'Daniel was eighth in 19:25.15.
CLASS 2A
Acorn's boys won the title with 43 points, finishing 15 points ahead of Quitman. Rounding out the top five were Maumelle Charter and Melbourne tied for third with 106; and Haas Hall Bentonville fifth with 114.
Neufeld won the individual title in 16:48.95. Rounding out the top five were Jacen Heiner of Haas Hall Bentonville, 17:09.20; Nic Shue of Quitman, 17:35.52; Tate Stacks of Quitman, 17:35.56; and Shawn Wortham of Melbourne, 17:50.67.
Acorn's win came on the strength of five runners who finished in the top 14. In addition to Neufeld, Isaac Tedder was eighth in 18:04.74; Cade Tarkinton was 10th in 18:29.24; Damian Bohemian was 13th in 18:56.10; and Jacob Lyle, 14th in 19:01.14.
Quitman won the girls title with 36 points, topping Mansfield, who had 52. Bigelow was third with 65, Melbourne was fourth with 76 and Tuckerman was fifth with 148.
Provence of Cedar Ridge won with a time of 20:15.02 while Miriam Garcia of Acorn was second in 20:29.22; Allison Weaver of Bigelow was third in 20:51.88; Kaitlyn McCarn of Melbourne was fourth in 21:26.94; and Laney Wood of Mansfield was fifth in 21:38.95.
Quitman's victory came with its top five runners finishes seventh through 12 led by freshman Alison Cater, who was seventh in 21:52.20. Katelyn Black was eighth in 21:55.55; Kaylee Hobbs was ninth in 22:12.97; Taylor Hooten was 10th in 22:35.58; and Chloe Liles was 12th in 22:36.49.
CLASS 1A
Ozark Catholic was the boys champion with 54 points, topping Ouachita's 69. Founders Classical Academy was third with 76 points. Hermitage was fourth with 89 and Scranton fifth with 118.
Joseph Gray of Hermitage won the boys title with a time of 17:24.97. Rounding out the top five were Isaac Pohlmeier of Ozark Catholic, 17:37.33; Peyton Jones, Scranton, 17:57.87; Christian Kratz, Ouachita, 18:07.20; and Nicholas Wheeler, Founders Classical, 18:20.67l.
Ozark Catholic's victory was aided by four runners who finished in the top 16. In addition to Pohlmeier, Hayden Poe was seventh in 18:42.35; John Paul Schaefer was 14th 19:37.47; and Joey Squillace was 16th in 19:39.53.
Kingston won the girls team title with 26 points, edging West Side Greers Ferry by three points. Coming in third was Hillcrest with 91, Western Yell County with 92 and Founders Classical Academy with 117.
Aubrey Henderson of Kingston won the individual title in 21:24.72. Peyton Macejewski of Mount Ida was second in 22:10.49; Kadence Dilks of West Side Greers Ferry was third in 22:52.85; Ahna Constantino of Ozark Catholic was fourth in 23:18.48; and Grace Cooper of Kingston was fifth in 23:20.66.
In addition to Henderson and Cooper, Kingston was aided by Jaiden Head, who was seventh in  24:20.16; Lila Hartness was 12th in 24:48.61; and Rilee Pittman, who was 14th in 25:11.92.
West Side Greers' Ferry's second-place finish came on the strength of five runners, who finished in the top 13. In addition to Dilks, Ashtyn Knapp was ninth in 24:41.79; Sidney Severns was 10th in 24:46.40; Katie Davis was 11th in 24:46.63 and McKenna Knapp was 13th in 24:51.24.