Red-hot Conway hands Cabot first loss in lopsided affair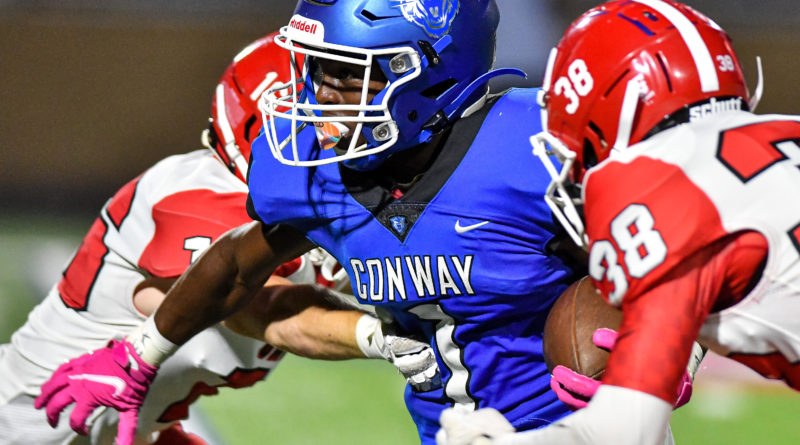 By Jeff Halpern | Photos by Jimmy Jones
CONWAY — No. 3 Conway turned another showdown between top 5 teams in SBLive's rankings into another blowout.
The Wampus Cats (5-1, 3-0 7A-Central) routed No. 2 Cabot (5-1, 2-1) 57-21 at John McConnell Stadium. A week ago, then-No. 4 Conway whipped No. 2 North Little Rock 38-10.
"We've been really good at making plays and getting those six to eight plays a game that can make a difference," Conway Coach Keith Fimple said. "We've been converting fourth downs and getting turnovers."
Conway had 25 first downs, 605 yards in total offense (373 passing and 232 rushing), turned Cabot away three times on downs and collected four turnovers.
Donovyn Omolo completed 20-of-26 passes for 373 yards and 3 touchdowns. Manny Smith caught 6 passes for 143 yards and a touchdown. West Boudreaux caught 4 passes for 97 yards and 2 touchdowns. Boogie Carr rushed for 84 yards on 16 carries and scored twice.
"Omolo continues to grow every week and I can't say enough about him," Fimple said. "Our receivers made some great plays and we did a great job controlling the line of scrimmage."
Cabot had 284 yards in total offense (144 rushing and 240 passing). Braden Jay rushed five times for 76 yards and caught 6 passes for 185 yards and 2 touchdowns.
"We got down in the red zone and didn't execute," said Cabot Coach Scott Reed. "Their tempo got to us, and they were sharp tonight. We had to make a lot of plays in space tonight and didn't have a good effort."
The Wampus Cats stopped Cabot on downs on the Panthers' first three possessions and turned them into touchdowns.
On Cabot's opening possession, the Panthers were stopped when Grant Freeman's screen pass to Jay was incomplete, giving the Wampus Cats first down at its 31. Eight plays later, Boogie Carr scored from five yards out. Adrian Mejia's extra point was good and the Wampus Cats led 7-0 at the 8:15 mark.
Cabot marched from its 41 to the Conway 21 in nine plays before Evion Jimmerson was stopped short on fourth and one at the 3:21 mark. Ten plays later, Carr scored from four yards out at the 51-second mark of the quarter. Mejia's kick was good and Conway led 14-0.
Cabot moved from it's 33 to the Conway 36 before in four plays before Freeman was sacked by Ethan Winningham for an eight-yard loss. This time, Omolo completed a 33-yard touchdown pass to Boudreaux down the right side of the end zone at the 9:42 mark of the second quarter. Mejia's kick was good and Conway led 21-0.
Cabot put together its first scoring drive, marching 58 yards in six plays with Freeman completing a 33-yard pass to Jay, who was running a slant pattern. Kade Martin added the extra point, cutting Conway's lead to 21-7 with 7:33 left in the second quarter.
Cris O'Neal needed 12 seconds and 90 yards to make it 27-7 when he ran the following kickoff down the right side for a touchdown down the right side. Mejia's kick was good and the Wampus Cats led 28-7.
After a Cabot punt, Conway needed seven plays to score when Omolo threw 32 yards to Boudreaux. Mejia's kick was blocked and the Conway led 34-7 at the 5:01 mark.
Cabot took advantage of a 22-yard punt by Jack Shriver giving the Panthers the ball at the Conway 34. Four plays later Freeman found Ashton Shurley over the middle of the end zone for a 10-yard touchdown pass at the 1:54 mark. Martin's kick made it 34-14.
Conway needed seven plays to get from its 20 to the Cabot 16 with Mejia connecting on a 26-yard field goal with seven seconds left in the half to make it 37-14.
Three plays after Ashton Waller intercepted Freeman, Omolo found Smith on a crossing patter for a 72-yard touchdown at the 8:02 mark of the third quarter. Mejia's kick made it 44-14.
After a Cabot punt, a 45-yard pass from Omolo to Jaylen Chambers set up 2-yard touchdown run by Elijah Smith at the 3:16 mark of the third quarter. Mejia's kick was good, making it 51-14, setting the Arkansas Activities Association's running clock into motion.
Three plays later, Freeman threw a quick pass to Jay, who picked up several blocks and ran 92 yards for a touchdown with 1:33 left in the quarter. Martin's kick made it 51-21.
Conway closed the scoring with a 12-play, 62-yard drive ending in Smith scoring his second touchdown of the game from 2 yards out. A bad snap on the extra point was no good, setting the final margin at 57-21.
SBLive Sports is the official digital content partner of the Arkansas Activities Association (AAA).