SBLive's Arkansas Top 25: Pulaski Academy, Greenwood move out of top 5; Cabot, Bentonville move up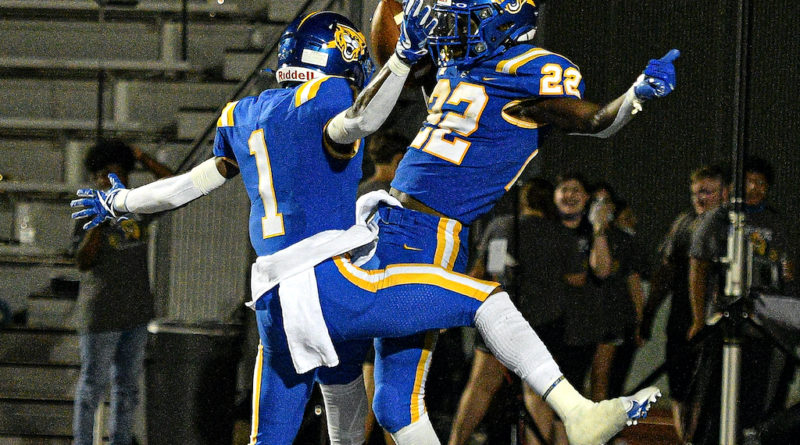 By Nate Olson
After Pulaski Academy lost to Lipscomb (Tenn.) Academy and Greenwood was knocked off by Fort Smith Northside, both programs fell out of the top five and Cabot moved to No. 3 and Bentonville to No. 5. See the Top 25 below. (Photo by Jimmy Jones)
1. Bryant (2-0) 
Bryant this week plays one of the toughest nonconference games in the Buck James era at Texas power Longview with a 32-game win streak on the line. 
2. North Little Rock (2-0)
The Charging Wildcats should finish the nonconfererene slate 3-0 after a road tilt with Class 6A West Memphis on Friday night.
3. Cabot (3-0)
The Panthers move up three spots after holding on to beat a talented El Dorado team. 
4. Conway (2-1)
The Wampus Cats enjoy a bye week as they anticipate the 7A-Central Conference opener with Little Rock Southwest next week.
5. Bentonville (2-1) 
Bentonville has two wins against top teams in Missouri with a road game at Springdale Har-Ber looming to open 7A-West Conference play next week.

6. Shiloh Christian (2-0)  
If the Saints avenge their only loss last year to Sand Springs, Okla., Friday night, they might not lose this season. 
7. Pulaski Academy (2-1)
The Bruins have a week to think about bouncing back from one of their most lopsided losses in recent memory at Tennessee power Lipscomb Academy last week. 
8. Greenwood (2-1)
Class 7A Fort Smith Northside snapped the Bulldogs' 16-game winning streak, but the question is can anyone in 6A beat Greenwood?  
9. Fayetteville (1-2)
The Bulldogs could be the best 1-2 team in the state after losing narrowly to Owasso, SBLive's No. 1-ranked team in Oklahoma, and No. 2 North Little Rock in back-to-back weeks.
10. Lake Hamilton (2-0)
Lake Hamilton sits at No. 10 as it plays lesser nonconference opponents (such as Hot Springs this week) but will have a chance to raise its stock during conference play when it will play two teams that are currently ranked in the top 15.  
11. Little Rock Christian (3-0)
The Warriors made a statement by rolling to victory at Magnolia — a quality Class 5A opponent. 
12. FS Northside (2-0)
The Bulldogs are knocking on the door of the top 10 after toppling then-No. 4 Greenwood and could climb even higher with a win Friday at Springdale Har-Ber.
13. Bentonville West (2-1)
The Wolverines have a potential statement game waiting for them next Friday in a home tilt against No. 9 Fayetteville.
14. Har-Ber (0-2)
The Wildcats started 0-4 last season and could do that again if they don't beat an upstart Northside team this week with a 7A-West conference opener at home with Bentonville looming next week. 
15. Benton (1-1)
One of the premier games in central Arkansas this week is the Panthers playing their third straight game against a 7A-Central squad when they travel to War Memorial Stadium to meet Little Rock Catholic.
16. El Dorado (1-1)
The Wildcats step down to Class 5A to take on a Magnolia team that has faced a rugged nonconference schedule and is in danger of starting 0-3.
17. Harrison (3-0)
After coming back to beat Class 6A Siloam Springs, the Goblins look on track to make another deep Class 5A playoff run.
18. Jonesboro (1-2)
A well-deserved week off after playing at Cabot and Conway in back-to-back weeks while preparing for the 6A-East Conference opener against El Dorado, which will most likely be for the league title.
19. LR Catholic (0-2)
The Rockets might have a tough time beating Benton, one of the toughest teams in Class 6A. 
20. Wynne (2-1)
The Yellowjackets are off this week and might not be tested again until a 5A-East showdown with Valley View on Oct. 8.
21. Warren (2-1)
The Lumberjacks rise two notches after handling Stuttgart, which sat at 21 last week.
22. Harding Academy (2-1)
The Wildcats play host to Camden Harmony Grove, one of the most improved Class 3A teams in the state.
23. Stuttgart (2-1)
The Ricebirds couldn't contain Warren but could see them again in the Class 4A playoffs.
24. Joe T. Robinson
The Senators have the week off after a big win at Class 6A Marion and await their 7-4A Conference opener at Fountain Lake next week. 
25. Fordyce (2-0)
The Class 2A Redbugs look for a clean sweep of the nonconference slate with a home date with Class 4A Monticello.