Har-Ber boys basketball: 'This team's got a lot of swag to them'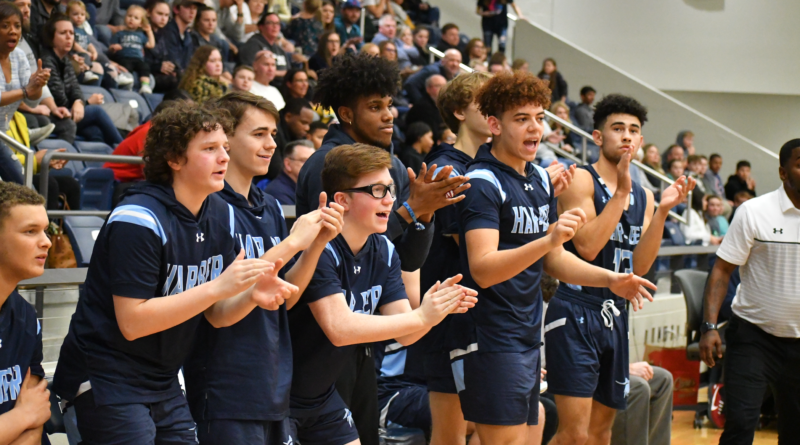 Over the next few weeks, SBLive Arkansas will break down every 6A boys and girls basketball team in the state entering the 2020-21 season. Here's our look at the Har-Ber Wildcats boys.
Photo courtesy of Har-Ber Media
HAR-BER TEAM PAGE | 2020-21 SCHEDULE
HEAD COACH
Tommy Deffebaugh, second season (21-5)
2019-20 AT A GLANCE
Overall record: 21-5
Conference record: 12-2 (first place in 6A West)
Playoffs: Lost in quarterfinals
ALL-CONFERENCE PLAYERS DEPARTED
G Lawson Jenkins, first team
G JaJuan Boyd, first team
G Nick Buchanan, first team
G Tavari Eckwood, honorable mention
G Charlie Bockelman, honorable mention
PLAYERS TO WATCH
G Aaron Oliger, sr., 5-10
Oliger was a standout player in preseason practice, scoring 21 points in a scrimmage. Deffebaugh praised Oliger's skill level and basketball IQ. "He made his teammates look good, shared the ball, knew where to put it and when he has to score, he can really shoot it from deep," Deffebaugh said. "He's a good ball-handler and off-the-ball defender."
G Miles Rolfe, jr., 6-1
Rolfe received some varsity action as a sophomore but had his minutes dry up when the rotation shrunk to seven or eight players by conference play. During the offseason, he got stronger and improved his three-point shot. "He's also more confident in his ball-handling," Deffebaugh said. "He will be our best on-ball defender in the backcourt. He's strong and will be our best attack guy who can get downhill, score around the basket and outside."
G Cameron Mains, jr., 5-11
Mains did not dress for varsity last season, but he is a knock-down shooter who has improved in all areas. Deffebaugh said Mains is another high-IQ player who is willing to share the basketball. "He will have to get better defensively, but he can really shoot it from deep," the coach added. "Guys have confidence in him that when he's open, he can make shots, so hopefully he will do that when bright lights are on."
F Garrett Nerenberg, sr., 6-3
Nerenberg showed promise as a junior before Mononucleosis cut short his season. He's back at full health and brimming with confidence. "He has a lively body, gets rebounds, can run and defend multiple positions," Deffebaugh said. "He's an around-the-rim guy who can score."
F Noah Livingston, sr., 6-4
Livingston, who also is a star football player, was Har-Ber's top post option behind Lawson Jenkins a season ago. He is a smart player with excellent size. "He was our first or second guy off the bench," Deffebaugh said. "He's got a nice body and can catch and defend around the rim, and he brings an element of toughness."
F Elijah Woodard, sr., 6-8
At 6-foot-8 and a rock-solid 240 pounds, Woodard is among the biggest players in the 6A West. He didn't play much last season but has all of the tools to be an impact guy for the Wildcats. "How much of an impact will he make, who knows? It's up to him," Deffebaugh said. "He's a senior now, he knows what's in front of him. If he can get a little fire under him and decide he wants to be the man that particular night, he can be a force."
OUTLOOK
There's good news and bad news for Har-Ber, which finished atop the conference last season before falling to Central in the state quarterfinals.
On the negative side, last season's starting five — all of whom received all-conference recognition — has moved on, but that doesn't mean the cupboard is bare. In fact, Deffebaugh is excited to see what the new-look Wildcats can do.
"We're totally inexperienced, totally brand new, totally a lot of question marks," the coach said. "But I tell you what, I like their attitude, their chemistry, their fight, their IQ, and a lot of times you can make up for other deficiencies when your team plays well together, they think the game, they are unselfish, they want to win."
Livingston is the only player with starting experience, but he didn't score much on a team with five all-conference selections. Rolfe, Nerenberg and Woodard also received some playing time last season, but varsity minutes were sparse.
"This team's got a lot of swag to them; they know they're underdogs," Deffebaugh said. "They're going to come into this year, I hope, with a little something to prove."
The Wildcats do have plenty of size with seven players standing 6-foot-3 or taller. Transfers Mack Wright (Bentonville) and Winston Boston (Fayetteville) are two more pieces for Deffebaugh to tinker with.
"They've done well in practice, that's all I can tell you," he said. "They give us some backcourt size and they both can shoot it."
Har-Ber was scoring at will in scrimmages, which can mean one of two things:
"We can really score it and shoot it, or we can't guard anyone," Deffebaugh said.
The Wildcats are not going to be as explosive on defense, but Deffebaugh believes Har-Ber can still defend well enough to be a force in the 6A West.
"We think that we can beat anybody that we go up against," the coach said. "We've got the biggest guys in the league. If our guards can function and hold their end up, a lot of good things can happen."
COACH SAID
"I never prepare for years down the road in games, I only do that in practices. In games I go all-in for that year, so I wasn't going to monkey with the rotation last year because those seniors I had were all about playing and wanting to win. It was a tough year to be a junior last year, but that's OK. … It wasn't about building; I don't want to put guys out there that aren't ready to play just to build for the future. That's what practice is for. You get better in practice; you don't get better in games." — Tommy Deffebaugh