Top stars, best performances in Week 5 (Sept. 25) of Arkansas high school football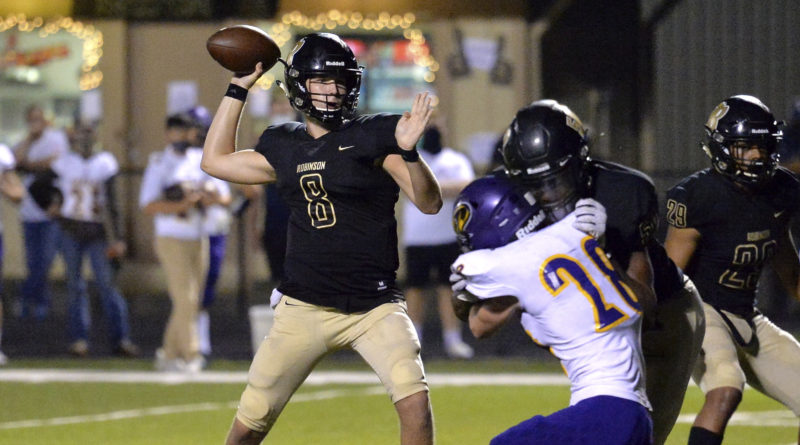 From North Little Rock QB Kareame Cotton to Searcy RB Daniel Perry, there were several standout performances across the state of Arkansas on Friday, Sept. 25.
Did we miss someone? Tag us on Twitter or Instagram @sbliveark and let us know. We'll update the post with more top performances as they are submitted by readers.
(Buddy Gaston feature photo by Jimmy Jones)
FRIDAY, SEPT. 25 – TOP STARS
Jackson Richmond, Central Arkansas Christian WR
Richmond totaled a whopping 266 receiving yards in a 47-35 victory over Clinton.
Kareame Cotton, North Little Rock QB
Cotton led NLR to a 48-7 blowout of LR Central with two passing TDs and three rushing TDs.
Darryl Kattich, Cedarville RB
Kattich went for 148 yards and three touchdowns on the ground in a 46-14 rout of Lavaca.
Zaire Green, White Hall RB
Green ran for a ridiculous 327 yards in a 41-14 victory over Jacksonville.
Kam Robinson, White Hall WR/DB
Robinson got it done on both ends, finishing with three receiving TDs and an interception.
Joe Himon, Pulaski Academy RB
After the team struggled in the first half, Pulaski beat Watson Chapel 59-24 largely thanks to Himon's 190 rushing yards, two rushing touchdowns, and 91-yard hook-and-ladder touchdown.
Cedric Simmons, Malvern QB
The sophomore QB recorded 200 passing yards, 34 rushing yards, three passing touchdowns and a rushing TD in the first half of a blowout victory over Bauxite.
Tyler Gee, Cabot QB
Gee had three touchdown passes and added a rushing TD to lead Cabot to a 31-21 victory over LR Catholic.
Braden Oliver, Searcy OLB/SS
Oliver led the defense with 12 tackles and an interception in Searcy's 35-23 victory over Sheridan.
Daniel Perry, Searcy RB
Perry erupted for 204 rushing yards, four rushing touchdowns and a passing touchdown (his only pass attempt of the season) for the Lions.
Buddy Gaston, Robinson QB
Buddy Gaston went 16 of 21 for 237 yards and four touchdowns in Robinson's 53-31 win over Fountain Lake.
Landon Rowe, Ashdown MLB
Ashdown's defense clamped Harmony Grove in a 35-7 win behind Rowe's 12 tackles and 65-yard interception-return TD.
LD Richmond, Greenwood QB
Richmond threw for 353 yards and a touchdown while completing a ridiculously efficient 29 of 35 passes. The Bulldogs also received big contributions from WR Caden Brown and RB Hunter Wilkinson in a 35-28 victory over Bentonville West.
Tanner Anderson, Bryant RB
Anderson rushed for 88 yards and three touchdowns in a 48-7 victory over Fort Smith Northside.
Landon Phipps, Springdale QB
In addition to a great defensive performance in a 34-0 victory over Rogers Heritage, Springdale got 270 passing yards, two passing TDs and two rushing TDs from Phipps.
Gilberto Dominguez, Springdale QB
Dominguez went for 120 yards and a touchdown on the ground and 79 yards and a touchdown through the air for the Bulldogs.
Kam Turner, Rivercrest QB
Turner went off in a 46-26 victory over Pocahontas, finishing with 177 passing yards, three passing TDs, 206 rushing yards and two rushing TDs. He also forced a fumble on defense. That makes three consecutive games with more than 200 rushing yards for Turner.
Keshawn Scott, Rivercrest RB/WR
Scott has reached 100 receiving yards in every game for 4-0 Rivercrest. He finished with 70 rushing yards, a rushing TD, 119 receiving yards and two receiving TDs.
Ammorrion Dempsey, Hope QB/FS
Dempsey had an unforgettable stat line against De Queen to lead Hope to its first win of the season. He totaled three interceptions, two of which he returned for touchdowns, and two rushing touchdowns.
Bradon Allen, Lonoke QB
Allen led the Jackrabbits to a 47-31 win over Heber Springs with 127 passing yards, a passing TD, 71 rushing yards and three rushing TDs.
Cole Keylon, Harrison QB
Keylon led the Goblins to a 33-6 victory over Ozark with two passing touchdowns and a rushing touchdown in well under a full night of action.
Logan Chronister, Alma RB
Chronister gave it everything he could in a 35-28 victory over Pea Ridge. He broke the school single-game rushing record with room to spare, finishing with 281 yards.
Brandon Scott, Charleston QB
Scott led Charleston to a surprisingly lopsided 48-18 beating of Greenville. He went for 123 yards both in the air and on the ground and finished with two passing TDs and a rushing TD.
Casey Johnson, Benton RB
Johnson led Benton to a 47-40 victory in a thriller over Russellville with 250 yards and two rushing touchdowns. QB Garrett Brown also set an all-time passing touchdown record for Benton (53) with two TDs in the effort.