Top stars, best performances in Week 2 of Arkansas high school football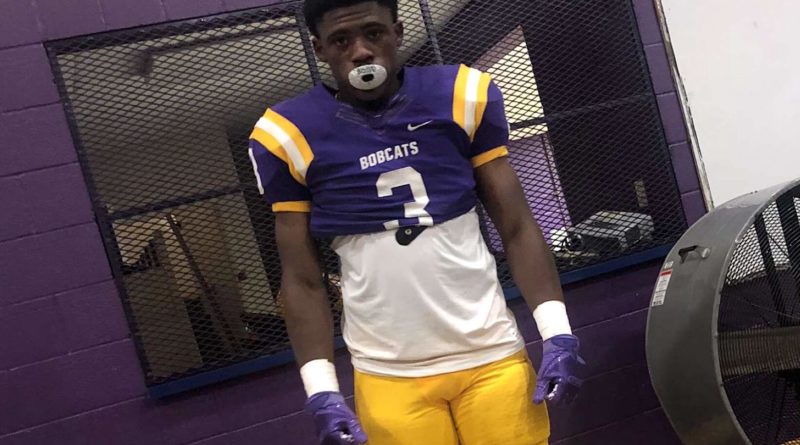 From Jacksonville CB Amiri Bolden to Dumas RB Kylin James, there were several standout performances in Week 2 of Arkansas high school football.
Here are the top performances that caught our attention across the state on Thursday, Sept. 3 and Friday, Sept. 4. Tag us on Twitter or Instagram @sbliveark if we missed anyone. We'll update the post with more top performances from Saturday's games.
THURSDAY, SEPT. 3 TOP STARS
Kendrick Hawkins, Stuttgart DB
Hawkins grabbed two interceptions in Stuttgart's 42-12 victory over Star City.
Cedric Hawkins, Stuttgart RB
In addition to 135 rushing yards, 35 receiving yards, and a rushing touchdown, Hawkins brought home a 94-yard kickoff-return TD.
FRIDAY, SEPT. 4 TOP STARS
L.D. Richmond, Greenwood QB
Richmond completed 20 of 29 passes for three touchdowns and over 200 yards as the Bulldogs routed Southside 42-3.
Randon Ray, Booneville QB/RB
To help get the underdog Bearcats the 20-19 comeback victory, Ray ran for 145 yards and all three of their touchdowns.
Amiri Bolden, Jacksonville CB
In the Titans' 44-34 victory over LR Mills, Bolden took a kickoff return over 90 yards to the end zone and registered a 55-yard pick-six. And that's in addition to a rushing TD and receiving TD on offense.
Deorius Cobbs, Jacksonville QB
Cobbs ran for three TDs in Jacksonville's win.
Eli Wisdom, Shiloh Christian QB
The Saints defeated Poteau of Oklahoma 34-28 behind Wisdom's passing TD, two rushing TDs, and 85-yard kickoff-return TD.
Matthew Huff, Jessieville RB
Huff ran all over Harmony Grove, finishing with four TDs in a 42-27 victory.
Gary Phillips, Van Buren QB
Van Buren blew out Alma in their highly anticipated showdown, largely thanks to the efficient play of Phillips under center. He went for 241 yards and two touchdowns in the air on 13-18 completion, and also ran for 115 yards and two TDs.
Andrew Edwards, Bentonville QB
Edwards spearheaded an excellent offensive showing by the Tigers that resulted in a 47-21 victory over Conway. He finished with two passing touchdowns and rushing touchdown on a night filled with contributions by numerous Tigers.
Jaishon Davis, Arkadelphia RB
With three rushing TDs in the first quarter alone, Davis helped the Badgers put Hot Springs away in a hurry. Arkadelphia led 30-8 after one quarter and won 44-14.
Dalton McDonald, Bentonville West QB
McDonald packed the stat sheet in a 41-0 rout of Muskogee (Oklahoma). In under three quarters of action, he finished with two passing TDs and three rushing TDs for about 300 combined yards.
Landon Rogers, Parkview QB
Rogers led a collective effort by Parkview's offense to put Little Rock Southwest away in under 2.5 quarters of action. In just over one half of snaps, he totaled two rushing touchdowns, a passing touchdown, and 238 combined yards. The Patriots also got major contributions from James Jointer (137 rushing yards, two TDs) and TE Erin Outley.
Kylin James, Dumas RB
In a 43-0 whooping of Lake Village, James ran for over 225 yards and four touchdowns.
Hunter Smith, Robinson RB/SS
Smith was dominant in all three phases of the game as the Senators beat Maumelle 28-20. He finished with 96 rushing yards and a 90-yard kick-return TD as part of 256 all-purpose yards, and nine tackles (one for loss) on defense.
Kareame Cotton, North Little Rock QB
Cotton led NLR to a 41-28 victory in their highly-anticipated showdown with Har-Ber, totaling two passing TDs, two rushing TDs, and over 200 combined yards.
Frederick O'Donald, North Little Rock RB
O'Donald was also key to the Charging Wildcats' rushing attack, going for 156 yards and a touchdown on the ground.
Tharon Davis, Newport RB
Newport put Heber Springs away in the first half of a 45-6 win with multiple playmakers on display. Davis had three touchdowns in the first half alone, and finished with 115 rushing yards.
Dejai Marshall, Newport QB
Marshall only needed to throw 11 times, because all of them were caught for a total of 135 yards and three TDs.
Brandon Bisceglia, Catholic RB
Bisceglia went off in the Rockets' 38-28 victory over Sylvan Hills. He finished with 208 rushing yards, two rushing touchdowns, and a receiving touchdown.
Braden Williams, Waldron QB/DB
Williams was truly a two-way star in Waldron's blowout victory over Mansfield. He had five touchdowns in the first half alone, and two picks on the other end.
Kannon Bartlett, Vilonia WR
Bartlett's huge night helped Vilonia defeat Greene County Tech 29-27 in a nail-biter. He caught for 146 yards and two touchdowns, and added a 71-yard TD on the ground.
Luke Trubiano, Vilonia LB
Trubiano helped the Eagles bring it on the other end with an interception and a forced fumble.
Connor Baker, Pocahontas RB/LB
The Redskins had multiple big two-way contributions in a 35-27 victory over Nettleton. Baker had 157 yards of offense at RB and also blocked a punt.
C.J. Palmer, Pocahontas ATH
Palmer played a number of key roles across the board as usual for Pocahontas. He rushed for two touchdowns and over 100 yards while adding a passing touchdown, and had an interception on the other end.
AJ Ivory, Junction City RB
Ivory was one of a few Dragons who had big games in a rout of Smackover. He rushed for 130 yards and two TDs. QB Gabe Richard and WR Corey DuBose also both finished with multiple touchdowns.
Tate Barnett, Junction City LB
Barnett registered six tackles (two for loss), a fumble recovery, and a forced safety.
Jacobi Nolen, Prescott QB
Nolen came up clutch in a 43-36 victory over Gurdon. He finished with 215 passing yards, two passing touchdowns, 100 rushing yards, and a rushing touchdown.
Eric Masterson, Cabot DT
Masterson helped get Cabot over the top in a 36-32 thriller versus Jonesboro with nine tackles, a tackle for loss, and three sacks.
Marco Avant, Jonesboro LB
While the Hurricane didn't quite pull through, losing 36-32 to Cabot, multiple Jonesboro players still had big-time performances. Avant finished with 12 tackles and a sack.
Cross Jumper, Jonesboro QB
Jumper went for 300 yards and three TDs in the air plus 56 yards and a TD on the ground.
Cordarien Whitaker, Central LB
Whitaker was dominant in a 41-6 victory over Hall. He finished with 11 tackles, two TFLs, a fumble recovery, and a sack.
Jeremiah Sample, Central RB
Sample went off for 218 rushing yards and two TDs.
Parker Perry, Central WR
The recipient of some great passes by QB Lawson Gunn, Perry caught for 133 yards and three touchdowns.
Jaylon Burke, Forrest City WR/DB
Burke had four receptions for 105 yards and forced a fumble on defense to help lead Forrest City to a 28-20 win over Hamburg.
Jeff Phizema, Siloam Springs RB
In a 55-21 victory over Pea Ridge, Phizema turned just five carries into 220 yards and three touchdowns.