Vote now: Who should be the WaFd Bank Arizona High School Baseball Player of the Week?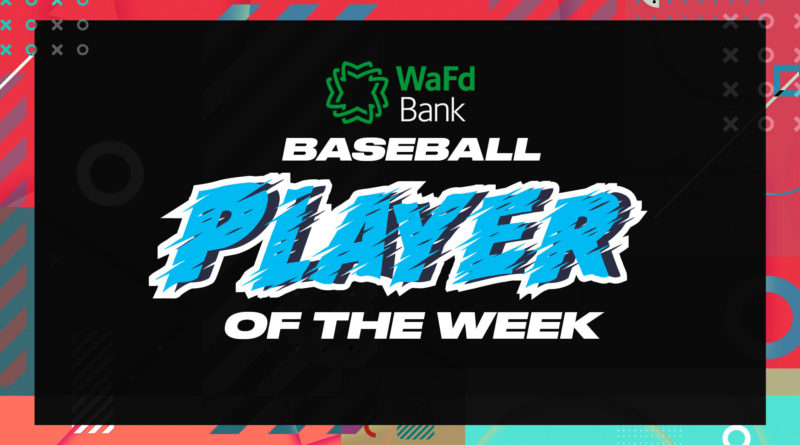 Here are the candidates for the WaFd Bank Arizona High School Baseball Player of the Week for April 12-18 as nominated by fans, readers and SBLive's staff.
Read through the nominees and cast your vote. We'll send a free SBLive T-shirt to the winner of the poll! Voting will conclude Sunday at 11:59 p.m. and the winner will be announced Monday.
If you would like to make a nomination in a future week, email regan@scorebooklive.com or tag us on Twitter or Instagram at @sbliveaz.
—
THIS WEEK'S WAFD BANK BASEBALL PLAYER OF THE WEEK NOMINEES:
Kai Brown, Chandler: Brown, a sophomore, recorded three hits and three RBIs to help Chandler defeat Brophy Prep 9-5 on Thursday.
Brexton Clubb, Liberty: Clubb homered and knocked in two runs during Liberty's 9-2 win over Hamilton on Wednesday.
Brok Determan, Benson: Determan pitched a three-hitter and struck out nine Wednesday as Benson beat Tombstone 6-1.
Seth Jelovic, Centennial: In Centennial's 21-0 rout of Central, Jelovic homered, doubled and knocked in three.
Wes Kath, Desert Mountain: Kath hit three home runs and two triples — a whopping 18 total bases — in Desert Mountain's 14-13 victory over Sunnyslope on Thursday. He also homered in a 5-1 win over McClintock on Tuesday and in Friday's 16-0 rout of the Chargers.
Mason Krznarich, Red Mountain: Krznarich blasted a three-run homer in Red Mountain's 13-1 rout of Perry on Tuesday.
Tanner McKenzie, Combs: McKenzie, a sophomore, delivered three home runs and nine RBIs to lead Combs to a 23-1 rout of Coronado on Friday. Earlier in the week, he homered in a victory against Dysart.
Marco Pacheco, Alhambra: Pacheco fired a three-hitter (four strikeouts, zero walks) as Alhambra defeated San Luis 7-0 on Tuesday.
Crew Price, Casteel: Price homered, doubled and drove in three in Casteel's 7-0 victory against Campo Verde on Tuesday.
Jose Sarmiento, Independence: Sarmiento went 5 for 5 with four runs and four RBIs in Independence's 31-4 rout of Metro Tech on Monday. He also was the winning pitcher, striking out five in three innings. He had two hits and two runs in Tuesday's 15-2 win against North Canyon.
Tanner Smith, Basha: Smith doubled and homered in Basha's 10-0 win over Maricopa on Tuesday. He finished with four RBIs.
Damien Tipton, Fairfax: Tipton pitched a five-inning one-hitter with 14 strikeouts and one walk in Fairfax's 15-0 win over Carl Hayden on Friday. He scored three of the runs.
Chase Valentine, Sandra Day O'Connor: Valentine had three hits and five RBIs in Sandra Day O'Connor's 15-5 victory against Desert Vista on Tuesday.