Vote now: Who should be the WaFd Bank Arizona High School Baseball Player of the Week?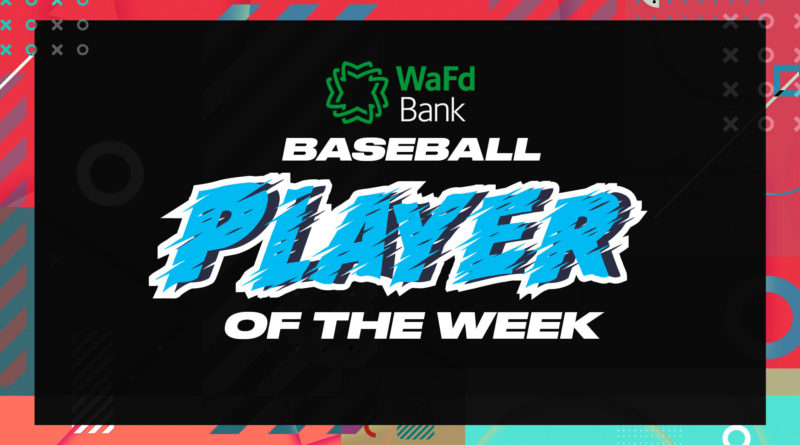 Here are the candidates for the WaFd Bank Arizona High School Baseball Player of the Week for April 5-11 as nominated by fans, readers and SBLive's staff.
Read through the nominees and cast your vote. We'll send a free SBLive T-shirt to the winner of the poll! Voting will conclude Sunday at 11:59 p.m. and the winner will be announced Monday.
If you would like to make a nomination in a future week, email regan@scorebooklive.com or tag us on Twitter or Instagram at @sbliveaz.
—
THIS WEEK'S WAFD BANK BASEBALL PLAYER OF THE WEEK NOMINEES:
Jesus Avila, Cesar Chavez: Avila was 5 for 5 with a homer, a triple and four RBIs in Cesar Chavez's 27-10 rout of Maryvale on Tuesday. He homered against Maryvale again Friday, this time in a 23-5 victory.
Tyler Bare, Desert Ridge: Bare fired a four-hit shutout in Desert Ridge's 7-0 win over Desert Vista on Tuesday.
Ethan Bell, Catalina Foothills: Bell, a sophomore, pitched a five-inning no-hitter with 10 strikeouts in Catalina Foothills' 10-0 victory over Flowing Wells.
Jackson Brenna, Shadow Ridge: Brenna homered, doubled and drove in three in Shadow Ridge's 8-0 victory against Sunnyslope on Tuesday.
Zachary Chelini, Valley Vista: Chelini pitched a six-hit shutout in Tuesday's 3-0 win over Verrado, striking out 12 and walking one. In Friday's 10-7 loss to Canyon View, he had a triple and four RBIs.
Albert Dominguez, Nogales: Dominguez pitched a no-hitter with 11 strikeouts (one walk) in Nogales' 1-0 win over Desert View on Thursday.
Seanan Farney, Millennium: Farney struck out 13 as part of a five-inning no-hitter Tuesday as Millennium beat Agua Fria 14-0. At the plate, he went 3 for 5 with two RBIs and three runs. Three nights later, he helped Millennium defeat Lake Havasu 11-1 with a home run and two RBIs.
Kolby Felix, Liberty: Felix went 3 for 3 with two home runs and five RBIs in Liberty's 10-0 win over Chaparral on Tuesday.
Toby Haarer, Desert Mountain: In Desert Mountain's 10-9 win over Arcadia on Tuesday, Haarer homered and drove in three. He had two hits, two runs and an RBI in a 7-1 victory against Arcadia three nights later.
Brandon Koble, Red Mountain: Koble pitched a one-hitter Friday (six strikeouts, zero walks) as Red Mountain beat Westwood 10-0.
Braeden Mondeau, Cienega: Mondeau homered, walked twice, stole a base and scored two runs in Cienega's 8-5 win over Campo Verde on Friday.
Talon Pryke, Willow Canyon: Pryke homered, doubled, scored three runs and had five RBIs in Willow Canyon's 18-0 rout of North Canyon on Tuesday.
Mason Saint Hilarie, Ironwood Ridge: Saint Hilarie had three hits, including a home run, in Ironwood Ridge's 11-9 win over Marana on Tuesday.
Jared Schulte, Willow Canyon: Schulte homered, singled, scored three runs and had four RBIs in Willow Canyon's 18-0 rout of North Canyon on Tuesday.
Mason Ulm, Gilbert: In Gilbert's 11-6 win over Westwood on Monday, Ulm homered, singled twice, drove in four runs and scored three.
Tommy Urbina, Tolleson Union: Urbina hurled a one-hitter with eight strikeouts Wednesday, pitching Tolleson Union to a 13-0 win over Sierra Linda. He also drove in two runs. He tripled and scored twice in a 17-0 rout of La Joya Community two nights later.
Ben Watson, Highland: Watson had five RBIs in Highland's 10-4 win over Shadow Ridge on Wednesday.