Led by Patrick Chew and Desi Burrage, the sky's the limit for Brophy Prep boys basketball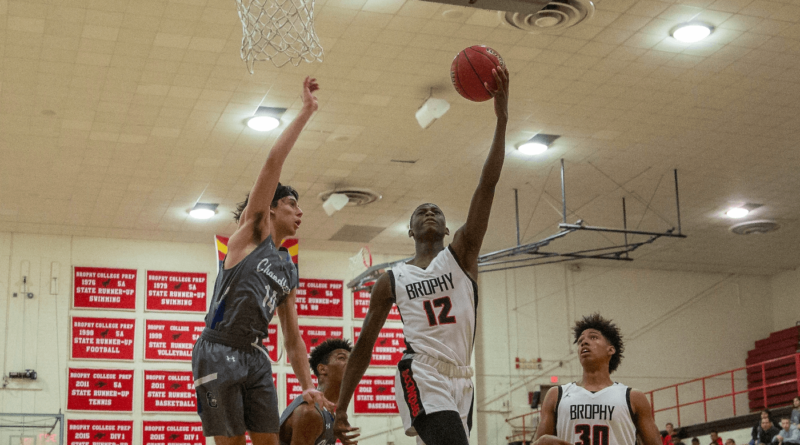 Over the next few weeks, SBLive Arizona will break down every 6A boys and girls basketball team in the state entering the 2020-21 season. Here's our look at the Brophy Prep Broncos boys of the 6A Premier.
Patrick Chew photo courtesy of Brophy College Preparatory
HEAD COACH
Matt Hooten, sixth season (90-46)
2019-20 AT A GLANCE
Overall record: 17-9
Region record: 6-2 (first place in Premier)
Playoffs: Lost 43-42 to Perry in 6A first round
ALL-REGION PLAYERS DEPARTED
F Arnold Dates, first team
F Joe Feeney, second team
F Basil Ribakare, honorable mention
G Kayden Davis, honorable mention
PLAYERS TO WATCH
F/G Patrick Chew, jr., 6-3
Chew arrived at Brophy Prep in September 2019 after his father, Isaac, joined the coaching staff at Grand Canyon University (he transitioned to Director of Development for Athletics in June). He had to sit the first half of last season, but once he took the court, the Broncos took off, winning eight in a row. Chew finished the season a second-team all-region pick, averaging 12 points, four rebounds and three assists per game, and he has offers from UTEP, Texas A&M, Kennesaw State and Cleveland State. "He's very clearly the son of a coach," Hooten said. "He has a high basketball IQ, and he brings a ton of leadership to this team. He can finish with both hands and is a long defender. He needs to do big things for us to have the year I think we're capable of having."
G Desi Burrage, sr., 6-1
Burrage came to Brophy Prep last season from Jesuit High in Sacramento, Calif., when his father, Bubba, moved to Phoenix after being named Director of Player Personnel for the NBA's Phoenix Suns. He led the Broncos in scoring at 13 points per game and made 37 percent of his shots from three-point range in earning first-team all-region honors. He also became Brophy Prep's top defender, leading the team in charges taken while often tasked with stopping the opponent's best perimeter scorer. He has several Division III offers, but Hooten likens him to former Broncos star Ian Burke, now on scholarship at Portland State. "Desi might fly under the radar in recruiting," Hooten said. "He has a really calm demeanor, and he can knock down shots."
G Miles Nash, jr., 6-0
Hooten called Nash, a second-team all-region selection, "a prototypical point guard" as a table-setter for the Broncos. He averaged seven points, four assists and two steals per game last season, shooting 35 percent from three-point range. "He's one of the best passers I've had here at Brophy in my 14 years here," Hooten said. "And he's a disruptive defender who gets a lot of deflections."
F Arman Madi, so., 6-6
Madi, ranked the No. 5 prospect in the Class of 2023 by Prep Hoops AZ, split time between the JV and varsity teams last winter, receiving about 10-12 varsity minutes per game and averaging three points. He has an offer from Eastern Michigan, with many more sure to come. "Arman has a ton of upside," Hooten said. "He's a real strong shooter and handles the ball well. He's someone we need to have a big year for us."
G Braeden Speed, fr., 6-2
Speed, ranked the No. 3 prospect in the Class of 2024 by Prep Hoops AZ, will become the third freshman to make the Brophy Prep varsity since Hooten joined the program as a freshman assistant in 2007. "He's physical, tough, a really good defender, and he sees the floor well," Hooten said. "He's got a ton of potential. He'll be a D-1 player in the long run."
OUTLOOK
The Broncos took their lumps early last season, but as Burrage adjusted to his new team and Chew became eligible in mid-January, that combination jump-started the team. They ended up winning the region title, but a loss to Hamilton in the season finale dropped them to the No. 5 seed, and they fell to No. 12 Perry in the rubber match between the region rivals.
While Brophy Prep graduated four players who earned all-region honors, including its top two posts in Dates and Feeney, Hooten thinks this team could rival his 2017-18 team that went 26-2 and reached the state semifinals.
"I think this team's ceiling is higher," he said. "We're not as big, but we're more skilled across the board. We should be able to play a little faster than we did last year."
That up-tempo should play into the strengths of this team. The Broncos will employ a lot of three-guard sets with Chew, Burrage and Nash, while Madi should prove a more-than-adequate replacement for the post presences who graduated. They also have more depth than a year ago, with senior guards Roosevelt Bryant and Quentin Cibulka (three points per game apiece last season) and junior wing J.P. Musselmann (two points, two rebounds) taking on expanded roles.
COACH SAID
"I'm excited for the season. I think there are a group of teams behind Sunnyslope and Mountain Pointe that are certainly capable of challenging them if they reach their potential. This is a fun group. Hopefully, we can put the pieces together and keep moving forward." — Matt Hooten