Snowflake knocks off top-seeded Yuma Catholic in 3A final: Lobos claim 7th state title; Shamrocks star QB Richard Stallworth injured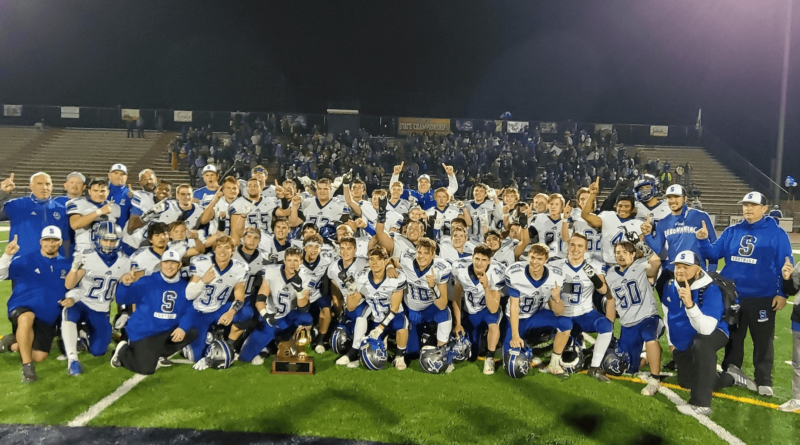 Snowflake jumped on Yuma Catholic from the opening kickoff and never relented en route to a 38-14 victory over the top-seeded Shamrocks in Saturday night's 3A state championship game at Coronado High School.
The second-seeded Lobos (10-1) won their seventh state championship and first since 1993 with a physically dominant performance, controlling both lines of scrimmage and never letting Yuma Catholic (10-1) settle into the game.
Snowflake coach Kay Solomon credited a change to the defensive scheme made this week in anticipation of facing a Shamrocks passing attack led by sophomore quarterback Richard Stallworth, who entered the game having thrown for 3,778 yards and 49 touchdowns.
"We knew we needed to get pressure on him, so we went to a three-man front and added an extra linebacker so we could bring pressure from different places," Solomon said. "It sure worked."
Stallworth left the game late in the first quarter with a shoulder injury, but even while he was in the game, Yuma Catholic's high-powered offense sputtered against a Snowflake defense led by linebacker Terren Green and defensive end Payson Cardon.
Stallworth completed just 1 of 10 passes before the injury, and backup Austin Rush was sacked four times as the Lobos built a 28-0 halftime lead.
Snowflake won its final six games after dropping a Week 5 matchup to Round Valley — a loss that Solomon said exposed some weaknesses, especially in the passing game.
"That was the game that showed us a little bit of what we're capable of," he said. "We got really specific after that and made improvements that showed in the last few games we played."
Green also ran for two first-quarter touchdowns and tacked on an insurance score in the final two minutes that sealed the victory.
Camden Brimhall broke off a 46-yard touchdown run in the second quarter, and Caden Cantrell hit tight end Noah Baum for a 25-yard touchdown pass to extend the Lobos' lead to 28-0 just before halftime.
Cantrell did most of his damage through the air in the first half, going 8 of 14 for 135 yards through 24 minutes.
The Shamrocks got a bit of life after the break, first when Jarred Marquez broke free for a 72-yard touchdown run with 6:50 left in the third quarter.
Yuma Catholic then recovered an onside kick and scored again on a 19-yard run by Devon Black 20 seconds later.
After a 39-yard field goal by Sam Crockett put Snowflake up 31-14 late in the third, the Shamrocks drove to within inches of the goal line, but the Lobos stacked up the fourth-down run to deny them with 9:46 to play.
Snowflake then went on a 16-play drive, converting four times on third down and capped by Green's third touchdown run.
"Give credit to coach (Rhett) Stallworth," Solomon said. "Even after losing a key player like that, they gave us a good fight, especially in that third quarter."
—
MORE FOOTBALL
Breaking down each of this week's final matchups
Our predictions: Who will win in each class?
A 53-man 'NFL roster' of Arizona high school players
Meet the state's top players by position:
QB | RB | WR | TE | OL | DL | LB | DB | ST