Vote now: Who is the best player in 6A Region 5?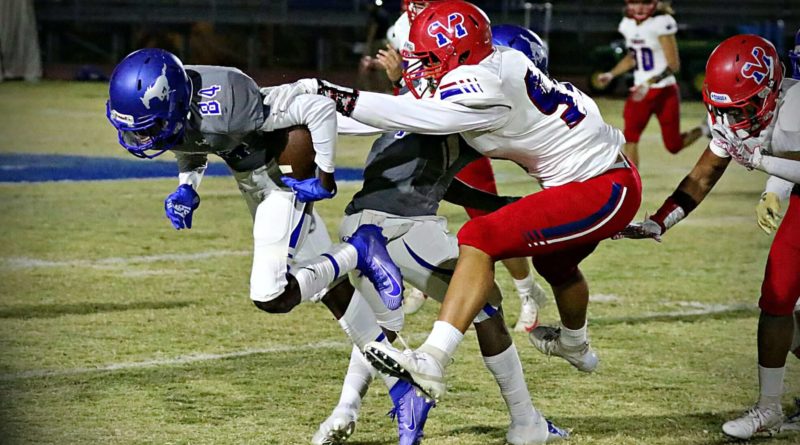 We've spent the past three weeks rolling out a comprehensive Arizona high school football preview, including team previews, region previews, conference previews, player profiles, player rankings, predictions and more.
You can find all of that preview content at this link.
Now we want to hear from you: Who will prove himself as the best player in 6A Region 5? Cast your vote below and let us know who you think will be the Central player of the year in 2020.
We will send a free SBLive Arizona T-shirt to the winner of this poll! (Voting ends at 11:59 p.m. Thursday, Oct. 8.)
Malaki Ta'ase (Mountain View) photo by Joanna Finkenkeller
—
RB/DB Andrell Barney, Basha. A New Mexico commit at cornerback, he'll also move around on offense as coach Chris McDonald finds ways to get his best athlete as many touches as possible.
QB Amier Boyd, Mountain Pointe. Once he becomes eligible in Week 5, he instantly makes the Pride a spoiler candidate. He threw for 1,835 yards and 25 touchdowns in earning all-region honors for a South Mountain team that narrowly missed the 5A playoffs.
S Cayden Camacho, Basha. Coming off a season in which he made a team-high 81 tackles, Camacho worked hard in the weight room, filling out his frame in anticipation of a big senior campaign.
RB Devon Grubbs, Desert Vista. Grubbs, who has offers from Arizona State and Northern Arizona as a junior, takes over the starting tailback job from older brother Tyson.
LB Zach Hay, Mountain Pointe. His coach calls him "a throwback blue-collar player" and a prototypical middle linebacker. He had 81 tackles and six hurries as a junior.
RB Caleb Jones, Basha. Jones showed he's capable of being a workhorse tailback with his performance in the Bears' playoff loss, running for a career-high 106 yards and a touchdown on 23 carries.
RB Reese Marziale, Mountain View (Mesa). The Toros' fastest player finally will get his shot at the starting tailback job following the graduation of the team's top two backs from a year ago.
LB Mason Parker, Mountain View (Mesa). Parker earned second-team all-region honors a year ago, when he finished with 60 tackles and three sacks.
WR Trent Pennington, Basha. He missed half of his junior season after transferring from Queen Creek, but he's ready to break through and grab the No. 1 receiver position.
WR Nico Remus, Mountain View (Mesa). One of the fastest players in the Central, he was an all-region pick at punt returner and receiver last season. He caught 32 passes for 613 yards and five touchdowns.
DE Malaki Ta'ase, Mountain View (Mesa). He earned a starting job from Week 1 as a sophomore and finished with 74 tackles and a team-high eight sacks. He'll start accumulating Division I offers soon enough.
WR/CB Blake Taylor, Desert Vista. He saw his path blocked by a deep senior class last season, but Thunder coaches expect him to become a standout in his senior year.
—
MORE: 2020 ARIZONA HIGH SCHOOL FOOTBALL PREVIEW