6A Region 5 Central football preview: 10 questions, projected order of finish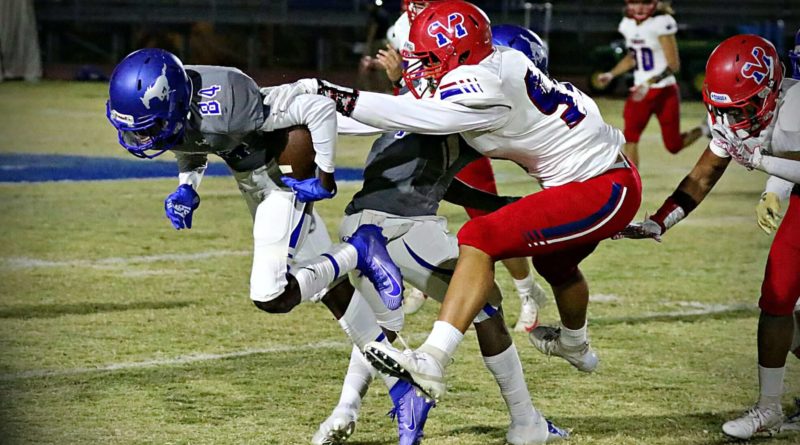 The 2020 Arizona high school football season kicks off this week. Here are 10 questions for 6A Region 5 (Central). At the bottom is our predicted order of finish.
Malaki Ta'ase (Mountain View Mesa) photo by Joanna Finkenkeller
1. Who are the region's top player of the year candidates?
Any of the top three offensive stars — running backs Caleb Jones of Basha and Devon Grubbs of Desert Vista and receiver Nico Remus of Mountain View (Mesa) — could grab player of the year honors, but the favorite might be the region's best two-way player, Basha senior Andrell Barney. A New Mexico commit at cornerback, he'll also move around on offense as coach Chris McDonald finds ways to get his best athlete as many touches as possible.
2. Who will be the region's top offensive stars?
RB Caleb Jones, Basha: Jones showed he's capable of being a workhorse tailback with his performance in the Bears' playoff loss, running for a career-high 106 yards and a touchdown on 23 carries.
WR Nico Remus, Mountain View (Mesa): One of the fastest players in the Central, he was an all-region pick at punt returner and receiver last season. He caught 32 passes for 613 yards and five touchdowns.
RB Devon Grubbs, Desert Vista: Grubbs, who has offers from Arizona State and Northern Arizona as a junior, takes over the starting tailback job from older brother Tyson.
WR Trent Pennington, Basha: He missed half of his junior season after transferring from Queen Creek, but he's ready to break through and grab the No. 1 receiver position.
3. Who will be the region's top defensive stars?
DE Malaki Ta'ase, Mountain View (Mesa): He earned a starting job from Week 1 as a sophomore and finished with 74 tackles and a team-high eight sacks. He'll start accumulating Division I offers soon enough.
S Cayden Camacho, Basha: Coming off a season in which he made a team-high 81 tackles, Camacho worked hard in the weight room, filling out his frame in anticipation of a big senior campaign.
LB Zach Hay, Mountain Pointe: His coach calls him "a throwback blue-collar player" and a prototypical middle linebacker. He had 81 tackles and six hurries as a junior.
LB Mason Parker, Mountain View (Mesa): Parker earned second-team all-region honors a year ago, when he finished with 60 tackles and three sacks.
Zach Hay photo by Elena Bernardo – EMB Photoshop
4. Can anyone from this region qualify for the state playoffs?
With only eight teams making the 6A bracket this fall because of the late start to the season, that could put the squeeze on whichever team emerges on top of the region standings. Desert Vista (No. 6 seed), Basha (No. 11) and Mountain View (No. 15) all made the cut in 2019, but the Thunder graduated a bunch of talent from last year's semifinalists and the Bears will start a freshman at quarterback. The region champion might accumulate just enough ranking points to get in.
5. What impact will transfers have on the title race?
A lot. Three of the region's teams will have key players sit out the first four weeks but become eligible in Week 5. Basha will get sophomore linebacker Wyatt Milkovic (Hamilton), Desert Vista adds junior quarterback Landen Powell (Mountain Pointe), and Mountain Pointe must wait four weeks for its top two quarterbacks — Amier Boyd (South Mountain) and Jaden Crockett (Alhambra) — and running back Robert Moore III (Chandler).
6. Who is the region's best quarterback?
Once Boyd becomes eligible in Week 5, he instantly makes Mountain Pointe a spoiler candidate. He threw for 1,835 yards and 25 touchdowns in earning all-region honors for a South Mountain team that narrowly missed out on the 5A playoffs.
7. Will Cesar Chavez get to play football this fall?
The Champions were supposed to be the fifth team in the region, except the Phoenix Union School District only recently announced plans for an alternative fall sports season that won't start play until the end of October. The 10 city schools will play an intracity schedule, culminating in a city championship game the week of Dec. 14.
8. Who are some linemen that casual fans will learn more about this season?
Jai Rodriguez, Desert Vista: A part-time starter for the Thunder last season, he'll anchor the offensive line this year as he begins to show why he received an early offer from Arizona State.
James Durand, Basha: He started from Week 1 as a freshman, grew threw inches and added 40 pounds over the summer, and picked up an offer from New Mexico.
Zereoue Williams, Mountain Pointe: Could the 6-8, 240-pound Williams make the move from the basketball court to the gridiron look easy? First-year Pride coach Eric Lauer sure thinks so.
Jai Rodriguez
9. Who are some candidates to have breakthrough seasons?
RB Reese Marziale, Mountain View (Mesa): The Toros' fastest player finally will get his shot at the starting tailback job following the graduation of the team's top two backs from a year ago.
WR/CB Blake Taylor, Desert Vista: He saw his path blocked by a deep senior class last season, but Thunder coaches expect him to become a standout in his senior year.
WR/DB Carson Bachmann, Basha: He should figure into all three phases for the Bears this season.
10. Who will step up to fill the holes in Desert Vista's defense?
The coaching staff identified all-around improvement by an inexperienced defensive group as key to the team's chances of getting back to the playoffs. Senior linebacker Tyson Martinez returns from injuries that derailed his junior season, while middle backer Carlo Jinks finally gets his shot at a full-time role.
Predicted order of finish
1. Basha
2. Desert Vista
Only Desert Vista and Mountain Pointe got to stay together after the 6A regions were reshuffled — although the Thunder did end Basha's 2019 season in the first round of the playoffs. Three of the region's four teams are in a bit of a rebuilding mode, but the Bears might get a lift from freshman quarterback Desmond Willliams Jr. and benefit from escaping a region with Chandler and Hamilton.
More on each team
Read more about the Central teams at the following links:
Basha Bears football has a freshman phenom at QB and a more favorable schedule
Desert Vista football reloads with new cast of characters
Mountain View Mesa Toros football program hopes to build off last year's playoff win
Eric Lauer hoping to lead Mountain Pointe football back to glory in 2020