Bear Milacek, Jacob Cisneros could help make Boulder Creek a surprise contender in Arizona 6A football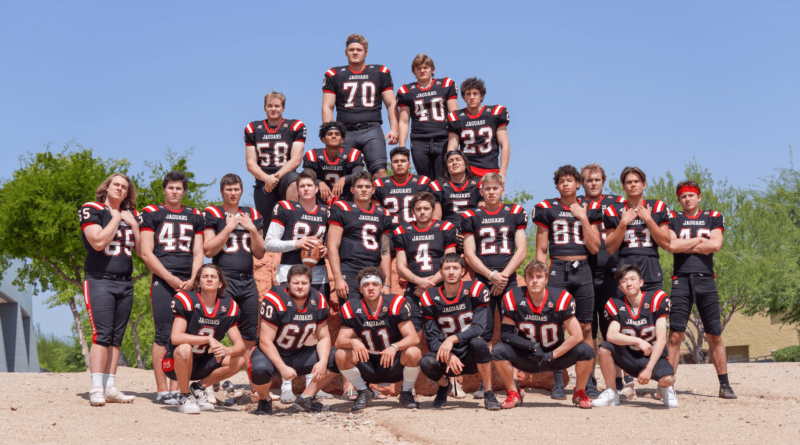 SBLive Arizona will preview every 6A football team in the state leading up to the 2020 high school football season. Here's our look at the Boulder Creek Jaguars of 6A Region 7 (Southwest).
Photo by Brian Kafenbaum
BOULDER CREEK TEAM PAGE | 2020 FOOTBALL SCHEDULE
HEAD COACH
Tony Casarella, fifth season (16-27)
2019 AT A GLANCE
Overall record: 4-7
Region record: 2-3, tied for third place in 6A Desert Valley
Playoffs: Lost to Queen Creek 50-36 in first round
ALL-REGION PLAYERS DEPARTED
DB/WR Conner Lewis – 1st Team offense and defense (2nd Team all-6A defense)
LB Josh Van Gysel – 1st Team
P Carsten Vance – 2nd Team
WR Ethan Burts – Honorable Mention
CB Brett Wagner – Honorable Mention
10/2 at Casteel
10/9 vs. Skyline
10/16 at Brophy Prep
10/23 vs. Mountain Ridge
10/30 at O'Connor
11/6 vs. Shadow Ridge
11/13 vs. Valley Vista
11/20 at La Joya
PLAYERS TO WATCH
QB Bear Milacek – SR.
The 3-star New Mexico commit is the top-ranked senior prospect in the region. The pro-style quarterback threw for 2,364 yards in 11 games last season, and he did some damage on the ground with 268 rushing yards. Milacek received all-region honorable mention as a junior. He has an opportunity to compete for player of the year honors as a senior.
RB/KR Jacob Cisneros – SR.
Another of Region 7's early player of the year candidates, Cisneros is coming off a statistically dominant breakthrough campaign. He totaled 19 touchdowns in 11 games, amassing 1,472 rushing yards, 524 receiving yards and more than 500 combined kick return and punt return yards. He was a Desert Region co-player of the year and received an offer from Yale.
Cisneros also was Boulder Creek's second-leading receiver — without actually lining up as a wideout. As the only returning player who reached 200 rushing yards (besides Milacek) or 200 receiving yards, Casarella might opt to feature Cisneros even more as a receiving target in 2020.
DT/OL Jacob Moore – SR.
Another player who made first team all-region last season on both sides of the ball, Moore might be the top two-way lineman in Region 7. On offense he's a premier guard, and on defense he commands double-teams in the trenches nearly every snap.
Moore has received college offers and could play on either side of the ball at the next level. It shouldn't be surprising that he has the stamina to dominate on both sides nearly every game — he's also one of the best wrestlers in Arizona, which he said has helped his development in the trenches.
LS/DT John Ferlmann – SR.
Ferlmann, a transfer from Gregori (Modesto, Calif.), is not only a 4-star long snapper — for which he's committed to Arizona State — but also a first-team all-conference defensive tackle. At 6-3, 225, he'll be a force in the front seven for the Jaguars.
FB/LS/DE Tyler Morrison – SR.
The Jaguars already have a second-team all-region long snapper on their roster. Morrison presumably will relinquish those duties to Ferlmann, but he'll still be one of the top fullbacks in the region. He was third on the team last season with 109 rushing yards and scored three touchdowns, providing some one-yard blast specialist work in addition to blocking for his star tailback. He also showed promise in limited action in the front seven.
LB Carter Cameron – JR.
Cameron was the only sophomore in Boulder Creek's defensive rotation last season. His numbers didn't stand out — 28 tackles, two for loss, one sack — but he played a key role for a playoff team and stepped up against quality opponents. That bodes well for his upperclassman years, and he might quickly emerge as a centerpiece. Moore said the Jaguars view Cameron as one of their top breakthrough candidates this fall.
CB/SS Aaron Albert – SR.
As someone who can play any position in the defensive backfield, Albert is tasked with both covering deep and sometimes bringing the drama a little closer to the line of scrimmage. He tied for second on the team in tackles and interceptions last season.
FB Sinjin Schmitt – SO.
As a 15-year-old sophomore, Schmitt already is a big, strong, physical back who can run the ball and block. He's 6-3, 205, and runs to steamroll. Boulder Creek is expecting big things from Schmitt as a complement to Cisneros, and he might even factor as a receiver and/or linebacker.
BEST-CASE SCENARIO
With what is likely to be the region's best quarterback/running back duo leading the way, Boulder Creek has a chance to build on last year's playoff campaign. While the Jaguars had several seniors last season, they lost only five all-region honorees. If someone other than Cisneros can emerge as a major receiving threat — junior Jack McFarland is the top candidate — the offense could be explosive.
The defense is more vulnerable than the offense, with stars gone from the front seven and secondary. But there is plenty of upperclassmen talent, and if Ferlmann makes the impact Boulder Creek expects, the defense might be better in 2020 as well.
The Jaguars are firm about their goal — a state championship. Moore said that if the team takes the leap the players expect, then the smaller 6A playoff field won't matter, as they'll be contending for a lot more than just a playoff spot.
MOST REALISTIC SCENARIO
Boulder Creek is coming off three consecutive 4-6 regular seasons that finished with a first-round playoff loss. The year before that? The team went 4-6, without a playoff berth.
Casarella has steadied the ship since taking over a 1-10 squad in 2016, but the Jaguars haven't won a playoff game in a decade. This group does have the top-end talent to rewrite recent history, but going from that to anything near a state championship would be radical.
Contending for a playoff spot is possible, and with a normal 16-team bracket, one would love the Jaguars' chances. Since this year's 6A postseason field will be shortened to eight teams, though, there's a chance nobody from Region 7 will qualify.
All that said, Boulder Creek has a strong chance to challenge for a region title and give itself at least a shot at making the abridged playoffs. No matter what, expect the Jaguars to push for their best season under Casarella — perhaps with plenty of room to spare.
MOORE SAID
"Our goal this season is to win a state championship and nothing less. We are all on board and all believe we can do it. Any less of a goal and that would be an insult to ourselves and coaches and all the hard work and time spent going into this season.
"(We're like) a family … we've worked hard and gone through a lot of adversity this year, but that won't stop us." — Jacob Moore
—
MORE: 2020 ARIZONA HIGH SCHOOL FOOTBALL PREVIEW